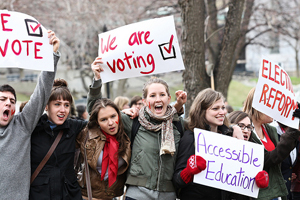 What do you think of how the Tyee has covered this election? We welcome your assessment. Please tell us by posting a comment below.
All the election features we've published are collected lower in this story. First I'd like to share what guided our thinking as we crafted and published them.
Hard looks at Harper. Amid the flood of others' election coverage, the Tyee attempted to swim in a direction distinct and useful to the citizen wanting context. Mindful that Stephen Harper was seeking a majority government, we considered it a public service to unflinchingly examine, and critique, how Harper governed with a minority, and find clues to what he might do with far more power at his disposal. We led off by simply publishing Harper's controversial speech to Americans in 1997, and continued through with articles ranging from Andrew Nikiforuk's expose on the Harper/oil sands connection to the Bruce Carson scandal to two excerpts from Martin Lawrence's lauded book Harperland: The Politics of Control.
Voter generated buzz. We focused as well on the social media sphere as a vital arena of action in this election, monitoring the chatter and identifying sites getting buzz or dishing out data. We gave space more than once to people openly arguing for strategic voting or donations to prevent a Conservative majority. We believed the "anybody but Harper" contingent represented a big chunk of the Canadian voting public -- possibly the real majority -- and so we felt a responsibility to afford them a voice. Our belief that in so doing we were providing balance was affirmed when the Globe and Mail and PostMedia, the two most influential news publishers in British Columbia, endorsed a Harper majority.
Missing issues. The third main focus of our reporting was on issues we believed were being underplayed by the media and muffled on the campaign trails. Those stories included Katie Hyslop's and Colleen Kimmett's piece on the impending biggest free trade deal since NAFTA, Geoff Dembicki's look at the "ghost issue" of climate change, and Michael Geist on "How to Vote for the Internet". Tomorrow, look here for another such feature -- asking why Canada's two current major military commitments, Afghanistan and Libya, got so little attention from the politicians.
One easy way to have all The Tyee's election related features in chronological order is by bookmarking this topic category: Federal Election 2011.
Alternatively, here are all the stories we've run broken into the three categories I described above, plus one more category always so handy: Other. (If in these final days of the election you'd like to share this list of stories with your circle, we thank you. We thank you, too, for making this a record month for visits to the Tyee.)
HARD LOOKS AT HARPER
To Push Prisons, Harper Buried Own Government's Findings. Facts on crime and jail terms didn't fit vote getting strategy, so PM ignored them. Excerpted from Lawrence Martin's Harperland. By Lawrence Martin, 29 Apr 2011
Harper's 'Visceral Hate' for Liberals. From day one it drove his strategy to 'break the brand' of Canada's reigning centrist party. Excerpted from Lawrence Martin's Harperland. By Lawrence Martin, 28 Apr 2011
Bruce Carson Scandal Greased by Harper's Oil Sands Agenda. Taxpayer millions set up PM advisor to push petro interests from U of Calgary. A special Tyee investigation. By Andrew Nikiforuk, 27 Apr 2011
When Harper Says 'Simply Not True'... Is It? Four times Harper flatly stated his debate opponents were just plain wrong. A reader asked us to check it out, so we did. By Katie Hyslop, 21 Apr 2011
'Stephen Harper vs. Canada': 2004 Case Could Spell Canada's Future. Change flow of money to parties and you control Parliament. Harper's plan for locking in a permanent Conservative advantage. By Mitchell Anderson, 19 Apr 2011
BC Must Not Hand Harper His Majority. Minority governments are good things. Unchecked Conservatives? Not good at all. By Rafe Mair, 18 Apr 2011
Immigrants Feel Betrayed by Conservative Decision to Make Family Reunions Harder. 'I feel I was lied to' says a tech worker from India, echoing other newcomers yearning to bring parents and grandparents to Canada. By Krystle Alarcon and Stephanie Law, 8 Apr 2011
Tom Flanagan's Playbook for Ultimate Harper Victory. Rule one: Fear works. And more Conservative battle strategy laid bare by an early architect. By Crawford Kilian, 8 Apr 2011
Contemplating the Unthinkable Harper Majority. A vote for the Tories this time could mean the end of Canada as we know it. By Murray Dobbin, 28 Mar 2011
Canada through Stephen Harper's Eyes. What might he do with a majority? Well, he once called his country a "welfare state in the worst sense." Here's that speech. By Stephen Harper, 23 Mar 2011
VOTER GENERATED BUZZ
Memo to Iggy, Jack and Liz: Get Strategic! On behalf of the Lesser of Evils Party, may I suggest you tell your supporters to just plain vote against Stephen Harper? By Shannon Rupp, 29 Apr 2011
Vote for the Engine of Social Change. Time to take a stand on future of the Internet, and make politicians do the same. By Steve Anderson, Shea Sinnott and Glyn Lewis, 27 Apr 2011
The Worst of All Anti-Iggy Ads. Going negative is one thing, but where did they dig up this stuff? By David Beers, 26 Apr 2011
Cool Election Web Stuff. Join a vote mob! Break up with Harper! Pore over Parliamentary law! See Layton with hair! And much more. By David Beers, 22 Apr 2011
It Seems Harper's Bubble Is Twitterproof. He's still well ahead, immune to the constant deluge of terrible things tweeted about him. By Steve Burgess, 21 Apr 2011
Artists Wage 2.0 Attacks on Harper. ShitHarperDid.com is zooming, and catchy tune 'Steve, It's Time to Leave' is catching on. By Shannon Rupp, 14 Apr 2011
The Tyee Guide to Strategic Voting 2011. A guide to the guides, in fact. Places to find info on how to make your vote carry the most weight. By Crawford Kilian, 14 Apr 2011
Ready to Pay to Stop Harper? Swing 33 Shows How. New website, not affiliated with any party, identifies races where political donations pack most punch against Conservatives. By Mitchell Anderson, 4 Apr 2011
Use Twitter to Interrogate Politicians Publicly. The medium's potential to confront the privileged and powerful is perfect for election time. Tweet 'em good. By Shannon Rupp, 30 Mar 2011
The Tyee Guide to Social Media Campaign Sites. Where to plug into the 2011 federal election online. By Crawford Kilian, 29 Mar 2011
MISSING ISSUES
Biggest Free Trade Deal Since NAFTA, Ghost Issue of 2011 Election. Canada is on verge of pact with Europe affecting farmers, local industries. It's invisible on campaign trail. By Katie Hyslop and Colleen Kimmett, 28 Apr 2011
Climate Change, Ghost Issue of 2011 Election. First of three stories on matters of huge significance weirdly drawing scant attention. By Geoff Dembicki, 27 Apr 2011
Biggest Silent Election Issue: Oil's Erosion of Canada. Petro wealth is fouling our country's character, as it did many others'. By Andrew Nikiforuk, 21 Apr 2011
If You Were to Vote Against Poverty. Which party deserves your nod? The NDP and Liberals have made explicit promises. Conservatives have not. By Katie Hyslop, 20 Apr 2011
Alberta's Oil Wealth and the Big Question for Harper. PM's favourite province squandered its petro profits like a 'banana republic.' Is this any way to run an economy? By Mitchell Anderson, 13 Apr 2011
Food Now on Plate for All Federal Parties. For the first time national food policies, from GM seeds to school lunches, are part of five parties' platforms. By Colleen Kimmett, 12 Apr 2011
Conservatives Set to Sink BC Shipyards, Fears Union. Who gets $35 billion contract could mean life or death of shipbuilding industry in this province, says union. By Katie Hyslop, 11 Apr 2011
How to Vote for the Internet. This is your chance to ask candidates about key digital issues. Here are ten. By Michael Geist, 30 Mar 2011
OTHER
Greens' Elizabeth May Hoping for No Dirty Tricks. Where she's running, ethics complaints were raised about Conservative-friendly tactics last election. By Andrew MacLeod, Yesterday
Ujjal Dosanjh, Bravest MP in Canada. He stood against Sikh extremism. He was beaten, threatened with murder. Now a terrorist group founder openly backs his Conservative opponent. By Crawford Kilian, 27 Apr 2011
Election of the Century? Canadians could see a huge political realignment, with a Harper majority and NDP official opposition. By Bill Tieleman, 26 Apr 2011
Parties Compete with Digital Policy Surprises. Tories focus on security. Grits on culture and connectivity. NDP would ban usage-based billing. By Michael Geist, 26 Apr 2011
'Tar Sands' vs. 'Oil Sands' Political Flap Misguided? What to call Alberta's reserves is raising a fuss, but for wrong reason, research indicates. By Geoff Dembicki, 25 Apr 2011
Layton's Surge and the Intentional Citizen. Most Canadians' values long have aligned with New Democrats. Is this an ah ha! moment? By Murray Dobbin, 25 Apr 2011
Van Island North: Voting Microcosm of BC. Meet the four candidates vying to represent a riding that, electorally, has it all. By Crawford Kilian, 22 Apr 2011
Why Don't Tories Like RIM's PlayBook? Conservatives' copyright plans create hidden cost for Research in Motion's new tablet. By Michael Geist, 20 Apr 2011
Only Layton's NDP Oppose 'Harper Sales Tax'. Grits and Tories guilty of contempt of BC voters, given their hypocrisy on HST. By Bill Tieleman, 12 Apr 2011
Our Wounded Democracy. Citizens would rather shop, making them vulnerable to manipulation by politicians without scruples. By Murray Dobbin, 11 Apr 2011
How Strangely You Canadians Elect Your Leader. A visitor from the UK contrasts Conservative PM David Cameron with Conservative PM Stephen Harper, and what it takes to win there and here. By Aleeza Khan, 8 Apr 2011
Case of the Curious Conservative Campaign. Why is Harper's team taking unnecessary risks bashing the environment and refugees? By Bill Tieleman, 5 Apr 2011
Iggy and Jack Were Dumb to Topple Government. Now they're in danger of being crushed, giving Tories their best chance for majority. By Bill Tieleman, 29 Mar 2011
PoliticianSpeak: Help Write the Dictionary. We offer this start of a handy guide just in time for a federal election. Please add your own definitions! By Crawford Kilian, 25 Mar 2011
The Tyee team also posted dozens of election related items on our political news blog The Hook. To read those go here.