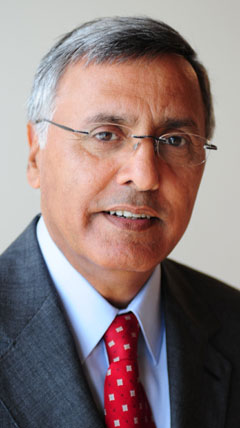 Unexpectedly, the 1985 Air India disaster has intruded into the 2011 federal election campaign in Vancouver South. The association of Ripudaman Singh Malik with the Conservative candidate Wai Young has brought her judgment and honesty into question. And it has made terrorism an issue in the election.
It has also brought back a bad time in the life of Young's Liberal opponent, Ujjal Dosanjh. To gain some perspective on the current controversy, The Tyee talked with Dosanjh in his campaign office on Tuesday, April 26.
As a young lawyer, Dosanjh said, he had begun speaking out in late 1984 against the more extreme voices in the Sikh community. In February 1985, he was attacked and beaten with a metal rod, and very nearly killed. It took 80 stitches to close the wounds in his head.
"But the physical pain wasn't as bad as the emotional pain," Dosanjh said. "I'd been trying to help people, to say 'Cool down.'"
Still worse was the emotional scarring the attack had inflicted on his children. Dosanjh recalled an incident when one of his sons was being bullied at school, but didn't want to talk to the teacher. "Stand up in class and talk about it," Dosanjh had said.
"Look where that got you," his son had replied.
Do the right thing and fear not
Speaking out may have been a family trait. Dosanjh talked about his grandfathers and other relatives who had struggled for India's independence, sometimes at the cost of their lives or of long prison terms. He mentioned a grandfather who had narrowly escaped arrest, and who had eventually settled in Canada. Dosanjh recalled walking his grandfather home one day and asking him if he'd ever been afraid.
No, the old man had said, citing an old belief that those protected by God can't be killed. Dosanjh took that to mean that if you are doing the right thing, you need not fear the consequences.
The extremists have long memories. Dosanjh mentioned an incident last year when some people had said publicly that he would not be welcome or safe at the 2010 Vaisakhi parade. Dosanjh (who hadn't been planning to attend) condemned that attitude; he then saw the appearance of two Facebook pages dedicated to discussing and funding his assassination.
Last week, the news broke that Wai Young had attended a meeting at Khalsa School, Vancouver which had also been attended by Ripudaman Singh Malik, acquitted in the Air India case but an acknowledged founder of the terrorist Babbar Khalsa movement and a financial supporter of the family of Inderjit Singh Reyat, the only person to be convicted in the case. Malik was now also a supporter of Wai Young's election campaign.
The vanishing candidate
The Young campaign promptly went into defensive mode. Young herself disappeared. A statement from the federal Conservatives appeared on her campaign website, rejecting Malik.
When The Tyee spoke on April 25 with Paul Lee, Young's media representative, he said the Khalsa School had invited her, "and being accommodating, she went. Had we known who was going to be there, we would have said no. She went to meet students, so she wasn't really stumping."
Lee went on: "She had no idea who Malik is. No one introduced her. Some parents showed up. There were speeches in Punjabi; I have no idea if they included endorsements. We have no tolerance for anything he stands for."
Asked about the Khalsa School meeting, Ujjal Dosanjh described it differently, citing a person who attended: "It took place at 3:30 in the afternoon. No students were there. It was teachers, staff and parents, and everyone was speaking English. She was endorsed and money was collected."
Moreover, both Dosanjh and Vancouver Sun reporter Kim Bolan have learned that Young had met Malik on April 2, just after the opening of her campaign office, in the home of a supporter. And Dosanjh also went public with allegations that the vice-president of the Vancouver South Conservative Association is an associate of Malik.
When The Tyee checked back with him, Lee said he had not attended the event at Khalsa School. But because Young had attended meetings with students at other schools, "I assumed they were all student meetings."
Checking over Wai Young
As for the April 2 meeting, Lee said: "I remember it well. I was there. About five of us carpooled to the home of a supporter. It was a house packed with Sikhs. We shook hands and got a warm reception, but no one introduced anyone by name. They wanted to hear her. She talked about the Conservative platform.
"Other people got up and spoke about the needs of the community, how Sikhs had supported the NDP when they were millworkers and then the Liberals when they became merchants, and now maybe it was time for a change again. They were checking her over. There was no mention of Mr. Malik whatsoever. They talked about contributions. If Mr. Malik was among the crowd, I didn't know it."
How, The Tyee asked, could Wai Young not know who Ripudaman Singh Malik is? She had grown up in Vancouver South, where Malik is extremely well known at least by reputation. And if she didn't know about him, surely someone on her riding association executive should have alerted her -- perhaps that associate of Malik's.
"I can't explain why she wasn't alerted," Lee said. He repeated that "We fully repudiate his endorsement." Asked if the campaign had returned any contributions made by Malik, he said a search for such contributions was under way.
Shock waves
Malik appears to be sending shock waves through the Lower Mainland political community: A Vancouver Sun report on April 26 said Mayor Gregor Robertson and several city councillors attended a Khalsa School event last year that Malik also attended, and that they took pains not to be photographed with him.
Also on the 26th, Kim Bolan reported that Malik said on a Punjabi radio program that he still supported Young and also backed two Liberal candidates: Sukh Dhaliwal in Newton-North Delta and Shinder Purewal in Surrey North.
Contacted by The Tyee, Purewal was surprised to hear of the endorsement. "I don't comment on other people's comments," he said. "I'm just focused on the campaign and seeking support from my constituents."
Dhaliwal's media person said: "The campaign has had no contact with Mr. Malik. His comments were unsolicited, and we found out about them only through the media. Sukh says the only endorsement we are seeking is the endorsement of Newton-North Delta voters on May 2."
Ujjal Dosanjh, at least, doesn't need to worry about such kiss-of-death support. His campaign signs, he told The Tyee, had suffered some routine damage. But since the Young/Malik story broke on April 22, the signs are being defaced. (A glance at his signs around East 49th and Fraser confirmed this.) "It's vicious," he said.
Not as vicious as an 80-stitch beating with a metal rod, but still a reminder that not everyone will be content with the results of a clean campaign and honest debate. To wage such a campaign, when you know some of your voters have contempt for parliamentary democracy, takes more courage than many politicians can find.