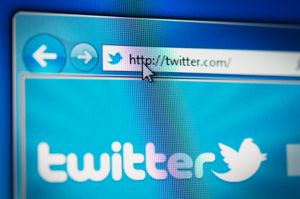 As waves of Twitter tags about #japan, #Ghadhafi, and #bdgt11 flood social media it's impossible to ignore how Twitter has gone from being The Narcissist's Lunch Report to a significant conduit for breaking news.
But its potential as a tool for hoi poloi to confront the privileged and powerful is just beginning to be explored. This election, Twitter has given each of us the power to direct our own tweets at candidates, with all of the twitterverse looking on. It's like an ongoing virtual scrum that any of us can join.
I first noticed Twitter's potential as a citizen's tool last summer after Margaret Atwood succeeded in derailing Fox News North with little more than a quick wit and a smartphone. It turns out Canada's Queen of Letters is a prodigious tweeter and she raised the alarm about Harper pressuring the CRTC to give his neo-Con buddies preferred placement on the dial. Combined with the CRTC's plans to lift prohibitions on publishing lies, the Sun-chain's TV channel was poised to become a powerful propaganda tool for the Harper Government ™ until Atwood joined the fray. Now the channel will relegated to the upper-end of the dial like any other newbie with limited audience appeal.
Courtesy of Twitter, players like Atwood have become the watchdogs of society as newspapers have morphed into lapdogs. She has about 120,000 followers, in other words, her circulation is bigger than that of most Canadian dailies. And she carries the authority of independence -- regardless of whether you agree with her views there is no doubt they are authentic, as opposed to being commissioned by an advertiser.
'That's not okay!'
I was also fascinated by the resourceful way Parliamentary reporters have been using Twitter to hold politicians like Lawrence Cannon, minister of foreign affairs, accountable amidst the chaos in Egypt. I follow a few Hill reporters, but Queen of Tweets has got to be CBC's Kady O'Malley (@kady) -- not least because she's a something of a smart-ass who takes the sort of Twitter swipes (twipes?) most reporters utter only to their fellow wretches.
Courtesy of an O'Malley tweet, I tuned-in to a live-streamed newser at which Cannon announced he was finally (after outcries on Twitter and Facebook) sending a plane to Cairo to pick up Canadians. Then I sat slack-jawed as the minister refused to answer some polite questions from a sedate Press Gallery and stormed out. Followed by impotent squeals of outrage from the moderator.
"That's not okay Dimitri!" he bellowed at the PM's Communications Director @pmoSoudas. And the reporters tweeted their outrage about him breaking the press gallery rules.
Oh, I knew the Harper Government ™ had nothing but contempt for the electorate -- they're officially in contempt of Parliament -- but as I watched him walking out on the reporters, I felt as if he were flipping me the bird. Which he was, of course. Reporters are citizens' surrogates: walking out on them, is walking out on us.
He obviously got away with it, too. Canadians stuck in Libya a couple of weeks later had to escape via transport for allied nationals. Then after the Japanese tsunami and the nuclear hazard, Cannon dragged his heels insisting there was no danger -- until public pressure again forced the Tories to rescue the people who elected them.
Which left me wondering what would have happened if a chorus of citizens had bombarded Cannon's Twitter page (@Lawrence_Cannon), echoing the reporters' demand he stand-and-answer at that first news conference. Would he have dared to abandon subsequent groups of ex-pats if he realized voters were onto him?
It's an interesting question, isn't it?
Cornered by tweeting citizens
Everyone is predicting this month will see the first Twitter-covered-election because the tools for tracking social media commentary allow flacks to see what the public is saying about their candidate. But that's an old-fashioned perspective that views social media as one-way communication.
What interests me is what politicians do when the electorate confronts them directly on Twitter?
Will they dare to duck voters the way they duck reporters? Will be they be willing to show themselves to be liars and frauds publicly, the way they often do in interviews?
William Gibson, who likes to explain the world to us 20 years before we're ready to understand, was much-quoted last fall saying that Twitter feels like the street while Facebook feels like the mall -- in other words, FB is artificial, controlled, sealed off from reality.
But on Twitter, Gibson pointed out, "you could meet anyone."
As always, @GreatDismal is right. You can talk directly to any public figure who's foolish enough to think Twitter is nothing but a publicity platform. Since Twitter goes both ways, it means the egomaniacs are also exposing themselves to the mob.
Certainly the platform has worked for unmasking the vile self-promoters who once dominated the Twitterverse. Consider the backlash against freelance writer Nir Rosen, who celebrated news of CBS reporter Lara Logan's rape in Egypt by tweeting "the war monger" got hers.
Rosen first doubted Logan's rape and then suggested she was just angling for attention: "Jesus Christ, at a moment when she is going to become a martyr and glorified we should at least remember her role as a major war monger."
For those not following the battle over whether the U.N. belongs in Afghanistan -- which is as lively as the war itself -- Rosen is an American freelancer who sympathizes with the Taliban and groups like Hezbollah and Hamas and wants the U.S. military out of the Middle East. Since politics makes strange bedfellows, many of North America's anti-war activists have embraced Rosen's work.
A year ago, Rosen's babble would have elicited little more than an online shrug and perhaps a commentary piece from some old fogey about how social media is contributing to moral decline.
But Rosen's twits lost him more than social cred, he lost his New York University fellowship. Given how he perceives the world, who would trust him as a reporter, let alone a teacher? Not-quite-chastened, Rosen commented that he forgot that "Twitter is not exactly private," suggesting that he really is as vile as his tweets suggest -- he's just sorry he informed the rest of us.
With these reassuring signs of Twitter's growing maturity, I can't wait to see how B.C. voters will use it in during this year's Festival of Elections.
In the meantime, I'm researching politicians' Twitter handles because there are few things I'd like to ask. . .
© Shannon Rupp. For permission to reprint this article please contact the author: shannon(at)shannonrupp.com.