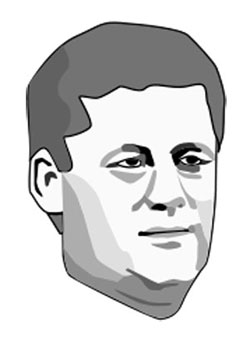 Last week The Tyee received an email from a loyal reader who was suspicious of the claims made by former Prime Minister Stephen Harper during the English leaders debate on April 13. "That's simply not true," Harper said four times -- but how could our reader know if she could take Harper at his word? Would we, she asked, be so kind as to verify these truths?
Gladly.
While other media outlets have provided some fact checking on all the parties' claims throughout the debate, we had to agree with our reader that it's a special case when the Prime Minister boldly declares an opponent's assertion to be just plain false. So The Tyee examined all four times Stephen Harper did so, in the order they were uttered, with the aim of finding out who was right.
"This is simply not true. Canada is one of the most forceful promoters of human rights, the rule of law at home and abroad. When it comes to foreign aid, it is delivered largely through private organizations and international partners. That's largely how we do it. The idea that we're shutting them down or muzzling, this is not based on any fact."
Liberal leader Michael Ignatieff elicited the first "simply not true" by accusing Harper of shutting foreign aid groups if they disagree with the Conservative ideology. Harper is technically right and what Ignatieff said is not true. The Conservative government has de-funded several non-governmental foreign aid agencies that did not agree with their ideologies, including Kairos and the International Centre for Human Rights and Democratic Development, but they have not shut them down.*
Kairos, a non-governmental foreign aid organization made up of 11 churches and religious groups in Canada, was infamously defunded after International Cooperation Minister Bev Oda ordered a Canadian International Development Agency document recommending funding for the group be altered to include the word "not."
The reason for the move, according to Immigration Minister Jason Kenney, was because the group was taking a leadership role in the boycott of Israeli and advocating for sanctions against the ally country -- a charge Kairos denies.
The International Centre for Human Rights and Democratic Development (more commonly known as Rights and Democracy) lost $30,000 in funding for three groups in early 2010 because of alleged ties to the Popular Front for the Liberation of Palestine, which Canada regards as a terrorist organization. These allegations were never proven, and the funding cuts were made to B'Tselem (in Israel), Al Haq (in the West Bank) and Al Mazen (in Gaza) despite the fact that then-foreign minister Lawrence Cannon had approved the funding of $10,000 for each group.
"Simply not true. Settlement support has tripled under this government."
Harper said this in response to the allegation made by New Democratic Party leader Jack Layton that funding for support for immigrants had been cut under the Conservative government. What Layton said, however, was true: in Dec. 2010, the Conservatives cut funding by $53 million, the majority of which is taken from the Greater Toronto Area because the Conservatives claim immigrants are settling more in the west and the Atlantic provinces now.
But Harper's claim that "settlement support has tripled under this government" was also true, if a little exaggerated: according to the CBC, as of the 2010/2011 fiscal year, funding for settlement support for immigrants is 2.3 times higher.
"That's simply not true. We've been increasing categories across the board in terms of family class. There will be as many family class admitted this year as in the previous year."
What Harper said is not true. In February the Conservative government announced they would be decreasing the number of parent and grandparent visas from the 16,200 they handed out in 2010 to 11,200 in 2012. This means some people might have to wait 10 years or even more before they're reunited with their loved ones.
"Simply not true. On the very measure you raised there was a Conservative bill before the House to end that practice. There was a Bloc bill before the House."
This is hard to determine one way or another. Bloc Quebecois leader Gilles Duceppe accused Harper of shooting down a Bloc idea to remove the ability to grant criminals parole after they've served only one-sixth of their sentence, only to reintroduce it in a Conservative bill later.
Several Bloc MPs have stated the Bloc made this suggestion on June 15, 2007, though we were unable to find a transcript of this conversation. The Conservatives introduced the idea on June 2009 as part of Bill C-43, an act to amend the Corrections and Conditional Release Act and the Criminal Code, which didn't pass its second reading before Parliament was prorogued in Dec. 2009. It was introduced again under Bill C-59, and passed with Bloc support.
So there you go. Four times during the debate Prime Minister Stephen Harper declared an opponent's assertion to be "simply not true." Once he was right, two times it was he who was wrong, and the fourth, well, at minimum, the truth was simply not simple.*
*Story updated at 2:45 p.m., Apr. 21, 2011.