Forget the talk about Asian markets; Kinder Morgan will enrich U.S. companies. Read more »


Clients calling ministry for help waited more than 90 minutes on average during worst days to speak to a real person.


New book explores the disquieting — and violent — past written in our genes.


Task force on rentals to deliver recommendations in fall.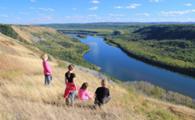 Live and online discussion offers insights on controversial decision — and the path forward.

Why do you think Kinder Morgan slammed the brakes on its pipeline project?
Bad project economics
B.C.'s opposition
Desire to let Ottawa push the project forward
Protesters
Other
I don't know
Last week: Your relationship with Facebook after the mass data breach. Read the results of that poll here.
Announcements, Events & more from Tyee and select partners
Tweets from @TheTyee/tyee-reporters