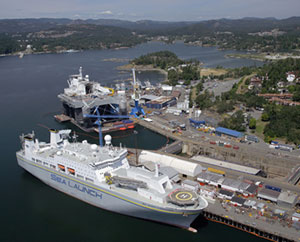 The economy is a hot-button issue this election, with parties focusing on strengthening Canada's tenuous recovery from the global recession. In two British Columbia seaside ridings fears of job loss stem from a move by the Conservatives some see as a gambit to shore up support in Quebec leading into this election.
The concerns arise from a $35 billion contract the Conservatives promised to two shipyards -- a contract B.C. shipbuilders fear they won't get, spelling the end of the province's industry.
The former-Conservative government announced a request for proposals (RFP) in February for two shipbuilding centres of excellence: shipyards that would receive billions in combat and non-combat ship work, which the B.C. shipbuilders union estimates would provide 800 to 900 jobs in B.C. for at least seven to 10 years.
While they received five proposals in total, it's widely believed the competition is between Seaspan, which operates the Vancouver and Victoria yards; Irving Shipbuilding, in Saint John, NB; and Davie Yards, just outside Quebec City, Que. The final decision is schedule for July.
"(That contract is) what's going to allow the industry to grow in the future and it'll allow them to bring new people in, new infrastructure, set up apprenticeship programs," says George MacPherson, president of the B.C. Shipyard General Workers Federation.
Competing with Quebec was seen as a positive sign for B.C. since all companies who responded to the RFP must be solvent, and Davie was in bankruptcy. Until two weeks ago.
"They've just been bought by a large outfit coming out of Italy," MacPherson told The Tyee.
"Quebec has been looked after over the years many, many times, and I would be quite discouraged if I see that the federal government was out there playing games with this thing and they ended up with a contract that they shouldn't be qualified for.
"If the West is cut out of this program, then I believe that we won't have an opportunity to be able to compete going forward with the rest of the industry around the world."
NDP: Policy of fair distribution of work
While shipbuilding only makes up one tenth of one per cent of the province's gross domestic product, it's a big issue in the ridings of North Vancouver and Esquimalt-Juan de Fuca, home to the province's two shipyards. New Democratic Party Leader Jack Layton announced his plans for Canadian defense in Esquimalt-Juan de Fuca on April 8, which includes building two new supply ships for the armed forces.
"Our plan will help Canadian shipyards eliminate the boom and bust cycles, provide stable employment, and keep expertise in Canada," Layton said in a press release.
Instead of centres of excellence, the NDP plan to spread the work around to different shipyards across the country, including B.C.
"We have set out the policy of a fair distribution of the work around the country, and an emphasis on ships as the first priority of procurement, so that means there'll be work available, and I'm very confident that the shipyards here in my riding are certainly going to be competitors for that work," says Randall Garrison, NDP candidate for Esquimalt-Juan de Fuca, who is locked in a race with Conservative candidate Troy de Souza that is too close to call.
Garrison argues the Conservatives have put ships on the back burner in favour of fighter jets for the armed forces. This doesn't fall in line with what the NDP sees as the role of the Canadian Armed Forces: defending Canada, assisting in natural disasters, and participating in peacekeeping and peace building.
Michael Charrois, NDP candidate for North Vancouver, says he was surprised his riding hasn't already been chosen as one of the centres because incumbent Conservative Andrew Saxton was parliamentary secretary to Stockwell Day, former minister for the Asia-Pacific Gateway and president of the Treasury Board.
But while MacPherson is fearful the government won't award the contract to B.C., Charrois suspects the ships won't even be built in Canada.
"It's this move to larger multinationals. I don't know why the C-Class ferries had to be built in Germany. There was supposed to be a tariff involved in building them in Germany and bringing them here, but the Conservative government waived that," Charrois told The Tyee.
"There's just a lot of secretiveness about awarding the contracts and I don't know how it works."
The Tyee contacted Saxton's campaign office, as well as Esquimalt--Juan de Fuca Conservative candidate de Souza, for an interview but did not receive a reply from either candidate by deadline.
Liberal: applying Conservative policy fairly
Shipbuilding isn't part of the federal Liberal platform, but it's on the minds of the local Liberal candidates who like the centre of excellence idea and want to see this province become home to one of them.
"What I'm really looking at is making sure that we're applying this policy that was unveiled by the Conservatives fairly," says Lillian Szpak, candidate for Esquimalt--Juan de Fuca, adding B.C. and Halifax are the best choices because they're home base for Canada's naval fleet.
North Vancouver candidate Taleeb Noormohamed says the Conservatives have a record of only bringing contracts like this to Eastern Canada, accusing the party of dangling contracts "like a carrot" in front of Western Canada without delivering. If elected, Noormohamed says he'll work with industry and environmental groups to make the business case for picking B.C.'s shipyards, because that's the only way to make a convincing bid.
"The history of the shipyards here has been a great success, but we have to couple that historical success with a strong business case, which we will absolutely be able to produce," Noormohamed told The Tyee.
"It's a combined effort, it's never going to be one person working on their own, it needs to be a combined strategic effort to deliver it and bring it home."
Waiting game
But it isn't just federal support MacPherson is looking for. While the governments of both Quebec and Nova Scotia are making the case for their shipyards, MacPherson is wondering where the B.C. Liberals have been during this conversation.
"Provincial politicians have put strong letters of support out and news releases out. Provincial government of British Columbia has been very, very quiet, that's a concern that we have," he says.
A spokesperson for the Ministry of Jobs, Tourism and Innovation, Sheldon Johnson, says the ministry has been in contact with Ottawa and Seaspan about the project, but it's waiting until the outcome of the federal election before doing anything else. He said the ministry is not too concerned, however, about the future of the province's shipyards if the bid isn't successful.
"Shipyards not successful in this package have the opportunity to bid on the small non-combat ships. As well they may also supply the winning shipyards with goods and services as part of the federal Industrial and Regional Benefits program," Johnson told The Tyee in an emailed statement.
But one union source explained that busy shipyards tend to attract more business, while a shipyard that is left out of major government contracts may signal to prospective clients that it's somehow inferior, and over time contracts may wither away.
MacPherson doesn't have an issue with the centre of excellence plan, but says he doesn't understand why it's restricted to two when there's enough work to go around to provide for three. But until a new federal government is formed, all the union can do is wait.
"We're concerned," says MacPherson. "We're watching it very closely."