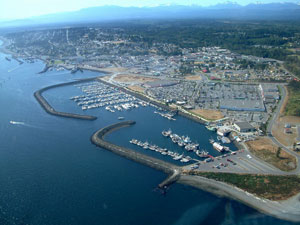 If you're looking for a close fought, emblematic election battleground in British Columbia, you couldn't do much better than Vancouver Island North. At least one anti-Harper web site has named it a "key contest" where the Conservative is neck and neck with a New Democrat challenger.
And, in some ways, the riding of Vancouver Island North is a microcosm of B.C.: an economy based on fish, forests and mining; an urban south and a vast rural north; and an aging population. So the federal election here involves province-wide issues.
In the current election, Conservative John Duncan, who was Minister of Indian Affairs and Northern Development in the last government, is campaigning for the seat he's held for most of the last 15 years.
According to Elections Canada, Vancouver Island North in 2008 had a population of 113,356 and 88,077 electors. Ballots cast totalled 56,879, for a voter turnout of 64.6 per cent.
The Liberals got 2,380 votes, 4.2 per cent of the total. Greens got 4,544 (eight per cent). The New Democrat, then-incumbent Catherine Bell, got 23,466 votes (41.4 per cent). Duncan won with 25,963 votes (45.8 per cent).
This time Duncan's running against New Democrat Ronna-Rae Leonard as well as Liberal Mike Holland and Sue Moen for the Greens.
The Tyee raised four questions to all four candidates to get a sense of how they see the campaign and the issues. Duncan emailed his responses to our questions. The other three talked with us by phone. We've put their answers in alphabetical order.
1. What do you see as the key issues in the campaign?
Duncan: The main issues I see in this campaign are the economy, families, veterans and seniors. Our region's economy must remain a priority. Families need to continue to receive concrete support from their government. Seniors and veterans are role models in our community and we must ensure they have the resources they deserve.
Holland: I see more For Sale and For Lease signs than political signs in Port McNeill and Port Hardy and Campbell River. The economy and jobs depend on four things: quadrupling renewable-energy jobs, expanding the power grid, universal Internet access, and expanding the market for forestry, fishing and mining.
Leonard: Affordability. People are out of work, things cost more, they're going deeper in debt, and they can't get services. Conservatives talk about a "fragile recovery," but communities are still suffering and job targets aren't realized.
First Nations are an issue also. In Port Hardy the suicide rate is high and kids are dropping out of school.
And homelessness, including children, youth, and women. In local government I've seen the need growing.
Moen: Agriculture. We don't have enough people or investment in farming.
2. What are the issues you're hearing about from the voters?
Duncan: Talking with residents throughout Vancouver Island North I am hearing that the economy remains top of mind for people. They are concerned about our region's economic growth and development. They have also expressed to me frustration over having an election at a time where our economic recovery is still fragile. I have highlighted that our Conservative Government is committed to strong economic leadership and ensuring that our economy stays on course to complete our recovery from the global economic recession.
Communication and speaking with residents has helped strengthen my understanding of our local issues. I am committed to continuing to represent our region.
Holland: Worry about oil tankers. Two-thirds of Kitimat oil will go to the U.S., not China. The potential is for tankers to do great damage for only 40 Kitimat jobs.
Leonard: They're not being represented by their MP. The halibut sport fishermen are very unhappy about their 12 per cent share of the catch. Duncan didn't show up for a meeting with them; there's been no dialogue. I've talked with them and the commercial fishermen.
Moen: Management of resources like forestry and fisheries. People are looking for support for value-added, and stewardship not extraction. Everyone's disgruntled about the Department of Fisheries and Oceans, because they're promoting, not protecting -- they've got a built-in conflict of interest.
Health care is another issue. Elders are retiring to the Comox Valley. They need support for pharmaceuticals and both community and at-home care.
3. Where do you stand on the fish farms/wild salmon controversy?
Duncan: I believe that both salmon farming and wild salmon are important to our coastal communities. Creating and supporting jobs in small and remote coastal communities is a challenge and the aquaculture sector has proven to be an important asset.
The wild salmon resource defines our coastal communities as well. The First Nations, recreational and commercial fisheries are culturally, nutritionally and economically important. Our Conservative government has invested over $70 million to improve environmental monitoring and science and we support aquaculture that is strictly regulated and operating transparently.
Holland: I'm not against aquaculture, but not at the expense of the environment. Fish farms provide 5,200 jobs in the riding. I support the Pacific Salmon Forum, including fallowing the fish farms in the Broughton Archipelago. I'm not suggesting closing open-containment farms.
Leonard: The NDP is for closed containment. We want to transition to that. We're not seeing regulation to protect the marine environment and resources, so we could have both open-net farms and closed containment. We need independent study of the issue, and open, transparent science.
Moen: We should operate on the precautionary principle. Fish farms need to transition to land. Give them 10 years to make the change. And we should support the industry with DFO research.
4. What do you consider the most important but least recognized issue in this campaign?
Duncan: The least recognized issue in the campaign is the frustration people are having about another election. I have heard the question, "Why are we even having this election now?" more than any other question, and in some cases it is affecting their choice as to which party they will vote for -- to favour a Conservative vote.
Holland: The ethics of the Canadian government. People want a change. They're sick of the current federal government. Harper betrayed the old Reform voters. Now, no legislation can go through a cabinet minister; it all comes from the Prime Minister's Office. Duncan won't meet with veterans, or with recreational halibut fishermen.
Leonard: People don't want Stephen Harper as prime minister. That really scares them. They're concerned about support for democracy; they're seeing it eroded. People do want an election -- it was our representatives who brought down the government.
Moen: First Nations and women's issues. Mr. Duncan was the Minister of Indian Affairs and Northern Development but First Nations issues are nowhere close to resolution.