Our story
In November 2003, The Tyee began its swim upstream against the media trends of our day. We're independent and not owned by any big corporation. We're dedicated to publishing lively, informative news and views, not dumbed down fluff. We, like the tyee salmon for which we're named, roam free and go where we wish.
More than 13 years later, the Canadian media ecosystem is a little bit healthier. We've helped revive old-style, long-form reporting and shed light on the stories and solutions big media ignores. Our writers are some of the best in the country. Together, we've broken major stories and won major awards. The Tyee is now a widely read and respected platform for the forward-thinking, fact-based conversation our province and country desperately need to have. To read a timeline of highlights of The Tyee's first 10 years, click here.
Our readers helped us get here. Hundreds of thousands of people across the province, country and globe visit The Tyee every month, including influentials and policymakers who have cited our stories in provincial and federal legislatures. The Tyee has earned praise from Margaret Atwood, Douglas Coupland, Lawrence Martin, and several other recognized Canadians. Even so, our most loyal readers are ordinary people deeply invested in the public debates that shape our day. The Tyee is proud to have informed and hosted such debates for more than 13 years now. We look forward to many more.
As noted at the outset, the word tyee is by local current definition a Chinook, Spring or King salmon of thirty pounds or more. But the original word carries even more weight. In the Chinook language, tyee means a chief, a king, "anything of superior order" -- even an online magazine.
That's something to strive for every day as we continue to swim against the current.
Awards & Recognition
2013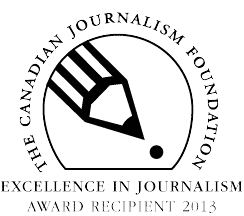 Excellence in Journalism Award - Gold
2013
Jack Webster Award for Community Reporting
2012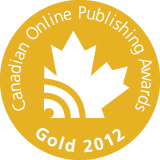 COPA Gold
For Death in Remand
2012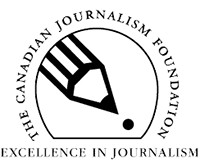 Excellence in Journalism Award
2011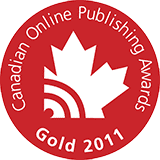 COPA Gold
2011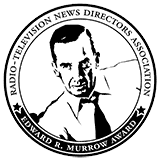 Edward Murrow Award
2011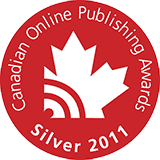 COPA Silver
For best news coverage
2009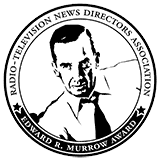 Edward Murrow Award
2009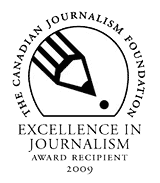 Excellence in Journalism Award
FAQ
1. Who reads The Tyee?
The Tyee receives between 800,000 and one million pageviews each month. More than 60 per cent of our readers are from British Columbia (and 40 per cent from the Greater Vancouver area). We also have more than 32,000 subscribers who receive our headlines by email, 50,000+ Twitter followers, 19,000 Facebook fans and more than 19,000 registered commenters.
Download our media kit for more information about The Tyee's readers.
2. What does "tyee" mean and how the heck is it pronounced?!
The word tyee is by local current definition a Chinook, Spring or King salmon of thirty pounds or more. But the original Chinook word carries even more weight. In the Chinook language, tyee means a chief, a king, "anything of superior order" -- even an online magazine.
It's pronounced "Tie - yee."
3. How is The Tyee funded?
In recent years, the largest component of Tyee funding has come from our readers through the Builder program. The Tyee's sole investor is Eric Peterson and Christina Munck, whose B.C.-based Tula Foundation funds a range of programs including those of the Hakai Institute on the B.C. Central Coast. From 2003 to 2018, The Tyee's majority investor was Working Enterprises, a Vancouver-based labour-affiliated holding company whose mission was funding socially-responsible organizations. During some of those years, Peterson and Munck were second investors.
Additional portions of The Tyee's revenues come from philanthropic and advertising partnerships with institutions that are carefully screened for their values. Find out more about this here.
The Tyee has never banked a profit, spending all revenues on producing journalism.
Some public-interest reporting projects published by The Tyee were produced by its sister non-profit, Tyee Solutions Society (TSS), which ceased operations in November of 2018. More on this below.
Serious journalism costs serious money. Consider supporting The Tyee's public-interest journalism for as little as $3/month.
4. What was the Tyee Solutions Society?
Tyee Solutions Society (TSS) was a separate non-profit society focused on producing solutions-oriented journalism in the public interest.
The Tyee was TSS's major media partner, but TSS also had its work published by other media outlets such as CBC Radio, Walrus Magazine, Los Angeles Times, Waterloo Region Record, Sing Tao, Windspeaker, Megaphone and others. TSS journalism has shed light on important public-interest topics from green building to Aboriginal education to sustainable local food economies. TSS stories have been republished widely and won major national journalism awards.
The Tyee carries on with solutions-oriented reporting that uses traditional investigative techniques to empower citizens with the information needed to seize opportunities for positive change.
5. How can I report an error or omission?
Thanks for the eagle eye! Send an email to editor@thetyee.ca or, better yet, drop us a note in the comments section below the story.