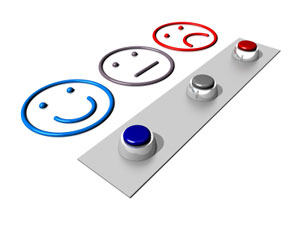 So fate has put you in a federal riding where your preferred candidate hasn't got a chance. Vote for that candidate and the best you're doing is putting a toonie in your party's war chest for the next election. (And this could be the last time you'll have that consolation.)
Faced with two or three candidates with better odds of success, you probably find one of them intolerable. The others are simply lesser evils. So should you vote for a lesser evil, if only to frustrate your local Great Satan?
That's your decision. But to help you make it, here are some guides for strategic voters.
On the Impudent Strumpet blog, you'll get advice on How to Vote Strategically, with links to sites that can give you information on your own riding.
In rabble.ca, Murray Dobbin argues for "limited strategic voting" in certain key ridings. In B.C., Dobbin lists 10 seats including Vancouver Quadra, Vancouver Island North, Newton-North Delta, Esquimalt-Juan de Fuca, and North Vancouver.
Catch 22 argues that 22 ridings have "super voters" who can thwart Harper's quest for a majority government. These target ridings include seven in B.C.
Project Democracy.ca is a national website listing two B.C. ridings as "key contests": West Vancouver-Sunshine Coast-Sea to Sky Country, and Vancouver Island North.
Next door in Alberta, Poly Nerd suggests ways to oust Conservatives in three Edmonton ridings. Votesolution.ca is a dedicated strategic-voting blog. It too has an Alberta/Edmonton angle.
Drilling deeper
You may also want to investigate vote swapping at Pair Vote.
The Tyee itself has published an article by the creator of Swing 33, a way to donate to a candidate in a crucial riding with a good chance of winning.
You may also want to see how your neighbourhood voted in the 2008 election.
That election, by the way, triggered a number of relevant articles and Hook items:
Strategic Voting 2.0 explains how the web has changed our way to target, and swap, votes.
Murray Dobbin examines the angles in Elizabeth May's strategic voting dilemma, and argues the pros and cons of strategic voting as a tool for Turning Back Harper.
Even in the 2006 election, Dobbin was urging you to Be an 'Intentional Citizen.'
Does it work?
And how well does strategic voting work? Some political scientists have tried to answer that question in scholarly journals. For example, "Why is There so Little Strategic Voting in Canadian Plurality Rule Elections?" and Voting Strategically in Canada and Britain. (You'll get an abstract or a preview, not the full text.)
Another academic study gets a good summary on a 2008 blog post titled "Strategic voting, bah humbug."
Whatever your decision -- a toonie for the good guys or a vote for a lesser evil -- The Tyee urges you to vote.