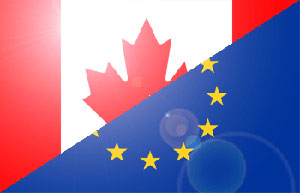 Most Canadians don't know it, but our country is currently negotiating the biggest free trade contract since the North American Free Trade Agreement, a deal that could significantly increase drug prices, privatize our water, and outsource jobs easily done by Canadians to foreign multinational corporations. And none of the parties are talking about it.
The Conservative government has been involved in private negotiations with the European Union over the Canada-European Union Enhanced Trade Agreement (CETA) since 2009, with the most recent round of talks taking place earlier this month -- during the campaign.
There's been little coverage of the deal, with only Parliamentary reports from last fall and leaked reports from private negotiations to go on. Yet Stephen Harper says he hopes to wrap up negotiations by the end of 2012.
"The first thing to know about CETA is really it's not mainly about trade: genuine trade barriers between Canada and the European Union are already very low," says Scott Sinclair, a senior research fellow for the Canadian Centre for Policy Alternatives, and a former senior trade policy advisor with the B.C. government.
"My concern is that the agreement's more about limiting democratic policy options and enhancing corporate power, really, than enhancing trade."
Cashing in on provinces
Unlike past trade agreements, including the failed Trade and Investment Enhancement Agreement negotiated with the E.U. under the Liberal government in 2005-06, this agreement involves areas of provincial and municipal jurisdiction. 
"The provinces are right now in the process of compiling a list of services including public services and government measures; crown corporations, including in Ontario the liquor board; and municipal governments, that they're willing to basically put on the chopping block, that they're willing to throw into this deal, and we haven't seen this list," says Stuart Trew, trade campaigner with the Council of Canadians.
The main reason for opening up the provinces and municipalities, says Trew, is for procurement of public contracts, encompassing everything from constructing hospitals, to supplying bus fleets, to privatizing our water and sewer systems. Trew estimates Canada spends as much as $200 billion on such contracts a year.
"The European Union is itself a highly privatized area which I think most Canadians don't realize," he told The Tyee.
"If you look at transit, energy, and definitely postal services, these are highly privatized in the European Union. Water is still, like Canada, mostly in public hands. And so they see in CETA a way to one, open up Canada's public services to privatization, and also to kind of set a global example for where they can push other countries to include these same services and procurement rules with the E.U."
But just because water is public in Europe doesn't mean it will remain so in Canada, warns Paul Moist, president of the Canadian Union of Public Employees.
"I know from first-hand experience they're extremely interested in all water infrastructure in Canada: waste water treatment, water treatment, etc., because at the annual [Federation of Canadian Municipalities] convention [European corporations are] there in droves with their trade show materials," he told The Tyee. 
The end of local?
In the past municipalities and provincial governments have opted to give their contracts to local businesses only. For example, when the City of Toronto needed new streetcars, they decided without a public tendering process to give the contract to Bombardier, who have a plant in Thunder Bay, Ontario. That won't be possible under CETA because of a clause similar to NAFTA's Chapter 11, which allows corporations to sue governments for compensation if they believe they've stood in the way of profits.
The province of Newfoundland and Labrador learned what Chapter 11 was all about when pulp and paper giant AbitibiBowater shut down their pulp and paper mill in Grand Falls-Windsor and the province responded by taking back the company's rights to water and wood in the province. AbitibiBowater sued the province for violating NAFTA, and the federal government stepped in and settled the dispute by giving AbitibiBowater $130 million. 
"[That] made Newfoundland angry; they thought the water and timber rights belonged to the people of Newfoundland and they were only given to AbitibiBowater so long as they lived up to their end of the agreement, which they ceased to do when they closed down the operation," says Moist.
"So you had a national government, in our case the federal government, signing international trade deals that affect matters that come under the purview of the province, in this case water and timber rights in Newfoundland."
Terry Boehm, president of the National Farmers' Union, worries that the procurement piece of the agreement will have a chilling effect on a burgeoning local food movement, particularly in what's known as the MUSH sector -- municipalities, universities, schools and hospitals.
This sector feeds millions of people every day, and its collective buying power is an important lever in supporting the local food economies. Already, institutions like the University of Toronto and City of Markham have adopted local food procurement policies.
Under the new agreement, giving preference to these local suppliers would be prohibited. It would also prohibit these public sector institutions from breaking up contracts so that they fall under the dollar threshold to which the trade agreement applies.
"So it really, in our minds, hinders the potential for local food systems," says Boehm. "And I think it is significant not just for Canadian agriculture, but Canadians in general. It's a fundamental shift in the philosophical view of what government is. It shifts away from government being a creature of citizens to act in the public interest to being a creature that acts in the corporate interest."
Specter of driven up drug prices
Medicare and the state of the country's health system is a talking point during this election, but according to Moist the biggest cost driver of our health system is the cost of drugs, and thanks to extensive demands on intellectual property rights, CETA will only increase the costs of generic drugs.
"Drug costs will sky rocket according to evidence we have because of the demands of Europe on the intellectual property side of the equation. They want to extend patent protection," he says.
"A study by two of Canada's top academics on pharmaceutical policy concluded that Canadian payers such as the federal government, provincial governments, businesses and patients would face substantially higher drug costs, with the annual increase in costs likely to be approximately $2.8 billion per year."
The NFU and other food security advocates have concerns about intellectual property rights as they pertain to patented seed varieties.
Monsanto has already demonstrated its legal right under NAFTA to go after farmers for patent infringement. Perhaps the most high profile case was Saskatchewan farmer Percy Schmeiser, who was sued by Monsanto after its Roundup Ready strain of canola was found growing on his fields.
"Schmeiser has claimed all along that the Monsanto canola must have blown onto his field, or fallen from passing trucks. Monsanto accused Schmeiser of stealing its seeds and sued him for illegally using its patented, genetically modified canola," reads an in-depth CBC report on the case.
"This [CTEA] makes it worse in that, not only does it go after the person for alleged infringement, it allows these precautionary and enforcement measures to be undertaken... seizure of property, even going after third parties who are deemed to have allegedly assisted the farmer," says Boehm. "It sends up a chill throughout the entire seed system."
Boehm says that the NFU has been scheduled numerous times to appear before the standing committee on agriculture to voice its concerns, but so far have been unable to due to cancellations, changes of scheduling, and then the election.
Saving the supply-management market
However, the organization that lobbies on behalf of dairy producers in Canada has sent its message to the government loud and clear.
Dairy (along with poultry and eggs) is a supply-managed market, which means domestic supply is controlled by federal and provincial marketing boards, and protected with very small import quotas and extremely high tariffs on anything that exceeds those quotas.
The E.U., a major producer of cheese, is pushing the Canadian government for increased access to this country's cheese markets under the new agreement.
It is also pushing to expand the number of products protected under its Geographic Indicator system, which would impact the industry by forbidding the marketing of Canadian-made cheese under names that indicate style originally developed in specific European regions, like mozzarella or feta, for example.
The Canadian government so far has been clear that the supply-managed market remains a sacred cow for better, or for worse, as Jeffrey Simpson argued in a recent Globe and Mail column, calling Canada a "double-dealer in world trade."
For now all the federal leaders on the campaign trail, even Stephen Harper, "once a fierce opponent of agricultural protectionism," reports Postmedia News, are touting their parties as defenders of this country's supply-managed markets.
The Canadian Dairy Association has been watching the negotiations closely, says Therese Beaulieu, the association's assistant director of strategic communications. "And reminding the government that that is their position and that's the commitment they made in their electoral platforms. The Liberals kept saying that they are the party of supply management, the Bloc as well. All the parties are committed to this position and that's what we expect to see."
However, the Canadian agricultural sector is a divided one, points out Grace Skogstad, a political science professor at the University of Toronto who specializes in agricultural and food policy.
"Our cattle and pork producers depend on export markets to absorb surplus product. If Canada could negotiate lower tariffs on pork going into the E.U., for example, it would help the industry here," says Skogstad.
"My own view of this, from what I've been able to gather, there would be some wins and some losses on both sides. I think it's always important for farmers to get organized and lay their concerns out. It is a very big deal, this agreement, it's a comprehensive economic agreement."
Fighting from the bottom up
Yet, aside from the issue of supply management, a relatively arcane topic for most Canadians, there's been little discussion from any of the other parties about the agreement during the election. The Trade Justice Network, a conglomeration of groups concerned about CETA including the Council of Canadians, has sent a questionnaire to each of the leaders asking them where they stand on the agreement with hopes of getting the results by later this week.
"We know that the NDP is very concerned, more broadly concerned about the agreement than some of the other parties. The Liberals are supportive in principle, but they have some issues around making sure there's a cultural exception built into CETA as there was in NAFTA that will protect Canada's cultural industries," says Trew.
"Bloc Quebecois is looking for a good deal, they're looking for reciprocity, at least that's what they said the last time the Trade Justice network met with them last summer. The Green Party is opposed to these kinds of trade deals, always has been; they would like to see a more fair trade agenda, much in the same way the NDP would."
Moist acknowledges that it might be too late to make CETA an election issue, but it isn't too late for Canadians to take action. This Friday, April 29, CUPE and the Council of Canadians kick off their Canadian Communities Not For Sale speaking tour about CETA in Calgary, where they are already expecting an audience of 500.
"We've had communication with most towns and all cities across Canada because we represent people in those municipalities, and I think some of those municipalities are hearing about this for the first time from us, and many of them are adopting motions similar to the [Union of British Columbia Municipalities] resolution that was adopted last September at their annual conference," says Moist.
"If Harper is re-elected I'm sure he won't change his stance and he won't have public hearings, but bringing pressure to bear through provincial and municipal arms is a good thing to do. And you need to educate citizens before that will happen."