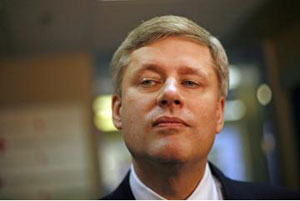 David Emerson, the former British Columbia MP, had the rare opportunity of serving in the cabinets of both Paul Martin and Stephen Harper, and was thus well positioned to see the contrasts.
He found the Harper operation so efficient, so disciplined compared to the scattershot Liberals of Paul Martin. But he couldn't fathom the intense level of acrimony. He had never seen this kind of thing with the Liberals. But with Harper and his men, it was woven deep. Emerson spoke of them as "viscerally hating their political opposition. Sometimes it was just startling to me."
Liberal MP Keith Martin, who also served in both parties, standing as a candidate for the Alliance leadership in 2000, found the same as Emerson -- politicians who had been in an environment "that has bred a hatred" towards the traditional Liberal way. Because of the pronounced influence of religion in the party, he found it strange. He understood that Liberals had positions that ran counter to their own. "But why do they hate them?"
Ian Brodie, the former academic who served as Harper's chief of staff, believed the malice had its roots in decades of Liberal condescension towards Westerners: "Jean Chrétien consistently treated conservatives as if we were un-Canadian." Harper, said Brodie, took clear note of this, and the anger deepened. "Does he hate Liberals?" Brodie asked. "Some of them." He referenced an occasion in the 2000 federal election campaign when Chrétien intimated that Westerners were not his type of people. "Chrétien repeatedly said he didn't like dealing with people from Alberta. I think that stung [Harper] pretty badly."
There were scores that had to be settled. And although Harper was actually, Brodie contended, more of a unifier than a divider, he was well capable of settling scores. He could be, his top aide said, a "sonofabitch."
Formed within Reform
Harper cut his teeth in the hothouse of the Reform movement, recalled Rod Love, the Tory political strategist and long-time adviser to Ralph Klein. The branding of Reformers by Liberals as "unbalanced populist crazy men" was something Harper just couldn't get over. "Others got over it," said Love. "Harper? It was just burned in his psyche. So when he came to power, it was payback time. This wasn't just about going after someone in the Commons in the day, then going out for a beer at night. This was about destruction."
The degree of resentment gave Harper a motivation, a relentless single-minded passion to succeed and a willingness to go places where other leaders would fear to tread. Jean Chrétien also used a sense of belittlement to fuel his drive from the streets of Shawinigan to the top. In his case, it was his sense that he was viewed by the Quebec intelligentsia as a small-town peasant. He was desperate to prove them wrong -- and he did so. But now things had taken a strange turn. The perceived condescension by Chrétien and by his own party set the basis for the rise of the right and the rise of Stephen Harper.
Since the late 1950s, for an entire half century, the Liberals' attitude to the West had been one of benign and not so benign neglect. The Grits decided after the Diefenbaker sweep in the election of 1958 to basically write off that region of the country, to bank on the big tides in Ontario and Quebec to sustain them.
"We suffer from what I would call a lack of sympathy for the Prairie approach to life, a lack of identification," observed Allan MacEachen, a Maritime Liberal and cabinet minister under Pierre Trudeau. "In our efforts to rebuild the party after the 1958 defeat, we concentrated on Quebec and Ontario. The West became an afterthought." MacEachen made that statement in a speech he gave in Winnipeg in 1966. At that time, the story of the neglect had barely begun. The National Energy Program and other manifestations of that condescension were still to come.
In his election victory speech Harper noted the shift in the geographic dynamic, announcing with delight that the West was finally in. But more than the West was in. The hard right of the Conservative Party, for the first time in the country's history, was in. An ideological man bearing an unusual depth of animosity -- "hatred," as colleagues described it -- towards the Canadian liberal tradition was in.
Smart and adept
This was a leader who came with an extraordinary political skill set as well. Harper combined the traits of two Liberal leaders he had watched with aversion. He combined Pierre Trudeau's imperious intellectual strengths with Jean Chrétien's bare-knuckled toughness, but had neither man's charms. He was single-minded and, as anyone who ever worked near Harper could attest, he had a ravenous hunger for control. He was methodical, deliberate, and puritanically disciplined. Gerry Nicholls, who spent several years with Harper at the National Citizens Coalition, described him as "an emotionless robot," the dispassion leavened occasionally by a crisp sense of humour.
During the election campaign a sense of apprehension set in.
Harper feared Canadians were catching on, becoming worried that there were radicals at the gate, that the country was at a parting of the ways. It prompted him to speak out in an unusual fashion. He tried to reassure voters that he was not a threat, that the system could not be radically altered. "The reality is that we will have for some time to come," Harper said, "a Liberal Senate, a Liberal civil service... and courts that have been appointed by the Liberals. So these are obviously checks on the power of a Conservative government."
Instead of having a calming effect, his statement did the opposite, vaulting the subject into the headlines. But it was fitting that it was highlighted because, as those in his camp knew, Harper's purpose was indeed to change the Canadian way.
Keith Beardsley, one of his senior advisers, had been around long enough to understand his warlord's battle plan. "He hates the Liberal Party," Beardsley said, "and I would say his aim from day one -- and I don't think anyone would disagree -- was to break the brand. The long-term strategy, that was it."
This article is excerpted with permission from Harperland: The Politics of Control by Lawrence Martin, published by Viking Canada.
Tomorrow, a second excerpt from Lawrence Martin's Harperland lays out how Stephen Harper buried his own government's research to pursue his "crime and prisons" political strategy.