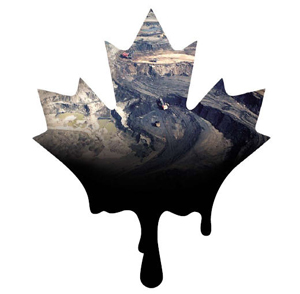 "Oil and centralized rule seem to go together and oil and democracy do not generally mix." -- Terry Karl
Canada, an emerging petro state that now supplies the failing U.S. empire with a fifth of its oil, is in the midst of a surreal federal election.
Although the country pretends to be a "clean energy superpower," most analysts recognize the place as a cheap energy supermarket with a poor environmental record and absolutely no national energy strategy.
Incredibly, the April 12 national leadership debate didn't even spill a word about petro dollars, the Dutch Disease, climate change, carbon taxes, sovereign wealth funds or even the dangerous pace of bitumen development in the tar sands.
In many respects Canada now resembles Margaret Thatcher's England. The Iron Lady was really a Petrol Queen who used tens of billions of dollars from Scottish offshore oil to fund her extreme restructuring of British society. Thirty years passed before critics realized that Thatcher spent "God's gift" on the British economy without saving a bloody cent.
Too polite about petro
Although Europeans and Americans have become alarmed by Canada's extreme petro politics (lobbying against climate change and low-carbon fuels), no one wants to disturb the bituminous elephant in the living room at home. Canada may well be the world's first polite petro state.
But Canada's inability to talk about what matters typically defines oil-exporting nations. (Oil now accounts for five per cent of the country's GDP and 25 per cent of its exports and those figures could triple by 2020.) Oil wealth, like any inheritance, insidiously changes the entire political household as well as its vocabulary.
For oil not only funds all varieties of political extremism (including Thatcherism, Wahhabism and Hugo Chavez's oil greased "diplomacy"), but ultimately limits public debates about accountability and statecraft. In the end it hobbles democracy altogether.
The brilliant political scientist Terry Karl observed long ago that petro states share several dysfunctional traits. They lower taxes and run on petro dollars; they hollow out their economies and concentrate power; they fund political operas and shun transparency. And they uniformly abandon statecraft because oil wealth can pay for lots of policy mistakes. (Finding a competent petro state is about as miraculous as finding a beaver in Saudi Arabia.)
Canada, which has avoided any debate about what it means to be a major oil exporter, now suffers from the resource curse in spades. It's even governed by Stephen Harper, a stiff economist, climate change skeptic and petro bully from Alberta. It's a dismal province ruled by one party for 40 years based on an unprecedented squandering of hydrocarbon revenues. Harper wants Canada to be a bigger Alberta.
Myth of tax cutting frugality
Let's begin with taxes. Canada's federal government makes more money from the oil sands in form of corporate taxes (about $5-billion a year) than Alberta does with its "give-it-away" royalty fees.
Contrary to recommendations made by the International Monetary Fund and the Organization for Economic Cooperation and Development, this one-time gift goes into general revenue. To date not a penny of Canada's oil wealth (an estimated $500 billion by 2025) has been saved. It's Thatcher redux.
And like Thatcher, Harper's Conservative Party has used petro dollars to cut taxes for the rich as well as energy corporations. Harper has also reduced the national sales tax by two percentages to make ordinary taxpayers fill warm and fuzzy in Saudi Canada.
Bitumen income has also allowed the federal government to spend billions on military campaigns in Afghanistan and Libya without raising taxes. Harper, the son of an Imperial executive, now claims but one singular platform: lowering taxes. (Saudi Arabia, Libya and Bahrain all did the same with oil money.)
As a result the vital link between taxation and representation is eroding in Canada. When governments run on oil money instead of taxes paid by citizens, they become, as Karl documents, "unaccountable to the general population, and their populations, in turn, are less likely to demand accountability from representation in government."
License to overspend
Like most petro states, Harper's Tories have used oil revenue as a license to overspend. Canada's so-called conservative government lavished an astounding one billion dollars on one lousy G-20 summit. Since forming a minority government in 2006, Harper's Tories have also pissed away a $13-billion surplus and accumulated a record $50-billion deficit in 2009-2010.
Moreover Canada's petrolistas have refused to disclose the real bill for buying fighter jets without engines or the actual cost of expanding Canada's prison gulag.
Next comes the hollowing out of the economy or the Dutch Disease. The Macro Research Board, a Montreal-based investment group, boldly warned about the petrolization of Canada's economy in a 2011 report: "A severe case of Dutch Disease has dramatically reduced the breadth of the Canadian business sector over the past decade, hollowing out manufactured goods exporters and making the nation increasingly reliant on commodity demand... This is the time when the Canadian government should be paying down debt and putting away national savings in a sovereign wealth fund."
One recent University of Ottawa study found that 42 per cent of 340,000 industrial job losses since 2002 were probably due to the Dutch Disease and a rising petro currency.
Iron fist pumps oil
As a long-time natural resource exporter, Canada's political leaders tend to behave like caudillos but Harper has sharpened the axe and concentrated power with the élan of, say, a Hugo Chavez.
Cabinet has become a rubber stamp while Parliament is held in contempt. A merit-based civil service is being dismantled. Independent government inquiry is discouraged while scientists must vet their media contacts. More than 14 senior civil servants or commissioners have been fired or resigned in protest. All public events are staged with Bulgarian efficiency.
The late Jim Travers, a vigorous Toronto journalist, called the mess a "dark democracy" and warned that, "In taking politics to a different, hyper-controlling and partisan level, the prime minister is creating a dangerous legacy his successors will gratefully accept before turning it to their benefit."
Petro states are often captured by special interests and Canada is no exception. One of Harper's key advisors is Gwyn Morgan, a political extremist and the former CEO of EnCana, one of the continent's largest energy firms.
Harper's chief former chief advisor, Bruce Carson used the Calgary School of Energy and an Industry Canada grant of $15 million to lobby on behalf and with the petroleum industry. He's also a convicted thief. And so on.
Blacking out transparency
Like most petro states Canada isn't terribly fond of transparency. Out of five industrial nations it ranks last when it comes to honoring freedom of information requests.
Although the world's largest energy project now glowers over the country like Lord Voldemort, the perverse impacts of bitumen revenue on the economy, politics, the quality of governance and deindustrialization of central Canada, go largely unreported and undebated.
But this is how petro states are made: not with a blow to the body politic but with a quiet infection that eats away a nation's entire soul.