Vancouver's 'Old' Chinatown: Still Here
As the city's neighbourhood 'revitalizes,' its Chinese-speaking seniors struggle for support. First in a series.
[Editor's note: The greatest need for supportive seniors' housing among Vancouver's language minorities is for uncounted hundreds -- or thousands -- of women and men who speak only Cantonese or Mandarin. Many end up in the single-room occupancy hotels of old Chinatown. Click through the photo essay above for a tour of life in one such hotel, the May Wah. All photos by Jackie Wong, and all are used with permission.]
It's a Wednesday morning in March, and Chinatown's May Wah Hotel is a hive of activity. Up a narrow flight of stairs from the hotel's easy-to-miss street door, Vancouver Second Mile Society outreach worker Cindy Pang is surrounded by a circle of urgent seniors. They press pill bottles into her hands, their English labels and instructions unreadable. She translates into Cantonese, answering what questions she can. Everybody, it seems, knows her, likes her, and is keen for individual attention. They treat her fondly, like a family member.
Outside on East Pender Street, people duck out of the rain under storefront awnings crowded with boxes of gai lan and bok choy. Few spare a moment for the sturdy old four-storey brick building above them, much less the simple gold-painted block letters that identify it as the May Wah Hotel. Entering feels like going back in time. Strains of Chinese opera can be heard behind doors thickly layered in deep red paint. The walls in the spare, neat first floor lounge display compulsory "No Smoking" signs, but there are ashtrays on the tables and people exhale carefully out over Pender Street through an open window.
In a shiny rainbow necklace over a black and white zebra-print shirt, Rosesari Rosesari stands out from her neighbours' hallway chatter. Ninety-two, Rosesari pays $320 a month for her room here. She makes a point of telling me she receives no government assistance to pay for housing. Ethnically Chinese, Rosesari doesn't recall exactly when she moved to the May Wah, or even the precise year she came to Canada from Bali, Indonesia. One son lives in Richmond, she tells me; her other children half a world away in Indonesia.
But she is quick to express pride in the home she has created here for herself. Every space in the tiny but bright room has a use. The ceiling has hooks to hang her coats. A daikon radish and green beans sit on a tall plastic bucket by the sink, near a rice cooker and toaster oven. The room is decorated with butterfly trinkets, youthful knick-knacks, and colourful origami.
"I'm happy and I'm healthy," Pang translates Rosesari's Cantonese for me. "I look old, but my heart is still young."
While much is made about the seemingly flamboyant wealth of some Chinese immigrants to Canada, those who live at the May Wah and other privately owned SROs in the old Chinatown area share a very different experience. For them, this country has ultimately delivered poverty, discrimination, and a marginalization that leaves them in the shadow of a media spotlight often trained on the Downtown Eastside neighbourhood's troubled English-speakers, many of whom struggle with addictions, mental illness and abusive histories in residential school or foster care.
Like other SROs, the approximately 120-room May Wah is home to a mix of long-time residents and people in transition. Some regard it as a temporary stay while their names inch forward on a waiting list for social housing. But for the seniors who speak only Chinese, living in Chinatown is a crucial connection to the only community where they feel fully at home. Many speak no other language than Chinese, and have lived at the hotel for years.
The May Wah is one of 10 buildings Pang visits weekly, helping hundreds of Chinese seniors like Rosesari connect with public and social agencies that provide housing, health, and social support. Her work has a lot to do with Rosesari's youthful satisfaction with life.
But Pang is paid to work only 28 hours a week. A colleague works even fewer hours. A separate organization, the Downtown Eastside Women's Centre, employs another person for 30 hours a week of bilingual Chinese seniors outreach. Together, the three overtaxed staff are the only service providers dedicated to alleviating the isolation of the city's thousands of solitary Chinese seniors.
A hidden, growing crisis
Rosesari pays $320 a month for her room, and shares kitchen and bathroom facilities with her neighbours. Others on the same floor pay $200 to $290 for similar rooms. Ninety-three-year-old Gai Li Lin has lived down the hall for eight years. After more than 20 years in Canada, Lin says that her life's work consisted of taking care of children. Her adult children live in the Lower Mainland.
Confucian tradition obliges adult children to take care of their aging parents. But "most have the same story," Pangs says of the seniors she works with. "Kids get them here, they take care of the grandkids. And when they get old, they stay here," she adds, matter-of-factly indicating our surroundings.
Modest as those are, Lin and Rosesari can feel relatively fortunate among Chinese seniors. They live in a building that is well maintained, not currently under threat of eviction, and unlike other area SROs, affordable to people with low incomes.
Though Vancouver's Chinatown has been home to generations of immigrants since 1858, reliable information about how many elderly live alone there today is remarkably hard to come by. Statistics Canada offers -- for a fee -- to tabulate the number of inner-city Chinese seniors who responded to the most recent census survey in 2011. But with less than one per cent of such seniors believed to speak any English, and many unable to read or write in their mother tongue, let alone English, knowledgeable observers believe it would yield an unreliable undercount.
What we do know is that 30 per cent of the City of Vancouver's population and closer to half -- 41 per cent -- of people who reside in Chinatown's 10-block area, identify themselves as Chinese. And as recently as 2011, UBC's Centre for Urban Economics and Real Estate contended that the shortfall of social housing is greatest among Chinese seniors of all elderly ethnic immigrant groups in Vancouver.
The UBC Centre estimated that over 3,300 Chinese-speaking seniors lack the wealth to be homeowners and would benefit from affordable, culturally and linguistically specific assisted living facilities. The next largest language community of ethnic seniors who could benefit from such support is 560 Tagalog-speaking seniors, followed by 340 Punjabi speakers.
Also true is that social housing is in short supply for all Vancouver's seniors. Metro Vancouver can provide housing for one of every seven seniors living in the region. The City of Vancouver has 11,000 social units available for its 81,930 seniors.
Unsurprisingly, waiting lists are long: the 4,549 names on the list of people hoping for seniors' social housing in Metro Vancouver has gone up by nearly 45 per cent in just the last four years, according to a March report by the United Way Lower Mainland and the Social Planning & Research Council of BC (SPARC BC).
And the need is growing. Metro Vancouver's senior population is predicted to more than double by 2031. "Although most seniors do not live in social housing, with other factors remaining equal, the greater the number of seniors, the more seniors' social housing is needed," the SPARC report notes.
Shelter isn't enough
If more shelter is needed for Chinese seniors, so is more personal support.
Three blocks from the May Wah Hotel, the Downtown Eastside Seniors Centre operated by the Vancouver Second Mile Society at Hastings and Jackson is a boisterous place at midday. People are eating lunch, reading the newspaper, playing table tennis and Mah Jong. Two thirds of the 500 members are Chinese.
When executive director Steve Chan asks them to register, many sign their names with the letter 'X.' They are unable to write or read. "If they're from a village in China, they may not even have elementary school," says Chan, who's worked here for 13 years and is its first Cantonese-capable director.
"We don't have many statistics on literacy levels for the seniors we reach out to," he acknowledges. "But just take my mom, for example. She's 78. [As a child she] went through the Second World War. At that time in China, in Hong Kong, they had to run, to flee from the Japanese. They didn't have a chance to go to school. My mom didn't go to school until she was in her teenage years. She went to primary-school-level classes for a few years, night school. She had to work during the day and she paid tuition to go there herself. My dad was in the same boat."
The Seniors Centre's clients are mostly women, who tend to live longer than men. Now in their 80s or more, they are even less likely to have literacy skills than their male counterparts. Their generation emerged from a cultural tradition that barred women from education, observes Alice Choi, a registered nurse and executive director of health services for the United Chinese Community Enrichment Services Society, better known as S.U.C.C.E.S.S.
"There is a saying in Chinese that it's a virtue when the females don't know anything," Choi says. "If you're not smart and you don't know anything, it's the role of the wife, of the female, to reproduce and to take care of the household stuff. All the business, all the education, goes to the sons."
Many of Second Mile outreach worker Pang's clients arrived in Canada later in life, coming to help adult children take care of grandchildren in the Lower Mainland. They "relied on their husbands and their children, and they can't even read a very simple letter," Pang says. "Now, they're on their own."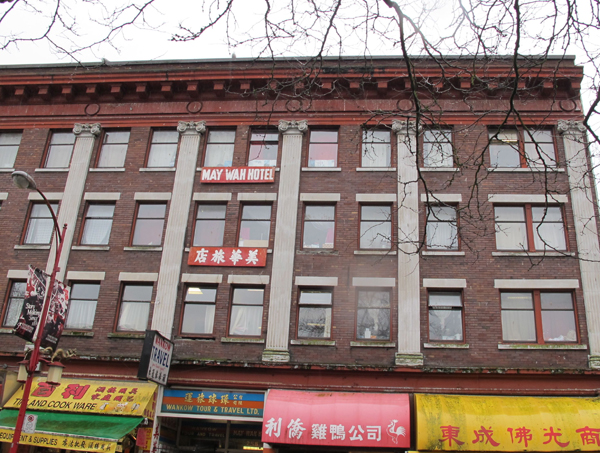 Virtually none of Vancouver's inner city Chinese seniors (a barely-there 0.1 per cent) speak English well, according to a 2007 survey (available in hard copy only), of Chinese seniors and services in the old Chinatown and surrounding areas. Hardly more (0.3 per cent) speak even limited English. Eighty-eight per cent spoke Cantonese; 12 per cent Mandarin.
The 2007 survey -- conducted by Dr. Sing Mei Chan of the UBC School of Social Work, for the City of Vancouver, found that language barriers, discrimination, racism, and a lack of information, education, and advocacy all create pressing service gaps for Chinese seniors. The findings echoed earlier research indicating that fewer than a quarter of Asian American seniors in another historic magnet for immigrants -- New York City -- spoke English. Poverty, loneliness and anxiety were their three most pressing issues.
For the lucky few in Vancouver, the bilingual outreach workers who visit the SROs are rare conduits to social agency support. But the task is overwhelming. Pang, one co-worker at the Second Mile Society, and Deanna Wong of the Downtown Eastside Women's Centre, are shouldering it alone.
Translating forms and talking seniors individually through English-language housing applications, tax returns and other requirements, is emotionally and physically taxing. It's a high turnover job, and more than one former outreach worker with the Second Mile Society is on long-term disability as a result of the stress.
'Revitalizing,' but leaving seniors behind
Last July, Vancouver city council unanimously approved a three-year Chinatown Neighbourhood Plan and Economic Revitalization Strategy. More than a decade in the making, the plan focused on economic revitalization, after two-thirds of businesses surveyed in Vancouver's original Chinatown reported declining revenues between 2008 and 2011 -- blamed mainly on losses to newer Chinese-language communities in suburbs like Richmond.
The revitalization plan envisions new residential development, "to connect with younger generations and reach out to people of all backgrounds to ensure Chinatown is increasingly relevant to a more multi-cultural Vancouver." At the same time, it acknowledged that in a neighborhood where 67 per cent of households are low-income -- more than twice the City of Vancouver average -- such redevelopment "can displace low-income residents." What is good for old Chinatown's businesses, in short, may be less so for its poor and isolated elderly.
S.U.C.C.E.S.S., Vancouver's primary provider of culturally- and linguistically-supportive housing and services for Chinese seniors, is providing a partial answer. It operates a single multi-level care facility in old Chinatown for people with cognitive impairments or who require round-the-clock nursing. But its 103 beds, soon to be 113, are about one-tenth of what the UBC Centre for Urban Economics anticipates will be needed over the next 15 years to house Chinese seniors.
Meanwhile, the support it offers seem a world away from Rosesari and her neighbours living in privately operated SROs like the May Wah Hotel. Yet the women are spirited and resilient. "I'm happy and I'm healthy," Rosesari told me through Pang's interpretation. Both she and Lin say they like living in Chinatown. They feel at home here, where the language spoken is the one they know.
They are also in their 90s. As time goes on, they and others may no longer be able to manage the May Wah's staircases, its lack of mobility aids, and its communal bathing facilities. The alternatives available to them then are in terribly short supply.
Note: Story corrected June 17, 2017, 8:30 a.m.

Next in the series: the discrimination Chinese seniors face in their efforts to access Downtown Eastside services.

comments powered by

Disqus