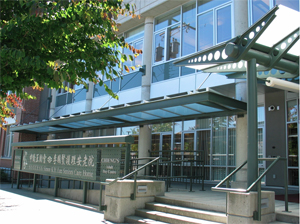 Over the last five years new cocktail lounges, cafes, and art spaces have cropped up in steady succession in Vancouver's old Chinatown, on Pender, Keefer and East Georgia Streets between Carrall to the west and Gore to the east. Amidst the young people toting Americanos to their art studios however, elements of an earlier time remain: tall, brightly painted buildings built by clan or benevolent associations a century ago.
The buildings are testaments to an era when legal discrimination and social exclusion forced British Columbia's earliest settlers from China to band together for mutual support. Early in the 20th century, benevolent associations provided housing and what today we'd call social services. The benevolent associations provided needed services to a community turned away from even the limited support available back then from private groups or government to Euro-Canadians.
While much has changed for the better, previous reports in this series have documented an undiminished need for supportive housing in this fast-gentrifying neighbourhood, as benevolent associations have largely withdrawn from the field.
The first such association was created in 1896 by six prominent Chinese merchants to serve a growing population of mostly men sent abroad to make money for their families back in China. Other groups followed, creating supportive expatriate communities around clan associations bearing a common family name. By 1911, and despite layers of official discrimination, the neighborhood's 3,559 Chinese residents constituted, according to the Canada census, the largest such community in the country. By then the original Chinese Benevolent Association had expanded to the point that it had constructed its own Chinatown hospital. But housing remained a central service.
"Before the [Second World] war, most associations had rental buildings," says David Lai, now 75, who before his retirement dedicated his career as a professor of geography and Asian studies at the University of Victoria to studying Chinese-Canadian history and the development of Chinatowns.
"The lower floor rented to commercial [tenants], and the upper floors had partitions and accommodated the single men to live there. In the old days, the associations played an important function of providing welfare to the so-called 'bachelor Chinese,' and to provide comfort.
Reunited families ended the 'benevolent association'
The role changed after the Second World War, Lai says. When Canada belatedly permitted Chinese women and children to immigrate, many of Vancouver's Chinese "bachelors" were reunited with their families. "They moved out of Chinatown and lived in the suburbs."
"The major function [of the benevolent associations] was to provide welfare for a large number of bachelors. But after the war, they lose a lot of their function." Without that role to fill, Lai explains, many traditional associations "are dying down."
But while lonely bachelors may be fewer in Chinatown, the need for culturally appropriate social support and affordable housing among its Chinese-speaking residents -- many of them now advanced in age -- may be greater than ever.
According to a 2011 UBC discussion paper, more than 1,000 aging Chinese Canadians will be in need of shelter and some level of assistance over the next decade. The need is particularly acute in the City of Vancouver, where nearly a third of us identify as ethnically Chinese -- nearly twice the figure of 18 per cent across all of Metro Vancouver.
Many of those in need of affordable housing and suitable social support are from the generation that experienced official discrimination. That is gone, but barriers of language and education continue to exclude many from programs available to other seniors. And the decline of benevolent associations has left the task of providing them with "shelter and comfort" to a shockingly small number of agencies.
Largest is the non-profit United Chinese Community Enrichment Services Society, better known as S.U.C.C.E.S.S. Its executive director for health services is Alice Choi, a registered nurse.
Marginalized, old, and poor
A popular notion exists, Choi observes, that the Lower Mainland's Chinese community has largely migrated to Richmond, leaving old Chinatown ripe for new business.
"No, no, no, no," she says. "They're still here. Vancouver's east side is a big problem. They are being forgotten. They are marginalized. They're old. They're poor. No education, sometimes no family support. And then what do you do?"
One answer can be found at the intersection of Keefer and Carrall Streets, in sight of the pagoda-roofed pavilions peeking out over the high walls of the Dr. Sun Yat-Sen Classical Chinese Garden. A more subtle grey building, the Simon K.Y. Lee Seniors Care Home opened in 2001, providing 103 assisted care beds and an adult day centre for seniors. S.U.C.C.E.S.S.'s largest facility specifically designed and managed to serve Chinese seniors will soon add 10 more beds.
"We are funded by the government, and our space in the adult day centre is only 20," Choi says. "I have a three-year waiting list." The number of people waiting for beds in the care home is a figure held only by Vancouver Coastal Health, which manages admissions. Vancouver Coastal Health did not respond to the Tyee Solution Society's request for information.
Chinese community advocates created S.U.C.C.E.S.S. 40 years ago as a storefront social services organization for Chinese immigrants. Since 1973, it has expanded its housing and settlement services, language and employment training, and counseling services, to other language communities and groups. Its website now aspires to a "World of Multicultural Harmony."
And despite its long roots in Chinatown, S.U.C.C.E.S.S. has a relatively short history with Chinese seniors' housing and healthcare services. A S.U.C.C.E.S.S. Multi-Level [health] Care Society has operated since 1995. And since 2008 the organization has managed two Downtown Eastside social housing projects, Orange Hall and Solheim Place, for individuals and families who are at risk of homelessness or who have low incomes. But while those shelter some residents who are ethnically Chinese, neither is targeted specifically to the Chinese community.
Two years ago S.U.C.C.E.S.S. incorporated a Housing Society, to provide and operate additional non-profit housing for low- or modest-income people. It recently signed a 10-year Memorandum of Understanding with the City of Vancouver to increase affordable housing stock.
S.U.C.C.E.S.S. CEO Queenie Choo is pleased about the additional, beds at Simon Lee. But "when you're looking at the Chinese population, those [10 beds] are a drop in the bucket," she says.
Choo is a relative newcomer to Vancouver. She took over the leadership of S.U.C.C.E.S.S. last year, after a long career in health services in Edmonton. She admits she has more questions than answers about how her organization can meet the needs of more people.
Bringing supports directly to seniors
"There's a lot of things we can do, as an organization," Choi believes. "I know that we need to do more promotion, outreach into the community, and so on. But I have to be frank with you, it's difficult. Resources are a huge problem. We are stretched to the limit."
Meeting the need fully would take at least one more facility the size of the Simon Lee home opening every year for the next decade.
Choi is familiar with the resources that exist currently for educated, English-speaking seniors. Innovative as they are, she knows they won't be much help to Chinese-speaking seniors who are already underserved.
"In the [western] mainstream community, seniors are more sophisticated in finding ways to improve their health," Choi says. She sits on a provincial advisory group for healthy living among seniors. "We talk a lot about using technology and promotional materials. For a certain category of seniors, this is very useful because you need to start with prevention, self-management of chronic disease and so on. You need to start with those people who are in their 60s now, whose education level is better, whose literacy is better. They can navigate a computer."
But web-based initiatives won't help Chinatown's seniors, Choi says. "They don't even know how to read. They will not come out to seek information because they don't know how. You need a different approach for this group of people. You need to bring services to them."
A 2007 report by the City of Vancouver and UBC School of Social Work laid out 16 ideas for improving housing and health for Chinese seniors in the inner city. They included more initiatives to build on the strengths of seniors, counter the faulty assumption that Chinese seniors are rich enough not to need help or are automatically taken care of by their families, and to build a stronger network of support and services.
Providing more opportunities for seniors to be involved with their community and advocate for each another was also among the recommendations. The Council of Senior Citizens of BC (COSCO) exists for that purpose. But Gail Harmer, a longtime housing advocate and seniors' workshop facilitator with COSCO, acknowledges that the Council falls short of addressing people who don't speak English.
"The institution has to change itself to accommodate the new. Or the groups themselves have to organize -- and that's incredibly difficult when you are very vulnerable," she says.
Harmer would like to see more Chinese seniors involved with COSCO. But English-speaking Chinese seniors rarely cross paths with COSCO. Of approximately 30 seniors who have volunteered with COSCO and taken training to facilitate its senior-to-senior workshops, only two are Chinese.
In Strathcona, a neighbourhood adjacent to old Chinatown, a network of Chinese-speaking mothers provides home support to Chinese seniors living alone in the area. During the hours their own children are in school, the women help seniors with daily tasks like tidying their suites and running errands. The simple interactions provide a powerful source of companionship for people living in isolation.
The women receive an average of $13.50 an hour from a project called Capacity Links, United Way-funded and operated by Vancouver's Network of Inner-City Community Services Society (NICCSS). The program is targeted at low-income, marginalized Chinese seniors who are ineligible for the home services that Vancouver Coastal Health offers -- someone who can still bathe herself, for example, isn't eligible -- but who can benefit from some measure of support.
It's the type of program that Choi says we need more of to assist seniors living in private market rental housing or commercial SROs. "Housing is important, but you have to give them the support in order to maintain them there," she says.
"A lot of seniors are living in what we call independent housing. They're aging in place, but they're aging in place with no support. And social isolation is a very big issue with the Chinese seniors because of language barriers; some of them do not have any help from their families, and their health deteriorates."
Organizations like, S.U.C.C.E.S.S., NICCSS, the Downtown Eastside Women's Centre and Vancouver Second Mile Society are doing what they can to connect with Chinese-speaking seniors in the inner city. But "you look at this report they did it in 2007," Choi says, referring to the City/UBC report that suggested 16 ways to improve the lives of Chinese seniors. "There are recommendations. There was no further action. But we needed to start even before then. The population in the east side needed it yesterday."
To conclude the series tomorrow, we'll look at what Chinese seniors support models are in place in Toronto and San Francisco.