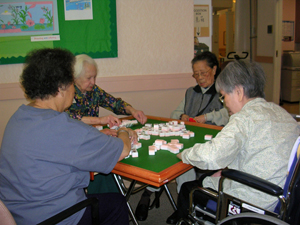 Every morning in San Francisco, 50 blue vans fan out through the Mission, the Polk Gulch and other neighbourhoods, to pick up seniors from their homes. If a senior lives in a walkup apartment with stairs, the driver will park the van, go to the senior's door, help her out of the apartment, walk her down the stairs, and settle her into the van. All the while, the driver is collecting information about the senior's living conditions, mood, and overall well being.
The information will be shared with the team of physicians, nurses, social workers, counsellors, and occupational therapists who work collaboratively with the seniors at the city's seven On Lok Lifeways day centres. Hundreds of seniors -- many mono-lingual in Chinese -- congregate daily at the state- and federally-funded centres to socialize, share a meal, and connect with all their health care providers in one place.
On Lok started in San Francisco's Chinatown around the same time as Vancouver's S.U.C.C.E.S.S., with the same intention to address an under-served population of Chinese-speaking immigrants in the inner city. Now, with 10 centres in the Bay Area and some 1,200 senior members, On Lok has expanded its scope to reach people from the non-Chinese community as well.
While S.U.C.C.E.S.S. serves immigrant and at-risk adults of all ages, On Lok focuses exclusively on seniors' health. But with thousands of Chinese-speaking senior Vancouverites expected to need linguistically- and culturally- specific health and housing services over the next 15 years, On Lok's innovative, holistic model deserves examination.
Chinese care on a British model
On Lok's Lifeways PACE (Program of All-Inclusive Care for the Elderly) Centers operate on a "social day care" model inspired by the organizational structure of British day hospitals. They started in San Francisco when Dr. William Gee, a dentist, contacted Marie-Louise Ansak, a social worker, to study the feasibility of building a nursing home in San Francisco's Chinatown in 1971.
Ansak found a nursing home to be both culturally and financially infeasible. She found that most Chinatown seniors seemed interested in remaining in their homes, but lacked culturally- and linguistically-appropriate access to health and social services. What services they could access were fragmented and straining to experience for both seniors and their families. It was stressful to shuttle from appointment to appointment, place to place.
Together, Ansak and Gee founded San Francisco's first adult day centre in 1972. The goal was to create a community hub where all of a seniors' health needs -- social, physical, emotional, medical -- would be addressed in one place. On Lok -- Cantonese for "peaceful, happy abode" -- has expanded to seven centres in San Francisco, two in the East Bay area, and one in San Jose. Its model has been replicated in 90 places across the United States.
The great majority of On Lok's 1,200 member seniors are low-income: 96 per cent qualify for federal Medicare and state Medicaid funding that covers their enrollment at the seniors' day centre.
"We get a lump sum amount from both the federal government and state government, and for that we take care of everything the senior needs," says On Lok's chief administrative officer, Kelvin Quan, on the phone from San Francisco. "We pay for the drivers, for the primary care doctors, hospital care, we pay for medication, and if they have to go ultimately into a nursing home, we also pay for that.
"When we talk about the problems of navigating through the system, our seniors don't have to struggle with that, and neither do their caregivers or their family. They don't have to struggle through 'My primary care doctor says my mother has to see a cardiologist but I'm working tomorrow, how do I get my mother to the cardiologist? How do I get to the pharmacy to get the medicine?'" says Quan. "On Lok takes care of all of those things."
Four per cent of On Lok's members have financial resources that take them out of the low-income category. They pay for what Medicaid would have covered out of pocket.
Confucian duty in the 21st century
Quan holds a master's degree in public health policy. He's also a lawyer. He started working with On Lok only last year, but grew up with it in San Francisco's Chinatown in the early '70s.
While others will say that their city's Chinatown is radically different from what it was 50 years ago, Quan has a different view. "I think that from an economic, societal standpoint, Chinatown in San Francisco is just as challenged as it was 50 years ago. It's just in a different way," he says. "I think the needs are just as great."
Quan believes that today's economy and society put as much strain on the adult children of aging Chinese parents as they did 50 years ago. But today generations are more geographically separated; adult children live in outlying, English-speaking suburbs where parents don't want to live -- or across the country. The traditional Confucian obligation to take care of one's parents is a source of ongoing family stress, he says.
One of On Lok's goals is to alleviate some of that strain.
"The Confucian obligation of children to take care of their parents is a really great expectation," Quon observes. "Due to various sociological reasons, the children are not able to fulfill that obligation the way that the parents had expected. The children have families of their own, children to take care of. And there are only limited reserves of time and resources that they can spend taking care of their father or their mother. And that's when we reach out specifically to the children to partner with them in the care of their parents."
'Please help me die'
The Greater Toronto Area is also home to a large Chinese-speaking population. Like On Lok, the GTA's Yee Hong Centre for Geriatric Care was founded by a Chinese doctor who wanted to address the problem of so many Chinese-speaking seniors falling through the cracks of the English-speaking mainstream health system.
Dr. Joseph Y.K. Wong was completing his residency as a medical doctor in the late 1970s. One of his residency rotations took him to a long-term care home for seniors. "Too frequently, he would encounter seniors whose family had left," says Yee Hong's director of communications, Anna Wong. "They don't speak the language, they don't know why they were there. They'd see a Chinese face, a doctor coming by. They would take his hand, drag him, and say, 'Please, help me die.'"
It was clear to Dr. Wong that the conventional North American model for senior care didn't work for people who didn't speak English. Through the 1980s, he educated himself on how to fund a culturally specific, holistic care program for Chinese seniors. He founded Yee Hong and in 1994 opened its first 155-bed long-term facility in Scarborough, Ontario.
Twenty-one years later, Yee Hong's 1,200 employees staff four long-term facilities with 805 beds and three adult day centres, where more than 260 participants receive programs in Mandarin and Cantonese.
Yee Hong offers a range of services for people at various stages of life, from fresh retirees to people in palliative care. But there's a 10-year waiting list for one of its long-term beds. By contrast, it takes under 10 months on average to get into a "mainstream" care bed in the GTA.
But Wong denies that more money will ease the bottleneck. "It's not [a need for] more resources. It's ineffective allocation of resources," she says.
"The Chinese population within Ontario is not asking for the government to give them more money so they can practice culturally appropriate care," she insists. "They're asking for the government to allocate the [available] resources to the providers who already do it well, so that the users can benefit from the care they actually need."
About half those in long-term care at Yee Hong have come from mainstream care homes. Shifting resources to more culturally specific care could improve the quality of life for the many Chinese seniors who struggle with an English language system.
"There's a sizeable percentage that have become suicidal," Wong says of Yee Hong's seniors who arrive as transfers from western care facilities. "Their depression has been aggravated from being in a non-appropriate setting for them."
Preventive caring
Back in San Francisco, the healthcare providers at On Lok deal closely with the hundreds of seniors who make use of their services. To get away from a purely medical model of care and look after the whole person, physicians are consciously positioned as equals, working alongside the social worker, the nurse, and occupational therapist in the care team -- not above them. At daily meetings the teams comb every issue, from chronic health concerns to personal arguments between seniors.
The idea is to catch the onset of new health conditions early, in an effort to avoid crisis situations later. Preventive care is often talked about for younger seniors in their 60s, but On Lok still uses it with clients in their 80s who have, on average, about 13 to 15 chronic medical conditions.
"With a lot of this very proactive attention and care, we can head off a lot of more severe conditions that may happen later on if they were otherwise living independently," Quan says. Seniors who lived alone and received no daily interaction, unmonitored and seldom thought about, would be likely to get worse much more rapidly.
Those are just the circumstances facing many Chinese-speaking seniors in Vancouver. They are living independently but lack the day-to-day, face-to-face supports that could keep them doing so without sudden, panicked trips to the hospital or doctor that are now common upsets in their daily lives.
By late afternoon in San Francisco, the blue vans drive each senior from the On Lok home. There, the driver will help them settle into evening meals, errands, and medication. The seniors are living independently and also in a community of support.
"It's a social care model, which means we need to put resources around the senior so that they get attention throughout the week," Quan says. "Not just when they're sick, not just when they go in for a medical appointment."
Vancouver lacks any such comprehensive, culturally appropriate housing and services for its growing population of Chinese-speaking seniors. As we learned in previous installments in this series persistent racial discrimination and culturally rooted gender inequality have as much to do with that as does a lack of services on the ground. But examples of what could address all those issues are not so far from home.