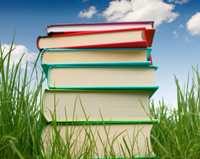 It's summertime, allegedly. While the East roasts in its smoggy slow-cooker, the best we can do out West is take vitamin D supplements and pretend it's March. Who thought global warming would be this cold? These days, the weather report reads like Great Depression job listings, and anyone seen outside in a t-shirt looks foolish and naive. We should all be out there by now, tanning our walrus-like bodies on the beach, or cycling around town in just a new pair of sneakers. Instead, it's window-gazing and despair.
But there's one summer tradition that no nasty weather can take from us: that feeling of sinking your teeth into a thick new summer book. Thus we here at The Tyee have compiled a list of the perfect summer reads for the perfect summer scenarios. And who knows? Maybe if we all pull out our books, and defiantly settle into the crook of our favourite tree, it'll be a kind of sun dance. The weather may just need a reminder that summer has arrived.
And in the meantime, please add your own suggestions for perfect summer reads in the comments below.
The perfect book to read while healing blisters from the Sinister 7 Ultramarathon:
Fatal Tide: When the Race of a Lifetime Goes Wrong by David Leach (Viking Canada)
Every year thousands of people around the world race in events organizers have contrived to test participants' endurance. Some, like the subject of Fatal Tide, will fail. Victoria author David Leach unravels what went wrong at the New Brunswick adventure race, who's to blame and what drives people to test themselves in these races in the first place. He offers insights from participants, organizers, family members, safety experts and the fish boat owners who know the Bay of Fundy well enough to stay off it in bad weather, unlike those fool kayakers. This "non-fiction novel" is a page turner in the tradition of Jon Krakauer, Sebastian Junger or even Truman Capote.
The perfect book to pass the hours spent waiting in the emergency room following the inevitable summer sporting injury:
House Calls By Dogsled by Keith Billington (Harbour Publishing Co. Ltd)
The author and his wife Muriel arrived at a remote nursing station in the Mackenzie Delta in 1964; he a nurse, she a midwife, and both young and eager to embrace a tough but liberated way of life. This book is an account of their six years in the North, time spent delivering babies, driving huskies, staying warm and treating the occasional gunshot wound -- the stuff of everyday life in an arctic medical outpost.
The perfect book to read while downing a French white and resolving, this summer, to finally stop and smell at least one daisy:
The Wisdom of Donkeys: Finding Tranquility in a Chaotic World by Andrew Merrifield (Greystone)
Andrew Merrifield decides to downshift, which means heading for Gribouille, France and borrowing a friend's donkey. On its way towards enlightenment, The Wisdom of Donkeys clip-clops through all manner of musings about nature, literature, science, truth, beauty, all the big stuff. Merrifield would seem to be the perfect travel companion, though this reporter was unable to reach the donkey for a confirming comment.
The perfect book to peruse before embarking on your bike in the sunny streets of Vancouver (urban population 2.5 million):
The Endless City: The Urban Age Project Edited by Ricky Burdett and Deyan Sudjic (Phaidon Press Inc.)
Mexico City, New York, Shanghai and Berlin: like a schoolyard jump-rope rhyme when they're all put together, these cities have been chosen by the London School of Economics as case studies for a look at the state of the mega-city on earth. The facts are compelling and the pictures chromatic as they document the challenges facing us, now that half the world's population lives in urban centres.
The perfect book to read while waiting for the bus and thinking about the incredible diversity of relationships between people moving through a city all at once:
No One Belongs Here More Than You by Miranda July (Scribner)
According to Miranda July's own description, "the first word is 'it,' the last word is 'triumphant.' I think that pretty much sums it up. Her website for the book is, in my opinion, even cooler than the book. And since these are short stories, the book can be read in tiny chunks of epiphany, perfect for those of us who lack any sort of attention span while outdoors, or indoors or before going to bed.
The perfect book to read when ghoulish weather makes you nostalgic for a time you never even lived through:
Dandelion Wine by Ray Bradbury (William Morrow Publishers)
Since the publication of The Martian Chronicles in 1950, Ray Bradbury has set the standard for literary science fiction. But every now and then, the author stepped out of his comfort zone to focus on autobiographical subjects. Such it was with Dandelion Wine, published in 1957. As Bradbury writes in the preface to the 1974 edition, Dandelion Wine was an attempt to "send myself back, with words as catalysts, to open the memories out and see what they had to offer." Thus Dandelion Wine is a collection of fleeting recollections, woven together to form a broad narrative of the summer of 1928. Bradbury focusses the novel through 12-year-old Douglas Spaulding, who perceives his home of Green Town, Illinois through a lens equal parts real and magical. Dandelion Wine drips with the nostalgia of summer -- trolley cars, firecrackers, the smell of freshly-cut grass -- but terror often cuts through the veneer, as children learn grim lessons of evil and mortality, and Green Town's darker side gradually unfolds.
The perfect book to read while sipping an ice cold Frappuccino outside your local Starbucks and enjoying a cigarette:
In the Realm of Hungry Ghosts: Close Encounters With Addiction by Gabor Maté (Knoph Canada)
Gabor Maté, a Vancouver physician and popular author, has spent the last decade as a staff doctor at the Portland Hotel, a project housing some of the most damaged and vulnerable people in the city's drug, poverty and addiction ravaged Downtown Eastside. His latest book, In the Realm of Hungry Ghosts: Close Encouters With Addiction is a powerfully written book that blends heartbreaking reportage about the lives of his frequently cross-addicted, multiply diagnosed patients, with a fascinating and accessible review of the latest research into the biology of addiction. He rounds off with some compelling arguments for a public policy, and personal response to our society's epidemic of addictions that is rooted equally in compassion and science. Those of us lucky enough to have relatively manageable or socially acceptable addictions -- say to over-priced espresso drinks or, like Maté to classical music -- are invited to see our common humanity with fellow citizens, often those already battered by poverty and racism, whose dependence is on prohibited substances. We all might do well to reflect on this eloquently written and fiercely felt call to compassion and sanity as we knock back a Grande, order a double or shake open a pack of our own favorite substance of abuse.
The perfect book to inspire doodling in your summer diary:
Lucky by Gabrielle Bell (Drawn and Quarterly)
Bell's growing skill at her craft is the journey that drives these cartoon-panel diary entries about preoccupation and artistic doubt. As her panels become less cluttered and more intentional, her line weight more varied, banal vignettes take on increasing profundity. Documenting a Williamsburg apartment hunt and a handful of shitty jobs (life modelling, tutoring, and a factory gig assembling cheap jewelry) with careful, almost diagrammatic staging, Lucky is an object lesson in how to make meaning out of everyday life in pictures and words, one page at a time.
The perfect book to read aloud in your tent when the night gets too quiet:
Heart of the Cariboo -- Chilcotin, Volume 3 Edited by Karla Decker (Heritage House)
This book is the third edition in an anthology of stories from the heart of British Columbia. Writers like Rich Hobson, Edith Beeson and Fred Lindsay weave tales that define this Wild West region by its cast of tough and plucky characters. Stories of harrowing cattle drives and sasquatch encounters suggest city living has nothing on life on the range.
The perfect book to page through on the deck at the cabin, while the typewriter awaits inside:
Selected Works on the Art of Writing by Robertson Davies (Penguin Classics)
The author himself may have gone to the grave a decade ago, but Penguin has seen fit this spring to publish an anthology of various works. From the opening lecture on writing -- in which he states his lack of anything new to say on the subject, and then goes ahead and says it eloquently, anyway -- to his parody of the dubious quality of the writing in Hair, one of Canada's greats puts in his two cents.
The perfect book to read during a pitching change at Nat Bailey stadium:
Baseball Love by George Bowering (Talonbooks)
Our former poet laureate embarks on an epic continental baseball journey with the woman he adores to watch the game he worships. Bowering, whose business card identifies him as the Official Loudmouth Fan of the Vancouver Canadians, is a funny, perceptive and hilariously obnoxious guide. His memoir about playing for the infamous Granville Grange Zephyrs in the old Kosmic League is alone worth the price of admission.
The perfect book to also read if it's a double header:
Selected Stories by Ring Lardner (Penguin Classics)
Famed American short story author Ring Lardner was also a sportswriter. Jack Keefe is his invention: a barely-literate, hot-headed boy who just happens to be the star pitcher of the Chicago White Sox. Told through a series of epistles to Keefe's "pal Al," these stories follow the hapless player through his adjustment to big cities, fame, and paycheques, and all the vice that follows. Nearly a century later, it's remarkably current, big league lit. The Jack Keefe stories tackle problems of narrative first approached by Henry James, and later fully realized by Vladimir Nabokov: how can the reader trust a story told by Keefe himself?
The perfect book to read before the Folk Music Festival, to help you understand the Oldsters:
Recollections of My Life as A Woman by Dianne DiPrima (Penguin Books)
Beat poet Diane di Prima shrugs off a dark childhood and rampant sexism to be at the heart of the New York avant-garde poetry and theatre scenes for almost twenty years, have five babies by different fathers, hand-publish important poetry magazines, and create a series of more or less stable homes to raise her brood and host itenerant literati -- everyone from Allen Ginsberg to LeRoi Jones to Frank O'Hara -- all the while producing a formidable body of work. No doubt the amphetamines helped. By the time she ends up in Birkenstocks, one feels she's earned them.
The perfect book for the teen trapped in the back seat on Mom and Dad's crazy notion of a 'fun' road trip:
The Glass Castle by Jeanette Walls (Scribner)
Just be glad your folks aren't Rex and Rose Mary Walls, parents who define the dicey line between eccentric and unhinged. They're the real life central characters of Jeanette Walls' acclaimed memoir The Glass Castle. For years they drag their kids around the desert and other badlands of America, living out of a car or worse. Dad's a dreamer and a schemer and a drinker who hates real jobs. No worries, Mom paints all day and forgets to feed and clothe. Always chipper, the parents yap on about theirs being the best of all worlds -- until the kids rebel. Believe it or not (and who really believes memoirs anymore) you end up rooting for everyone and the ending is head spinning. What a ride.
The perfect book to read during the pie-throwing contest that is a presidential campaign:
Nixonland: The Rise of a President and the Fracturing of America by Rick Perlstein (Scribner)
Looking back, it seems one day Lyndon Johnson was telling Congress, "We shall overcome," and the next day a Commie-baiting, fear-mongering, self-pitying wreck like Richard Nixon was president. Chicago historian Rick Perlstein offers an engaging and rollicking recounting of those wild 1960s years in which a supposedly cashiered politician ("You won't have Nixon to kick around anymore") cashed in on racial and cultural insecurity. He haunts us still.
The perfect book to read on the beach, especially under small arms fire or threat of hurricane:
Heaven's Prisoners by James Lee Burke (Pocket Paperbacks)
James Lee Burke launched his lushly descriptive, action-packed Dave Robicheaux series of south Louisiana-based mystery/detective novels in 1987 with The Neon Rain. The second in the series, 1988's Heaven's Prisoners is where he really hit his stride. Heaven's Prisoners is still a perfect genre book to take to the beach two decades later. Burke is a master of all the sense of place, narrative and moral conventions that rank hard boiled detective fiction, along with jazz and blues, among America's great gifts to world culture. Robicheaux spends as much time fighting his alcoholic demons as he does chasing the rogues' gallery of thugs with which Burke peoples the beautifully portrayed land and seascapes near New Orleans. The action is as hot as the weather, Robicheaux is a persuasively tortured and complex character, and the narrative pacing is swift. Be sure to layer on the sunscreen before you start this winner; you may not look up again until you turn the last page.
The perfect book to hold open with your elbow whilst spooning tofulatti into your mouth:
What to Eat by Marion Nestle (North Point Press)
With a chapter laid out for every aisle in the supermarket, Nestle tackles everything from the produce at the front of the store to the dairy at the back and the frozen in between. In plain and friendly words, she educates the reader on what they are eating, beginning with the mantra for health that guides her philosophy: eat less, move more, eat more fruits and vegetables. A professor of nutrition from New York University, she will help you understand just what the tofulatti is supposed to be doing for you.
The perfect book to read during commercial breaks of Dancing with the Stars reruns:
Cease to Blush by Billie Livingston (Vintage Canada)
This novel opens at the funeral of respected feminist scholar Josie Callwood, whose death leaves daughter Vivian searching for answers when she finds hidden photos of mom wearing pasties and a boa. The story intersects Vivian's journey to uncover the truth about her intriguing past with flashbacks to Josie's life as a cabaret dancer in the rollicking Rat Pack era.
The perfect book for a rainy day in June when the year seems like an endless November:
Dogs and Water by Anders Nielsen (Drawn and Quarterly)
Devotees of the spare black line on a white page won't want to miss this existential graphic novella about a man and his stoically silent teddy bear travelling on a long and lonesome highway to nowhere. Along the way they encounter a ruined village, a crashed helicopter and an oil pipeline, Kalishnakov-toting pre-pubescents, blizzard and wolves. Everyone is on a Sisyphean journey in this post-911 saga... but you'll finish it in one sitting.
The perfect book for when you're on a beach in Sidney, B.C. that you'd prefer was in Sydney, Australia:
30 Days in Sydney: A Wildly Distorted Account by Peter Carey (Bloomsbury)
Aussie-raised, New York-based Peter Carey returns home for a look around the old stomping grounds for 30 Days in Sydney: A Wildly Distorted Account. It's travel writing at its best. Informed, eclectic, colourfully peopled and funny a lot of the time. Vancouverites will appreciate the chapter ostensibly about the working of the city's police department. Much of the chapter is about a brazen thief who returns a friend's pilfered trail bike because, whoops, he'd stolen another bike from the same household just the week before. Just not fair, mate!
The perfect book to read after becoming frustrated with the cultural apathy of your friends/lovers/politicians:
A Report on the Afterlife of Culture by Stephen Henighan (Biblioasis)
The noted Geist writer has compiled a nice little bundle of rants, many of which are not attacks on Margaret Atwood, for which he seems to be most famous. If you are one of those people who can read non-fiction in the summer, please attempt this much-needed critique of Canadian culture. Then maybe we can all get together as Canadians and agree to start having more fun, instead of writing books about vast fields of snow and falling in love with animals.
The perfect books to read while that summer peace rally is milling around downtown streets:
Ghost Wars: The Secret History of the CIA, Afghanistan, and Bin Laden, from the Soviet Invasion to September 10, 2001 by Steve Coll (Penguin Books)
This is a necessary read for anyone making a pre-election attempt to sort out the spin and counterspin about the current unpleasantness in Afghanistan, and Canada's perplexing role there. Although Coll, managing editor at the Washington Post, is primarily concerned with the inner workings of American espionage and covert action in this 2004 masterpiece of investigative journalism (and draws on impressively loquacious sources inside U.S., Pakistani and Afghan government and military circles that make Watergate's Deep Throat seem mute in comparison), the context provided could help Canadians trying to understand how we ended up embroiled in fighting what many see now as an American imperial battle. But no matter what the reader's views on Canadian involvement in the Afghan mission, Coll's book delivers an impressive mix of exciting action, taut, cinematic narrative and valuable historic background.
The perfect book to give to your cousin with the tinfoil toque:
Legacy of Ashes: The History of the CIA by Tim Weiner (Doubleday)
The folks who brought you the Bay of Pigs (oops), the Iraqi coup that lead to the rise of Saddam Hussein (sorry), who failed to anticipate the Iranian Revolution in 1979 ("We were just plain asleep," said the CIA director), and who were responsible for cooking the intelligence before the most recent Iraq War (whoopsies) are not the all-knowing, all-powerful spy agency of Hollywood myth. The thorough, painstaking, on-the-record reporting of Tim Weiner of the New York Times offers an eye-popping portrait of a CIA in which ignorance and arrogance are a fatal flaw.
The perfect book to go back to since the new one is kind of a let down:
I Am Going to be Small by Jeffrey Brown (Top Shelf Productions)
If you don't know who he is, get started with this one. I Am Going to be Small is funny and tender and I-know-exactly-how-he-felt! It's a fat little tome with laughs and tears packed into every page, with plenty of one panel gags so you can pick it up in between the baseball game and the barbeque and renew your faith in how expressive one panel can be.
The perfect book to read when it's light, in August:
Light In August by William Faulkner (Vintage International)
Summer is the best time to read Faulkner, but this is the only of his major novels to expressly require it. While Light In August hasn't attained the same canonization of, say, As I Lay Dying or The Sound and the Fury, nevertheless it's Faulkner at the height of his powers. Focussing again on his fictional Yoknapatawpha County in Mississippi -- a microcosm of the racially-divided, post-Civil War south -- Faulkner chronicles the tragic life of the half-black, half-white criminal Joe Christmas -- a southern microcosm himself. Although Light In August sees Faulkner occasionally losing a grip on his syntax, with adjectives and adverbs cascading through his sinuous, image-soaked sentences, no one before or since locates the reader so vividly, so tangibly. Even the novel's most minor characters speak and breathe with startling clarity. As Joe Christmas pushes toward redemption, the south's history of violence bears down on the present, oppressing the "light" of the novel, and again proving one of the Faulkner's famous maxims: "The past is not dead. In fact, it's not even past."