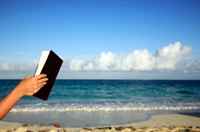 Ahh summer. The season of sun and sand, when accountants pull on their short sleeves and protestors closet their 'My premier is a criminal' umbrellas.
But what to read for the season of heat? How to occupy those lazy days at the high value investment cabin? There are, after all, only so many Tyee articles to print out and savour. Sometimes, unfortunately, the latest Rafe Mair just isn't enough to fill a holiday Monday. Thankfully, we still have books. Yes, even those of us in the Internet business still rely, once in a while, on the old fashioned printed word. And with summer here, the Tyee staff have put together a cheat sheet of beach-able B.C. books, just for you. Enjoy the read.
To justify the binoculars on your windowsill, read:
An Enchantment of Birds by Richard Cannings (Greystone) Part personal memoir, part nature guide, this illustrated book from a B.C. birder and biologist shows how closely life and birds can intertwine. Canning's bird accounts range from the humorous (he and his brother once sheltered inebriated waxwings until they sobered up); to the astonishing (the 2.5 gram calliope hummingbird travels 9,000 kilometres each year); to the heart-warming (chickadees are his source for "the infectious enthusiasm of life"). Detailed bird illustrations are included for the novice bird watcher.
For the mellowed out post Bukowski craver looking for a sense of home, buy:
All Things Said and Done by Marita Dachsel (Harbour) Dachsel's debut collection traces her journey from a small town kid to world traveller. The freestyle verse transforms the author's fragmented recollections into one well-crafted tale. It's perfect for readers who revel in poetic style but enjoy a novel's narrative thread. Sincere, ironic and witty, this book is perfect for light summer reading at a cabin or a beach in the city.
To rediscover your Abbottsford peacenik roots and seriously consider an old-timey beard, read:
Half in the Sun: Anthology of Mennonite Writing Edited by Elise K. Neufeld (Ronsdale) Mennonites aren't as identifiable by their clothes as they once were, but their surnames still give them away. This anthology includes the poetry and prose of a prolific group of Friesens, Rempels, Nickels, Neufelds and Neufeldts, following in the way paved by the likes of Rudy Wiebe and Miriam Toews. Exploring the complexity of the simple life, these writers offer an insiders perspective on hard work, good food, pacifism, and what it means to be the descendents of a persecuted religious minority.
For the cash-strapped and fearful, the Captain Cooks of the day-trip, buy:
52 Best Day Trips from Vancouver by Jack Christie (Douglas & McIntyre) The Georgia Straight's outdoor columnist provides enough detailed directions and comprehensive maps for destinations in all directions from Vancouver, from Delta to Whistler (most are only about an hour drive from Vancouver). It also offers advice on how to get there and succinct summaries of what to do while you're there. The down side: most trips require cars.
If your neighbours are Hummer-driving carbon cretins, loan them:
Being Caribou by Karsten Heuer (McClellan & Stewart) Heuer, a wildlife biologist, tells the story of his five-month journey through the Arctic with his bride, filmmaker Leanne Allison. During their honeymoon, the two followed the annual trek of 123,000 caribou from the Yukon to Alaska. Heuer's book is a tribute to wildlife and a testimony against the huge oil and gas developments threatening the caribou's trek.
To fuel your conservative grandma's worst fears about the 'kids these days' read:
Stolen by Annette Lapointe (Anvil Press) Lapointe uses a keen narrative touch and subtle evocation of setting to slowly reveal Rowan Friesen's life in rural Saskatchewan. If it sounds like a modern version of Little House on the Prairie, just wait. Friesen is in fact a gay drug dealer who sells stolen goods on the Internet, and spends half his time in pursuit of a mentally ill father. Yep, Lapointe's anti-hero is no Laura from Little House. Maybe that's why Friesen ends up so lovely, yet so disturbing. If Grams doesn't croak from heart failure after chapter one, she might just reconsider her views on about today's band of hoodlums.
If you can't look at the ocean without thinking of Richard Dreyfus and a giant animatronic shark, read:
Sharks of the Pacific Northwest: Including Oregon, Washington, British Columbia & Alaska by Alessandro De Maddalena, Antonella Preti, and Tarik Polansky (Harbour) In his 1971 album Live at the Fillmore East, Frank Zappa performs a song called "Mud Shark," which describes how a band called Vanilla Fudge fished for and caught a mud shark from the balcony of their suite at Seattle's Edgewater Inn. If he'd had this book, which uses illustration, photographs, and text to classify and identify the sharks of the Pacific Northwest, the song may have more accurately been called "Piked Dogfish," or "Pacific Sleeper Shark." Who says science kills poetry?
For a conch shell in book form, pick up:
Around One More Point by Mary Gazetas (Touch Wood). With photographs, diary entries, scribbled camp lists, and sketches of mussel shells and arbutus trees, this book about kayaking and canoeing the Northwest Coast is unclassifiable. At a literal level, it's a tastefully printed scrapbook of the author's yearly paddling trips. At a more poetic level, it's a point of convergence between the lines printed on nautical charts and the happy lines etched into the corners of the author's eyes from 24 years of paddling.
If you're weekend includes a visit with the been-there-done-that-your-story-sucks uncle, read:
Heart of the Cariboo-Chilcotin Edited by Diana Wilson (Heritage House) Everyone has the relative who must have the last word in dinner conversations. He (why is it always a he?) has climbed higher mountains, survived worse storms, and stared down more ferocious wildlife. This summer, one-up him with tales of gold mining, living off the land, and ranching in B.C.'s rough and tumble north. So what if you have to plagiarize them from this book. His probably aren't true either.
For the pre-100 mile dieter looking for the next step, buy:
Where People Feast: An Indigenous People's Cookbook by Dolly and Annie Watts (Aresenal) When it comes to eating, they say local is the new organic. Not news to the authors of this fine-dining cookbook. First peoples of the Pacific Northwest have modern food fads beat by a long shot, they say. Recipes for wild huckleberry glazed duck, pemmican canapés and alder-grilled marinated wild salmon meet mouth-watering colour photos in a user-friendly guide to cooking and preserving regional foods the First Nations way. But vegans and 100-mile diet purists beware: there's a healthy spate of exotic and meat dishes here, too.
If you're a landless green thumb holidaying close to home, read:
Guerrilla Gardening: A Manualfesto by David Tracey (New Society) Cheeky, witty, acerbic, and downright ranting at times, here's a book stuffed with great tips and trivia for anyone who gets their kicks planting the town green -- authorized or not. Tracey captures well the ethos of the guerrilla gardener, going as far as to say you're no good as a global citizen until you've bombed seeds and pulled weeds to renew the cityscape near you.
If you're taking a quick summer trip to Palookaville:
OR
A great book for your uncle...if your uncle is Jimmy "SuperFly" Snuka or Gene Kiniski:
OR
You could take a folded metal chair to the head, or read this book:
One Ring Circus: Extreme Wrestling in the Minor Leagues by Brian Howell (Arsenal) Ok...so this one's been out for a while but we thought it worth another mention because it's just too much fun. Brian Howell's book is an homage to the world of minor league professional wrestling. Or, better said in the introduction by Stephen Osborne, editor of Geist magazine, "This is a book with many virtues, a book that can be savoured for the brilliance of its photography and for the stories it contains of a world unnoticed by many of us: it shows us something that we didn't know before."
To finally trump that "West Van is better" North Vancouver inferiority complex, read:
The Ambitious City: A History of the City of North Vancouver, by Warren Sommer (Harbour) With upwards of 20 ship collisions and the tragic death of 18 construction workers, the various bridges that have spanned the second narrows of Burrard Inlet, connecting Vancouver and North Vancouver, have become collectively known as the Bridge(s) of Sighs. This is but one of the interesting facts Warren Sommer's presents in a book that chronicles the evolution of North Vancouver, "from a hodgepodge of wood-frame buildings" to a multicultural city with a multi-faceted economy.