Listen to This!
'Books' is the best song I've ever heard.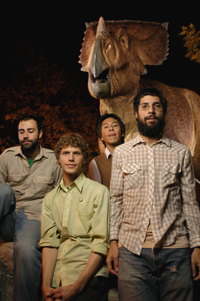 I went to see Chuck Klosterman speak at the Norm Theatre at UBC last night. Klosterman, for those unfamiliar with him, writes the kind of thoughtful pieces an English major might write, if you replaced every Foucault and Derrida reference with Guns 'n' Roses and the '86 Celtics. He creates meaning out of the seemingly meaningless or, to put it another way, makes us examine the meaning we attribute to things like "The Hairstyles of Britney Spears."
If I were Chuck Klosterman, I could explain to you why I'm recommending, on this page, a band that has written exactly one song that I really like. I'd probably talk about growing up in Montreal and not knowing whom Def Leppard were. Then I'd link it to the lack of musical identity in my teenage years, which lead to my liking both Nirvana AND Janet Jackson, a thing that at the time was impossible. Or at the very least, a little weird. But I am not Chuck Klosterman. So all I'll say is that "Books" by The Acorn is a very, very good song.
Unfortunately, the band's label, Kelp Records, has not made this song available for download. You can readily have "Blankets," a not-as-good-but-still-pretty-good song, or "Evidence," just an OK song, which would give you, should you download and listen to them, an idea of "Books," the song I really want you to hear. But only just an idea.
How good is "Books"? Amazingly good. It starts with a gently plucked guitar, and then
So they say, only good wine leaves a stain
On the shirts put aside for memorable days
And your father never warned you about my habits
Like my penchant for bad magazines and video games
which puts into play Thom Wong's Rule of Songmanship #32, namely that "any song which features the word 'penchant' in its lyrics is, on average, 30 per cent more likely to be kick-ass over a similarly themed song which does not."
Unfortunately, the song is nowhere to be found on the Internet. No sir. Nowhere to be legally found. And since The Tyee is interested in sharing only legally available music, I will tell you that it's not worth your time to check the blog of a certain Music Picks writer since the song probably isn't there. Nope. Too bad. Because you could have listened to one of the best songs I've ever heard.
The Acorn play the Gallery Lounge at UBC in Vancouver on March 28.

comments powered by

Disqus