Listen to This!
Baba Brinkman's Lit Hop.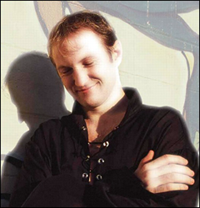 "Vancouver is a hip hop no man's land," says Baba Brinkman. "Lots of talented people here, very competitive, lots of drive to get good, but no prospects of making it in the city."
Baba is a Vancouver-based rapper who has made a living exclusively through recording and performing for the last three and a half years. Touring his work through England, Baba found support in the Brighton rap community, whose inclusiveness was markedly different from his experience with hometown hip-hop crews. "The problem with Vancouver hip hop is that there are tons of really talented people, but they all can't stand each other. In Brighton, everyone with skill is crew, everyone with skill respects each other. It's really clear that it's talent-based. Here, it's not talent-based, it's more attitude-based."
If Vancouver pretensions make the city a rap-free wasteland, the potential for "local (rap) kids making good" is limited to the United States. "Let me tell you this, shorty, for your own good, everybody is the man in they own hood," Baba says, quoting New York rapper DMX. "Everybody is the man in their own hood. Whereas the Canadian approach is, if you wanna be the man in your hood, you better go somewhere else and get famous there first."
Born in the West Kootenays and growing up in Vancouver, Baba didn't travel far to plant the first seeds of his hip-hop career. He completed an undergraduate degree in English literature from SFU, where he compared freestyle rap battles to Chaucer's poetry competitions in his honour's thesis. An MA in medieval and Renaissance literature from the University of Victoria followed, featuring further Chaucer-rap comparisons that led to a hip-hop translation of The Canterbury Tales. The complete volume was published as The Rap Canterbury Tales by Talon Books last fall, and the bulk of Baba's touring has centred on promoting the shared roots of rap and literature through The Rap Canterbury Tales in theatre festivals, music showcases and high schools across North America and England.
"I'm interested in literary themes and concepts, and I try to bring them into my lyrics. That's why I call it lit hop. It's more of an overarching concept, not a mix of literature and hip hop as a gimmick, but hip hop as literature."
Baba's literary hip hop has gained him credit for coining the term "lit-hop," but he points its origins to the work of Vancouver writer Wayde Compton. "Wayde helped me with my thesis, the original versions of the rap-Chaucer comparisons. I ran drafts by him when he was a graduate student there, because he knew about hip hop, and especially about approaching black culture studies academically. He was really valuable," Baba says.
Lit hop is a recent Vancouver-bred addition to a long line of rap labels (from "hick hop" and "backpack rap" to "gangsta rap" and "indie rap"), all attempting to sort out a genre that can be difficult to navigate. The issue is muddied when hip-hop culture is consumed as an ironic product at the expense of the music itself. Baba's B.C.-specific, treeplanting family upbringing is worlds apart from the life of critically-hyped Virginia Beach rappers The Clipse; is one kind of rap more authentic than the other?
"It seems like rap -- the audiences for rap -- are as varied as rap is itself. And it's why all these styles have a home," Baba says. "I think most authenticity in rap now is about skill. What are you capable of? If you've got skills, you're real. "Real recognize real," "keep it real." The definition of real is what you're able to show and prove, not what your resume says."
Baba Brinkman's third album, Lit Hop, is scheduled for release April 3.
Listen to selections from Baba Brinkman's offerings.

comments powered by

Disqus