Listen to This!
New indie, roots-down Pawnshop Diamond.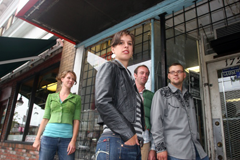 "A holiday Monday with a bottle of Cabernet Sauvignon and a big bowl of organic blackberries picked from the backyard," is how Katie Ormiston describes her new band.
It's a fitting description for the roots-down spirit of Pawnshop Diamond. The group's honest, folky, jazz-tinged rock is refreshingly free of the emo comb-overs and hipster frills that often pass as synonyms for musical quality.
"We may be indie, but we're not trendy-edgy enough for indie rock. I think the sincerity in our sound brings us closer to music from the past than music of today," Ormiston says. She cites Paul Simon, Bob Dylan, Lou Reed and Lucinda Williams as influences.
With Ormiston's lead vocals and guitar, Nina Fleming on backing vocals and piano, Jared Ferrie's electric guitar and Lucas Schuller on drums, the joyful noise is what the band calls "roots rock noir," a descriptor as defiant of genre as it is conscious of craft.
The group's attention to composition runs alongside a conscious decision to stop being self-conscious. "Not only has writing and performing in the band allowed me to express myself, but it has also taken away -- at least in part -- some of my need to pretend that I'm indifferent and that I don't feel intensely," says Ormiston. "Exposing my vulnerability has taken a lot of courage."
The band was formed through a series of collaborative sessions with other East Vancouver musicians, including C.R. Avery and Mark Berube. "It was C.R. and Mark who first inspired me to come out of the songwriting closet," Ormiston recalls. "Nicknamed the Patio Winos, we used to jam together with friends on Mark's porch." The band's origins and attitudes topple popular notions of a unified "Vancouver" sound with a matching "Vancouver" scene (read: The New Pornographers and Destroyer are wonderful parts, but not the defining whole of Vancouver's independent music community). "There are as many "Vancouver sounds" as there are languages spoken on the Number 20 bus at any given moment," Ormiston notes. "The East Vancouver music scene is full of musical gems yet to be discovered."
Listen to this: Girl From Chemanius.
Pawnshop Diamond celebrates the release of its self-titled debut album with friends Parlour Steps and Hefe tonight at the Railway Club.
Recent Music Picks:

comments powered by

Disqus