Listen to This!
Local future stars, Organ Trail.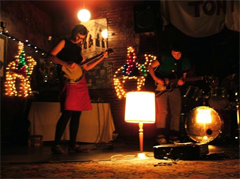 Chuck Klosterman, perhaps the finest rock journalist Gen. X has to offer, and certainly the most celebrated, offered up in Sex Drugs and Cocoa Puffs that "Wal-Mart" country [Shania et al.] is inherently more authentic than critically appraised "alt-country" bands that try to make their music sound as if it were recorded during the Great Depression. Later in the same book, he posits that concept albums and bands are, with few exceptions, a dubious undertaking at best.
It's hard to argue with either of these two points, and in fact, it might be their inherent truth that makes local band Organ Trail such a delight to discover.
Taking its name from the Steinbeckian '80s video game Oregon Trail, wherein players had to lead pixelated families across dustbowl America to the West Coast, Organ Trail, like the game, is steeped in fusty Americana, viewed and skewed through a modern lens. The result is something fabulous: conceptual alt-country that's not pretentious crap.
So what does it sound like? Well, exactly what you'd expect: mournful, time-swept female vocals; artful banjo; steel guitar -- the whole works. But whereas so many bands working this genre get bogged down by their own earnestness, Organ Trail isn't afraid to be epic in musical reach. Their live shows have dazzled those in the audience, and a recent placing in the finals of Shindig, an annual battle of the bands held in Vancouver, has also earned them some buzz, but not nearly as much as they deserve.
So here's your chance to get in on the ground floor. Before every paper in town is drooling all over them, as they surely will, check out their songs on their MySpace page, see them play live at Hoko's Sushi Bar (at Powell and Gore in Vancouver -- strangely, the best small venue in the city right now) on the 27th of this month, and pick up their new EP, a split record with Los Angeles-based band VxPxC, on Brooklyn, N.Y.'s Closet Trekkie records.
Also, on a completely different note, if "Young Folks" by Swedish indie-pop group Peter, Bjorn and John doesn't make you smile, I don't know what will. It's currently the 3 a.m. living room dance party anthem across the nation. Give it a play and see why.

comments powered by

Disqus