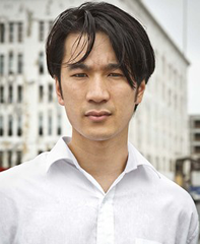 The Boat
Nam Le
Knopf (2008)
Nam Le is not his age. He is not his list of awards and distinctions. He is not the coveted ethnic writer. He is not the sum of the jacket blurbs on the hardcover edition of The Boat, an honest and artful collection of short stories released this year. He is all these things and none of them, and while it may be a cliche to wonder just who anyone really is, Le knows that this is exactly the question that fiction is best suited to explore.
Objections aside, Nam Le's list of official stats expanded significantly earlier this month when the writer was named the winner of this year's $113,000 (£60,000) Dylan Thomas Prize. The award, one of the most lucrative in the literary world, is available to writers under 30 working in English in any genre, anywhere in the world. Le is only the second writer to receive the prize since its inception at the University of Wales.
Originally a poet, the Vietnam-born, Australia-bred Le writes fiction with the intensity of the symbolists. His stories do not merely unfold or describe, they evoke, creating whole emotional worlds in settings as diverse as Tehran, Hiroshima and Iowa City. Having recently celebrated his 30th birthday, Le falls into a literary age bracket popularly defined by hubris and inexperience. Yet, as his fictional self is advised in The Boat's opening story, Le takes Faulkner's advice and earnestly writes about the "old verities": "love and honor and pity and pride and compassion and sacrifice." He does so in a way that has nothing to do with age and everything to do with talent and dedication.
"I think it's an un-instructive and ill-informed way of thinking to assume that older writers are writing better work than younger writers," Le explains. "I don't believe there's anything that happens after 30 or 35 or 40 or 45 or 50, which, if you're careful and attentive and serious enough, you wouldn't be able to convey at the age of 25 or 30." Tender age or no, Le convincingly writes the story "Meeting Elise" from the perspective of an ailing old New York painter, whose crotchety rants are reminiscent of Mordecai Richler's infamous character Barney Panofsky.
'Cornerstone of morality'
Despite all the talk of intellect and ability that surrounds him, Le is not interested in being the next genius. Working in the same vein as the late David Foster Wallace, Le's writing is deeply concerned with questions of morality and ethics. "If you can, just for a moment, bring someone to a place they otherwise wouldn't have been and get them to predicate themselves in another person's situation, in another person's skin, in a way that they otherwise wouldn't have, then that's the most human thing you could possibly do," he says of the value of fiction. "Surely that is, in some ways, the cornerstone of morality."
Stepping back for a moment and looking around the room in the Granville Island Hotel where we are conversing, Le grins and relaxes his shoulders. "I'm aware that I'm getting into contentious territory, so I'll stop." The conversation continued, however, and here are some other observations Le shared...
On making the switch from law to literature:
"I worked [as a lawyer] for about a year and then took a year off to go backpacking around the world. While I was away, I realized that I really disliked the work in a corporate law environment. Before that I'd mainly written and read poetry, but then during that year I decided that I'd give a novel a go, give fiction writing a go, in the sort of outlandish thought that that was what one did. And then one got published, like a cinch, and created a feasible life as a writer."
On writing for long dead writers:
"The cause and ideology and reason of writing is to be by yourself, immersed in yourself, to come to some sort of understanding of who you are and what you think of things. At the same time the entire enterprise is geared towards communicating itself outward to someone else or to other people. To me the greatest and most seminal influences have always been other writers and other books. I always have a sense that all writers write in order to carry on that conversation with the books that they've read and loved and the writers that they've read and been provoked by and felt stirred up by, whether in admiration or anger. That's a continuing thing.
"One of the gorgeous gifts about writing is you can have a conversation with someone who's alive right now and you can have a conversation with someone who died 2000 years ago, and it's still a very charged and relevant and current conversation."
On being labeled a 'young writer':
"I just turned 30 a week ago, so I'm becoming more and more nostalgic for that title. [But] if you look at it historically, there is no intrinsic predictor of when a writer's best work is going to fall. Some people come out of the gate with their very, very best work, and other people take decades in order to get to the place where they actually mature into their work. When I look back at the novel I wrote five years ago... I'm horrified by part of it. I was too young. The question of aesthetic quality based on anything that's external -- be it age or class or gender or anything like that -- is just a fatuous way of looking at things."
On fiction as the great connector:
"To me all the charge and tension and energy resides in the space between two propositions. One is that, quite frankly, we can never really get to know anyone at all. No matter where they are or what situation they're stuck in. We never really get to understand ourselves in some senses, let alone the people we live with and are close to. We never really understand what it is they do, because no one ever does anything for just one reason. Even if they were to interrogate their own motivations, they wouldn't necessarily come up with the right matrix of cause and effect. I dislike this word because it's used politically, but that sense of individuality, that sense of specificity, is really important in retaining what it is that's human and mysterious about us.
"The other proposition is the idea that all that's good and meaningful in our lives is brought about by the fact that, knowing what we just suggested, we still try. We still try to connect with other people, in moments of empathic connection, to put ourselves in other circumstances. Look at the world through other eyes, see different things in different ways. So that gap is where all the energy is and I would argue that both of those propositions are incredibly true. I think that fiction is the instrument that's best placed to explore that, because I think fiction is the form which is most conducive to deep and close examination of consciousness."
On the contrast between the grotesque and the quotidian in 'The Boat':
"I think life is pretty outlandish in many ways, and I think it's pretty sensational and graphic in certain ways. But the idea of the grotesque in literature and art is the idea of somehow accentuating those aspects which are most exotic or most sensationalist and bringing them to the fore. I think that does a disservice to the lived experience of these people and these places. I didn't want [the stories] to be quotidian in the sense that I wanted what I knew would be a mainly Western liberal readership to think 'OK, it's not as bad as all that.' But neither did I want them to come away and revel in that sort of pornographic voyeurism, either. I guess I wanted to get as deep into the various sufferings as possible and to render them in a way that seemed faithful to the situation."
On art as a means of redeeming suffering:
"The question of suffering is really interesting, the question of appropriation of suffering is very interesting, the question of authority to represent trauma -- whether it's a legacy of historical trauma that you inherit or a national/cultural trauma that somehow you're expected to write about because you happen to be born in a particular place or happen to reside in a particular place -- I think those questions are really interesting, and I don't really have an answer to them. What separates extraordinary writing from really good writing is that often it comes from writers that have talent but also have a wound. They hurt. ...In some ways it's masochistic, because you keep rubbing yourself into that wound, to try to feel something at all."
On whether people still care about literature:
"I think different things on different days depending on how I feel and what I've been drinking. It does disturb me from one point of view, when the American NEA study comes out saying that fewer and fewer people are reading, and the way they define reading in the survey is so overbroad and generous. Do you read anything at all, even online, or words scrolling across the TV screen? Fewer and fewer people are even reading in that sense. It is, it's quite saddening, is a good way of putting it.
"But then I think about the fact that it's a fact that more people are literate today, and the proportion of literacy today is higher than it's ever been. [And] it is a fact that more and more people are interested in writing. They're flocking to MFA programs, they're coming to festivals, they're joining workshops. Nowadays I think we have so many absolutely top notch writers, writers that are as good as anyone's been, and more of them talking to more people and more types of people. I think we do live in a time where peoples' consciousnesses are being affected in unprecedented ways. If the role of fiction is to interrogate in good faith human consciousness, then it's a really interesting time to be writing. It might be the most interesting time to be writing. I think that fiction might be at the very, very bottom end of its curve of possibility, and that's bloody exciting."
On contemporary writers pushing that curve:
"This list will probably be distinguished by its arbitrariness and omissions, but people like: Cormac Mccarthy, Don Delillo, Marilynne Robinson, Ondaatje, Tim Winton. I read in English so I can't really speak to translations of other writers -- I believe that style is very important. Even looking at short stories, which is something that I did quite recently, there's just an incredible outpouring of people as talented as anyone's ever been. Like Alice Munro, Charles D'Ambrosio, Tobias Wolff, Eisenberg, Jim Shepard. I'm missing quite a few."
On the late David Foster Wallace:
"I think that his passing is extraordinarily tragic... I'm reminded of something that Foster Wallace said on the Charlie Rose show. He was asked 'What's the role of fiction?' and he was rolling his eyes and sort of saying 'Oh god man, what are you doing to me?' He said part of it is to tell stories to be fun, to be entertaining, to want to keep the reader reading, to engage them. He sort of paused and said the other part of it is that clichéd notion of moral redemption. That very unfashionable, very unpopular idea that art also has an inherent moral aspect to it. I believe that very, very strongly."
Related Tyee stories: