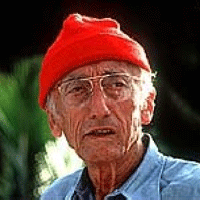 The Human, the Orchid and the Octopus
Jacques Cousteau and Susan Schiefelbein
Bloomsbury USA (2008)
Jacques Cousteau was born in what he called "a lucky place in time," the dawning of a technological age in which lone explorers, scientists and researchers were limited only by their own imaginations.
Anything seemed possible then, and Cousteau himself was driven by relentless curiosity about everything around him.
After donning a pair of goggles to spearfish in the Mediterranean, he became obsessed with discovering more about the largely unexplored yet ubiquitous underwater world.
Even today as scientists try to fully comprehend the extent of ocean life (2010 will mark the culmination of a 10-year marine census initiative involving 14 field project and 80 nations) they acknowledge that, though 14 million species have already been recorded, millions more will never be known.
These are the tiny organisms that live beyond our reach, and the creatures that may simply disappear before researchers can find them.
Last year, over 100 scientists from around the world called for a global moratorium on deep sea trawling, a fishing method that scrapes heavy nets across the ocean floor, destroying everything in its path. Off the east and west coasts of Canada, sensitive cold water coral reefs are demolished faster than researchers can discover and protect these important fish habitats.
Aboard the Calypso
The Human, the Orchid and the Octopus: Exploring and Conserving our Natural World, written with long-time collaborator Susan Schiefelbein during the last 10 years of Cousteau's life, is a personal and analytical account of a fascinating career that spanned nearly seven decades.
On board the Calypso (a retro-fitted British minesweeper leased from beer giant Sir Thomas Guinness for one franc per year) Cousteau, his wife Simone and crew circled the globe documenting ocean life and sharing it with people around the world.
Although his tales of underwater discovery and adventure make for Indiana Jones-esque movie material -- Spy subs! German officers! Sunken treasure! -- this book isn't just a stroll down memory lane. It's a warning cry to future generations from a man who was an eyewitness to the degradation of earth's oceans.
With a scientist's measured analysis of the facts and colorful anecdotal evidence, Cousteau presents a worthy case for the end of industrialized fishing as we know it.
He blasts the powerful global industry for its near total destruction of fish stocks and "catch as catch can" modus operandi. He details the collapse of industries around the world, including haddock and cod in Canada, and the collapse of the belief that the oceans were an inexhaustible source of protein.
Those resources have been exhausted, he writes, but with their ample government subsidies, large industries don't suffer the worst consequences. Instead, it is the lone Jamaican in a battered boat who can't feed himself.
Film star in a rubber suit
"Confronted by manipulative governments and emasculated by a lack of authority, international authorities indulge fishing industries rather than control them. Confronted by the need to amortize their expensively equipped ships, thus addicted to ongoing bank loans and government subsidies, the fishing industry itself serves only to perpetuate the chaos."
"Few speak for the fish populations, as additional stocks of edible species continue to dwindle. Few speak for the seas, as consecutively depleted coastlines merge into one depleted ocean. Everyone speaks for the present. Few speak for the future."
The book is hardly a downer, though, or simply a tirade against the forces that be. Cousteau was more than a renowned ocean explorer, and the early chapters of this book recount some of his other exploits as an intelligence officer for the French during the Second World War, a writer, filmmaker and activist.
He won three Oscars and the Palme d'Or for his documentary films and was nominated for an Emmy for his television series Undersea World of Jacques Cousteau. He wrote and co-authored more than 75 books, and later in life became an active conservationist and environmentalist.
'Age of goalism'
The book also looks at his life as an inventor by necessity. In the early days, Cousteau went as far down as his lungs would take him, placing his camera in a glass canning jar to film Ten Fathoms Down, his first short documentary.
He later dived using the most advanced technology at the time, the Fernez apparatus, which pumped pressurized air from a support boat to the diver's face mask via a tube. Even this wasn't good enough -- Cousteau nearly killed himself, for one thing, and wanted to be free of the lifeline that tied him to the surface.
So during the early 1940s, Cousteau used his ingenuity, French Naval training and help from engineer friend Emile Gagnon to create a self-contained underwater breathing apparatus.
After some 500 test dives and four years of trial and error -- with efforts slightly delayed by the war -- they patented the "Aqualung," a device that allowed Cousteau to see a whole other world right here on earth. Fundamentally, modern SCUBA gear hasn't change much since.
Cousteau is sincerely hopeful about the future of life on earth -- if we humans can change our ways. He writes philosophically, if not always pragmatically, about how to achieve a sustainable, peaceful world, calling for a return to the "age of the dreamer" during which his own research flourished under ample government grants and fewer strings attached. That has given way to the "age of goalism," he laments, in which too often science's goal is some kind of profitable application.
Should science be driven to benefit all humankind, he argues, humankind might be able to save itself.