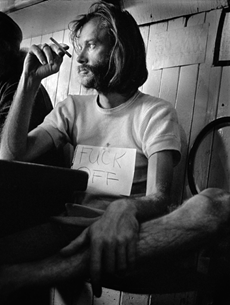 True heroes are rare. To be a real hero, you need vision and accomplishment, but you also need humility and optimism. Bob Hunter was one of those heroes.
When he died on Monday at 63 after a long battle with prostate cancer, he made the news, of course. But as I sifted through the reports that listed his many accomplishments, I didn't often get a sense of the magnitude of his character and influence.
He helped found Greenpeace. In 1971, he sailed on its first protest voyage to the Alaskan island of Amchitka, to bear witness to a U.S. nuclear test. He was a columnist for the Vancouver Sun. He wrote some books. He provided trenchant reporting and commentary for Toronto's Citytv. Time magazine once said he was really important.
"Who's Bob Hunter?" a couple of friends said, when I told them of his demise.
Let's be clear here. Some people have said that without Bob Hunter, Greenpeace may not have become the hugely influential organization it is today. I will say what Paul Watson said this week: without Bob Hunter, there would be no Greenpeace.
Bound others together
There were others, of course. Irving and Dorothy Stowe, Paul Watson, Patrick Moore. Ben Metcalfe. David McTaggart. But Hunter was ultimately the hub, and they were the spokes. He was the person whose perspective and faith bound together the activists who created Greenpeace. And he was the person who eight years later let Greenpeace go, when Greenpeace's Vancouver founders needed to give it away to the rest of the world.
Vancouver author Rex Weyler's 2004 book Greenpeace, an invaluable history of the organization's tumultuous first eight years, makes that clear.
Hunter's strength of character is why, on the Greenpeace website tribute to Hunter, stories from Paul Watson and Patrick Moore stand side by side. The crusading Watson, who has described Greenpeacers today as the Fuller Brush salesmen of the environmental movement, and Moore, who now campaigns for forest companies and fish farmers, both obviously share deep affection for their former colleague. Watson and Moore are worlds apart now in their outlook, but even today Hunter can bring them together.
Hunter was until his death a friend and advisor to Watson and his uncompromising Sea Shepherd Society. He also remained a defender of the often-maligned Greenpeace. When I spoke to him last September, when his forgotten 1971 Greenpeace memoir The Greenpeace to Amchitka (Arsenal Pulp Press) was finally published, he respectfully disagreed with those who argue Greenpeace has lost its way.
Took the long view
What has Greenpeace Canada done lately? He pointed to its role in developing the consensus agreement on the Great Bear Rainforest. The tentative deal addresses First Nations issues, provides for economic development and better logging practices and — if it's finalized - will preserve 1.8 million hectares of pristine wilderness. Some critics see too much compromise in the agreement, and some fear the BC Liberals may roll it back.
What Hunter saw in the initiative various strategies of the environmental movement — strategies he helped to pioneer — working effectively in tandem.
Greenpeace and other groups such as ForestEthics cooked up the "Great Bear Rainforest" brand, they campaigned in forest-product markets so that forestry companies would want change. Then they sat down at a boardroom table and negotiated. Hunter, who understood that environmental activism is a battle of icons, and who put forward the notion of creating media "mind bombs," also understood, as he said last year, that success is "a grinding, bureaucratic thing for the most part."
Hunter also argued that Greenpeace's more aggressive activism in places like Russia and Brazil is invisible to many of its armchair critics, whose sense of what's going on in the world is distorted by the lack of serious environmental journalism in North America.
As always he stumped for the big picture: bigger than the Great Bear Rainforest, bigger than Greenpeace. "It's not a matter of how successful this specific campaign is going to be. It's 'Can we turn this sucker around by mid-century?' "
If we manage to do that, a huge portion of the credit will accrue to "Who's Bob Hunter?"
The following tributes and links offer a sense of Hunter's character from those who knew him best.
Bob wanted to leave as small a footprint on this earth as possible, but he has left us with big shoes to fill.
Michelle, Toronto, from the BBC
Bob Hunter was to the environment as Germaine Greer is to feminism. His foresight, bravery and dedication to saving our world from the greed of global governments [are] deserving of the highest accolades.
Jennifer Rose, Australia, from the BBC
The last time I spoke with him, a week ago, he told me what he had learned from cancer treatment: "Get this," he chirped. "My blood type is the same as my life's philosophy. B-positive."
Rex Weyler, in the Vancouver Sun
One of my fondest memories of Bob is when the Rainbow Warrior set sail on her maiden voyage from London in 1978. He had missed the connection and we had to leave because of the tide…. As we approached a small bridge along the Thames on our way down to the English Channel, I saw a lanky figure with backpack and the hugest smile, gesticulating madly. The bow of the ship passed under the bridge, and Bob launched himself with a thunderous vocal accompaniment onto the forepeak, and landed, smile intact, and a "Sorry guys for being late! Couldn't let you leave without me".
Well, now Bob, you have left us, and the world somehow seems a duller, emptier place today. Journey well. Your legacy lives on, and will live on - for seven generations I am sure.
Susi Newborn, on the Greenpeace website
My lifelong friend and teacher Robert Lorne Hunter died today. Bob Hunter was plain and simply one of the most inspiring and visionary environmentalists of our time.
He was "the" founding father of the Greenpeace Foundation.
There are many of us who can be called co-founders of Greenpeace. Like veterans of a long war, we have all been kept aware of each other for three and a half decades. Some remain friends and some are now sworn enemies. But most of us have held and will forever hold a special place in our hearts for Bob.
In 1974, Bob took the embers of what we began with the 1971 voyage to Amchitka to oppose nuclear testing and he fanned the dying sparks into the flames that gave birth to what is today the International Greenpeace Movement.
The fact is that if there had been no Robert Hunter, there would not today be a Greenpeace organization. It would simply be a footnote in the history books from the early seventies.
Paul Watson, on the Greenpeace website
Bob told me one late night sitting at a table, somewhere out in the North Pacific, about how important it was to stay — or stand (as Paul Watson mentioned) no matter how how dark or insurmountable the cause might seem. But he also added something about doing it with the right intentions, without ego. And if one could manage that, then providence would come into assist, a door would open – often times at the last minute.
I have paid attention to his words, and while my work has changed, life has continually brought me huge social and environmental justice issues. Each time, I remember Bob's words and try to act accordingly. Each time, without fail, help seems to arrive and things break open. And each event, leads to another — opening doors to new and different challenges. It's part of the calling and Bob had it. He also had the wisdom and spirit to know how to stay present with just the right intentions.
Michael, Eugene, from the Greenpeace website
Last March, I was fortunate enough to interview Bob for a television documentary…. I had never met Bob before that day, but had admired him from afar for years. Even though he was pretty sick, he was overwhelmingly gracious and opened his heart and home to my crew and me. When I first approached him on the phone, I hoped beyond hope that he would agree to the interview, knowing fully well that his time was very precious…. He paused after I timidly made my request. My heart was pounding. What would he say? Then, he exclaimed emphatically: "Leigh!" I thought, "Oh no, he thinks I'm a nut bar". And he finished his sentence exactly like this: "How may I serve?"….
I come from a country that is reluctant to recognize its heroes. But you, Bob, are a true hero in every sense of the word. A campaigner right to the end for all that is good and just in the world.… Thank you from the bottom of my heart.
Leigh Badgley, Vancouver, on the Greenpeace website
In 2001, I had the great fortune of having Bob join me on a television programme for CTV's digital TalkTv channel…. I began to ask Bob what he thought to be the worst city in Canada, ecologically speaking. Before I could get mid-way through the question, Bob shot forth the reply: "Vaughan. Vaughan, Ontario. It's a shit-hole. A shit-hole. A total shit-hole." This took place at a time when Bob was attempting to win a seat in a provincial by-election as a "tourist" in the Liberal party…. The young toady Liberal Party media attaché assigned to ferry Bob from one televised event to another looked like someone told him his mother died…. Mr. Hunter was never one to mince words at the expense of the truth. Bob would say the right thing, the wrong way, at the worst possible moment, and God bless him for that. Did you hear that, wherever you are, you secular saint?
Anonymous, from the Greenpeace website
No one could say Bob Hunter wasted his time on this earth. He contributed precisely as much as he could. I am stealing Bob's own words (from an obit he wrote about my father) to say this, because no-one could say things better than Bob, and he deserves the best.
When I was fourteen, coming home to another Greenpeace meeting in our living room, I always hoped he'd be there, because although he said little, when he did speak, how witty and brilliant he was.
Bob was the most elegant hippie ever. But it is certainly not his sartorial flair, nor his gift for language, his enormous wit, his visionary genius, or even his big warm heart I admire most. It is his humility. You need a strong ego to be great, but only a truly great person can put his/her ego aside. Bob, more than any other shining star on this earth I've ever known, knew how to do that.
Wherever he is now, I think it must be pretty fine. He's earned that.
Bob, it's so hard to believe you're not with us. But I also know you'll always be with us. I just have to think of you to hear your "heh heh heh" and see your smile. Thanks, my "Greenpeace Uncle".
With love, Barbara Stowe, daughter of Greenpeace co-founders Dorothy and Irving Stowe, Vancouver
Charles Campbell is a contributing editor to The Tyee.
The Tyee has also excerpted a portion of Hunter's The Greenpeace to Amchitka, a wonderful artifact of a pivotal time. Friends of Bob Hunter will celebrate his life on Tuesday, May 10, from 4 to 11 p.m., at Bimini's pub, 2010 West 4th Avenue, Vancouver.