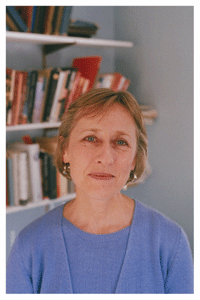 Late Nights on Air
Elizabeth Hay
McClelland & Stewart (2007)
It's a Canadian romance, this idea of North, which is not a compass bearing, but a hope and an escape route.
Elizabeth Hay went north in 1974, at age 21.
In Late Nights on Air, she takes her readers back to the Yellowknife of her memory, and imagination, to the public radio station where young southerners could arrive and find work on air.
That's what happens to Gwen Symon, a central character in the novel, who drove 3000 miles in her Volvo to reach Yellowknife.
The receptionist at CBC Yellowknife, Eleanor, had seen it before: "This place could be the making of you, Eleanor thought, smiling at Gwen.
"But then, everyone thought the North would be the making of them, as she knew perfectly well. That's exactly what led to so many disasters."
Disasters, yes, but also adventures. Gwen and Eleanor join two men from the station (its failure of a station manager, Harry Boyd, and the bereted book reviewer, Ralph Cody) on a canoe trip to the Barrens, on the Thelon River.
They follow a path taken by the English explorer John Hornby in 1927, and by the author herself in 1978. Hornby's party starved to death. In the novel, it also ends badly.
Late Nights made me wonder about the myth of the North and the allure of radio.
Elizabeth Hay discussed these, and other questions, with The Tyee, and what follows are excerpts from our conversation.
On romance and radio
"One of the starting points for this novel was the romance of a disembodied voice. As radio listeners we frequently fall for people we hear on the radio and form rather vivid imaginary portraits of them. That's a real and entertaining and lovely thing that happens when you're a radio listener.
"I wanted to have that romance happen in Yellowknife. I wanted to use that real radio station where I used to work, then amplify that romance so it extends to the area around the station.
"You have these characters whose voices travel around the North. I wanted to pay attention to their voices, and pay attention to the North."
On the allure of snow
"I wanted to go north for a long time. And I guess that came from growing up in Ontario, where at school there were paintings from the Group of Seven, from Lawren Harris, showing the snow-capped mountains. Also, my father had always wanted to go to the Yukon, but circumstances didn't permit it.
"Then, I remember, as a young woman, I listened to Glenn Gould on the radio. He also had this fascination with what he called, 'The Idea of North.'
"All that played in, and when I had the chance, I went."
On intimate broadcasting
"The privacy of radio is something I appreciate as a listener. That I can be alone in the house with it is a tremendously intimate thing. And yet it's a paradox: the distances are so great, and the people are removed from you, but so close.
"In the North of the 1970s, when this book takes place, television hasn't really arrived, and radio was still in the ascendant. People rely on it for information, community announcements, messages directed from one person to another: 'Helen Jumbo, you have a C.O.D. parcel in the Ft. Simpson post office.'
"There have been certain [radio] programs that seem to knit the country together, like Peter Gzowski, and Bill Richardson when he was on with 'Sad Goat' [Richardson's Roundup].
"And that's something radio can still do. When the ice storm happened here in Ottawa in 1998, you could listen to the radio and be connected with all sorts of other stranded people. It was wonderful."
On what ice sounds like
"Listening is an essential element in the novel. There are radio listeners, who hear these broadcasters, who are themselves listening to the people they interview.
"There is also the man who I call the great listener in the novel, [B.C. Supreme Court] Justice [Thomas] Berger, who was leading the inquiry into the Mackenzie Valley Pipeline. He's in the background of the story, but you're aware of him listening to people who are speaking for the very first time.
"What Berger said, and I quoted him, was that he tried to learn something new from every person who spoke to him. Which is a pretty marvelous thing.
"There is also listening to the sounds that the world makes: the variety of sounds that the ice makes, and the wind, the sound of caribou eating. The landscape is also a soundscape."
On whether the North can be the making of you
"For a character like Gwen it was irresistible going north. And when you get there, you want to go further north, into the depths of the North, that's what the Barrens are.
"That's part of the mystique, I suppose. Eleanor Dew says it [will be the making of Gwen], and as soon as she says it, she unsays it. Everyone thinks that, but it's not necessarily true at all.
"Just as the West was, in its day, the North becomes a place you might find yourself and become your true self.
"It's a frontier part of the world. People who go north have to rely on themselves, they're exposed to extremes of climate and extremes of landscape.
"Everything we do is foolish, in a way. Only if something goes wrong do people decide what you did is foolish. Without a certain recklessness, that could also be described as foolish, we do very little with our lives."
---
Elizabeth Hay will be speaking at this year's Vancouver International Writers' and Readers' Festival at the Literary Cabaret on October 19, Tricks of the Trade on October 20, and The Sunday Brunch on October 21.
---