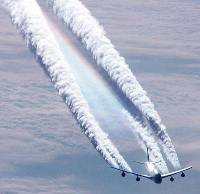 On one level, it was heartwarming, er, make that heartchanging to see delegates from 189 countries tarrying away at last week's UN Climate Change Conference in Montreal, despite the ongoing hostility of the Bush regime to the Kyoto plan. But as a travel writer, I couldn't help feeling a pang of guilt by association when I thought of all those hundreds of right-minded scientists, activists and negotiators jetting home at the end of the week.
Picture the climate campaigner on her way back to Vancouver. She's gazing out the window at the withering troposphere, full of legitimate worry and purpose. She is also, almost certainly, feeling a nagging sense of hypocrisy, because she knows what I have recently learned: that we spew as much carbon dioxide into the atmosphere on a cross-country flight as we would if we drove a Hummer to work for the entire year.
This is the dirty secret of the airline industry. Air travel is one of the most efficient means of frying the climate. Like car engines, jets emit carbon dioxide. But that's only the beginning of the problem. The harmful nitrogen oxides they release have a much more powerful effect at high altitudes than they would on the ground. And those lovely vapour trails that jets leave behind in the sky? They fluff into heat-trapping, ozone-bashing cirrus clouds.
Travelin' man
Last January, a climate scientist freaked out a crowd at the European Parliament with a PowerPoint show featuring a view of the British Isles from space. The image, which you can check out among the photos here, looks like it has been scratched apart by a feral cat, so plentiful are the contrail lines crisscrossing it.
Today's commercial passenger planes are no more fuel efficient than their equivalents of 50 years ago. A study for the European Commission found that aircraft travel currently causes from 3.5 to 7.4 percent of global warming emissions. Those figures are expected to double within 50 years. No wonder the EU is considering a new tax on jet emissions.
Anyway, like I said, I'm a travel writer. I've made my living convincing people to squeeze their bums into economy seats on sun-bound airliners. I have told people that travel is good for them-good for the world, too, as long as we spend our money with the locals, rather than at Club Med. And for spreading this good news, I've been treated to all kinds of what you might call benefits: free flights, hotel rooms, surfing lessons, all-you-can-eat brunches and hundreds of umbrella drinks. The sun, the sand, the little adventures in places with impressive names like Malakula or Ixtaccihuatl. It has been a good life.
But a guy can't digest the bad news about air travel and continue to feel noble about this business. It's one thing for me to jet about. It's quite another for me to lobby thousands of people to follow my bad example. The carbon loads grow exponentially. So does the guilt. So a few months back, I decided to give the junkets a rest and spread the no-fly message.
Stop flying, you selfish people. Your Canada does not include Cancun. Stay home!
Not working for you? Well, some soft environmentalists have proposed another way around travel guilt. You can do what negotiators for wealthy nations have been doing all through the Kyoto talks: Buy your way out of guilt.
The cost of carbon
As Richard Kinley, acting Head of the United Nations Climate Change Secretariat put it in Montreal: "Carbon now has a market value." Although the central players are loathe to admit it, Kyoto's international emission trading system enables nations to buy and sell the right to pollute. Under the agreement's clean development mechanism, Canada can keep right on polluting with a clean conscience if we simply invest in green initiatives in other countries. The math may be tricky, but the effect is soothing.
The same sort of arithmetic is now being applied to individual polluters. Dozens of websites now offer carbon offset programs (the David Suzuki Foundation offers a list) which allows you to calculate just how much CO2 your jet-setting will spew.
Some sites will also sell you a package of credits to make up for all that pollution. The idea here is that you "negate" the impact of your emissions by absorbing carbon from the air, or by avoiding the release of greenhouse gas elsewhere. Maybe you'll be buying solar kitchens for poor Senegalese, or treeplanting schemes in the Amazon. Either way, carbon offsets can be quite effective at replacing travel guilt with the warm fuzzies.
These offsets are becoming de rigueur among the jet set. The Rolling Stones declared their 2003 tour "carbon neutral" after they cut a deal with the U.K.-based Carbon Neutral Company (then called Future Forests). The Stones apparently bought enough forest to suck up all the emissions associated with nine tour dates in the U.K. and North America-including the 13 kilograms of CO2 each fan would blow en route to the concerts.
The gold standard
So let's reconsider that winter vacation to Cancun. According to the Carbon Neutral Company's calculator, your portion of the 5564-mile round trip from Vancouver to Cancun will produce 2206 pounds of CO2. But for only $11.21, the company will plant a tree on your behalf, and declare your flights just as carbon neutral as the Stones' tour.
Travel companies are jumping on the bandwagon. Natural Habitat Adventures, which offers polar bear viewing tours, recently admitted that flying folks up to the arctic would contribute to the melting of the ice cap that polar bears like so much. In response, the company allows clients to calculate their trip's greenhouse gas costs and buy a special ticket to fund projects that will "negate" those costs.
This seems, at first, to be a terrific deal. But I checked with folks in the climate-saving business, and it turns out that many are having second thoughts about carbon offsets. Friends of the Earth and Greenpeace refuse to sell them. The David Suzuki Foundation offers a list of offset programs, but doesn't endorse any of them.
What's the problem with offsets?
First of all, not all of them are necessarily effective. Investing in new forests, for example, may suck up some of that carbon in the short term, but who's to say that forest won't be burned or cut down in the future?
Paul Lingl, a climate campaigner with the Suzuki Foundation, says that because of these concerns, scientists and NGOs have come up with a rating system for assessing offset programs. Only projects that focus on renewable energy and energy-efficiency currently get the Gold Standard nod.
Plane logic
Sounds good. The green energy sector sure could use the help competing with Canada's heavily-subsidized oil and gas industry, which gets $1.4 billion in tax subsidies each year.
But Lingl stops short of encouraging us to hop that flight to Cancun armed with green energy-funding carbon offset tickets. The guilt-o-meter is still humming. He says there remains an inherent problem with these voluntary offset programs. They let industry-and travellers-off the hook. They encourage us to keep polluting in the dirtiest ways.
There's no way around it, Lingl says: The worst thing we do to the environment is use cars and planes for travel. So the best bet for saving the climate is to vacation close to home.
But even a climate warrior like Lingl admits that there is some redemption to be had by cutting a middle path: You can feel good by taking fewer — but longer — holiday trips. And you'll feel positively righteous by limiting the distance of your trips. The Baja Peninsula is a few tones of CO2 closer than Cancun, for example. Consider taking a bus or train, the most climate-friendly ways to travel short of walking or biking. (Amtrak can get you from Vancouver to San Diego in a leisurely day and a half.)
After a few hours toying with the emissions calculator at safeclimate.net, I had this epiphany: By squeezing four friends into a mid-sized car, I could cut our long-distance air travel emissions by more than half, per person. And if I rented a hybrid car (Discount has a few in its fleet), the guilt would be slashed in half again.
I can see it now: The road trip, reborn and redeemed with back seats full and a glove box full of carbon offset receipts. Baja, here we come. Now if I can just convince a travel magazine to run a story about five guys rocking down the highway in a Prius…