Labour Day, for many, is one last hurrah before a new school year starts -- or simply the final long weekend of the summer. For others, it's a time to reflect on the gains and losses of working people over the last 12 months.
The holiday, unique to North America, was devised in the late 19th century to stave off labour strife surrounding May 1, the internationally celebrated workers' day. But Labour Day is not without radical roots. According to an earlier Tyee retrospective, the Canadian government officially recognized the holiday in response to "a wave of worker militancy, strikes and radicalism" preceding its 1894 beginnings.
From British Columbian teachers' ongoing legal battle with the province, to the growing $15 minimum wage movement and a looming federal election, here, then, are some of The Tyee's top stories about labour rights and working life over the past year.
1. A wage revolution, north and south of the border
September 2014: The Tyee marked last year's Labour Day with the story of Seattle's battle for a $15 city-wide minimum wage. A lot of things had to happen just right for the U.S. city to win $15-an-hour. Fast-food strikes, an initiative by unionized airport workers, and a socialist city councillor's victory all fed off and into each other, creating the perfect political storm. The story, courtesy of Yes! Magazine, is a tale of effective organizing and smart messaging, with many lessons for B.C. and Canadian workers.
Eight months later, some of those lessons were put to the test in Canada when activists staged a day of action for a $15-an-hour minimum wage. Protests were held in 200 communities in North America, including eight in B.C. The events coincided with the release of a Canadian Labour Congress report that found more than one million workers, or 6.7 per cent of Canada's workforce, toil at minimum wage levels set by various provinces, levels that have not kept pace with increasing costs of living. Although $15 an hour falls short of meeting many Canadians' cost of living, it's just one step, activists said, towards a living wage on which families could afford to live.
2. B.C. teachers' strike ends, but the legal battle continues
September 2014: Twenty months of intense negotiations between the B.C. government and teachers culminated in a half-year of job actions and eventually province-wide picket lines. The teachers' strike ended with a deal only a few weeks into the school year, with teachers turning out in big numbers to vote overwhelmingly in favour of a new contract. But despite a strong majority voting in favour of the deal, some expressed disappointment with the fruits of their union's negotiations. B.C. teachers remained behind their peers in other provinces on wages, made few gains on class size and composition, and failed to obtain raises that keep pace with inflation.
Fast forward to April, and one of the "most hotly anticipated" court rulings of the year saw the BC Teachers' Federation and its 40,000 members dealt a stunning setback in their half-decade legal battle with the province. B.C.'s top appeals court overturned a landmark 2013 Supreme Court decision that imposed a $2-million fine on the BC Liberals for bad faith negotiations and breaching teachers' Charter rights to collective bargaining. With the strike settled, new contracts signed, and a court victory in its cap, no doubt the B.C. government breathed a sigh of relief.
3. Steelworkers call for new safety regime in wake of Mt. Polley mine disaster
October 2014: A month after the largest mine tailings pond accident in Canadian history saw 25 million cubic metres of toxin-laden slurry pour into a B.C. watershed, the union representing workers at the site raised concerns about unequal protection for miners in the province. The Steelworkers union, which represents many B.C. mining workers, hoped the dam's collapse would become a watershed moment for worker safety –- since 2000, more than 400 workers have been injured at mine sites, averaging 33 a year. Because of the dangers, the union wanted the government to grant the Workers' Compensation Board (WorkSafeBC) oversight of the sector. The province, whose Ministry of Energy and Mines oversees the sector, rejected the union's demands, saying that worker safety is accounted for during the planning phase of a mine operation.
4. Court challenge launched to save mail home delivery
October 2014: The postal workers' union, seniors and people with disabilities vowed to fight Canada Post's plan to end door-to-door delivery, as promised by the Conservative government. Under the cuts, by 2019 roughly five million homes will lose home delivery, with the service eventually eliminated altogether. In October, The Tyee reported on a lawsuit sparked by the cuts. Seven months later, several Montreal-area mayors added their names to the Canadian Union of Postal Workers legal challenge, and Montreal's mayor himself ripped up a Canada Post mailbox platform with a jackhammer in protest of the cuts. For its part, the Crown corporation said it has mitigated the negative impacts on senior citizens and people with disabilities, and is confident the cost-saving reforms will hold up in court.
5. New moves on the 'jobs versus environment' front
November 2014: Last fall The Tyee traced the increasing convergence of the labour movement and sustainability, with Canada's mega-union Unifor, which represents about 35,000 pipeline and energy sector workers, taking some surprising stances -- for instance, supporting the Kyoto Protocol on climate change despite industry claims it would cost thousands of jobs; pushing for a "just transition" away from fossil fuels, including retraining workers; and issuing a position paper rejecting "the false conflict often posed between 'jobs' and the 'environment.'"
The Tyee followed that labour trend to the global level a few months later when Sharan Burrow, the head of the International Trade Union Confederation representing more than 176 million workers in 162 countries, bluntly declared there are "no jobs on a dead planet." It bolstered Unifor's case, but on a worldwide scale, and undercut the argument that urgently-needed environmental reforms will kill jobs.
Even in the lucrative oilsands sector, The Tyee learned, controversial extraction practices were turning off some would-be workers, particularly Millennials who increasingly view greenhouse gas-intensive bitumen extraction as outdated and polluting -- and they're seeking much-needed employment elsewhere in droves, according to an annual survey of the oil and gas workforce. While the shortage of young workers may have had less impact on Canada's oil and gas industry than plummeting oil prices, and as many as 40,000 sector job losses worldwide, according to insiders the shortfall could hurt the industry 15 years down the road, when a wave of retirement is expected.
6. First woman ever elected to lead BC Federation of Labour
November 2014: After veteran labour leader Jim Sinclair stepped down as head of the province's largest union body, The Tyee covered the election of the BC Federation of Labour's first female chief, Irene Lanzinger. In an interview shortly after her victory, Lanzinger pledged to share union resources with non-unionized workers, and promised to fight for the rights of working people in B.C. "When that means I need to be tough on the NDP," she vowed, "I will. We are a labour movement first."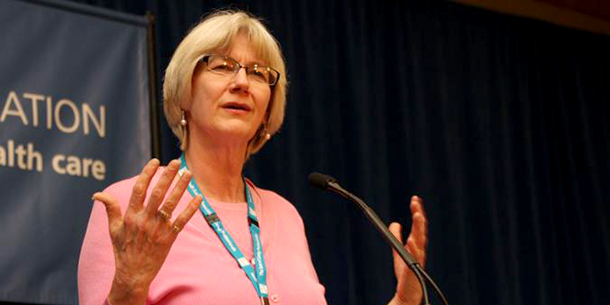 7. Labour rallies to defeat Harper in 2015
January 2015: In a New Year look-ahead interview, the new chief of the Canadian Labour Congress, Hassan Yussuff, outlined strategies for October's federal election and tough challenges ahead for Canadian workers. Yussuff expressed worry that a majority of the Congress's roughly three million members "are not aware of what the government has done," including legislation he warned would undermine workers' rights to bargain with bosses, and the rights of unions to be politically active in their members' interests. But the new top union chief also expressed optimism for the year ahead: "We're hoping we'll have a large cadre of activists that will take some very strong interests into the outcome of the election."
8. Outrage simmers over temporary foreign worker program
February 2015: After the Conservative government touted promising job figures nationwide, The Tyee dug deeper into the numbers and found out they're not so rosy -- and included temporary foreign workers. Meanwhile, controversy over the Temporary Foreign Worker Program continued after Canada's Parliamentary Budget Officer revealed that Canada doesn't know what 154,000 of its foreign workers actually do. The Tyee also learned that Facebook had filled its Vancouver office with temporary foreign software engineers. Later, new federal rules for the program implemented April 1 set off alarm bells for many foreign workers who feared mass deportations.
9. After four years, B.C. boosts its minimum wage
March 2015: The B.C. government announced it would increase the province's minimum wage to $10.45 beginning Sept. 1, the first increase in four years despite repeated calls from anti-poverty advocates and unions, as well as a growing movement for $15-an-hour across the continent. The governing BC Liberals rejected the $15 proposal outright, saying such a drastic leap would hurt businesses and jobs. The BC Federation of Labour called the 20-cent wage increase "pathetic," and New Democrats warned it "wouldn't buy you a cup of coffee."
10. Premier Clark defends Site C workers right to organize
March 5, 2015: Heads turned this spring when B.C.'s normally right-of-centre premier criticized BC Hydro's plans to allow non-unionized workers to build the Site C dam on the Peace River, saying "I believe they should have the right to organize and BC Hydro can't take that away." By the end of the summer, the BC Government and Service Employees' Union had declared opposition to the project, citing First Nations and environmental concerns.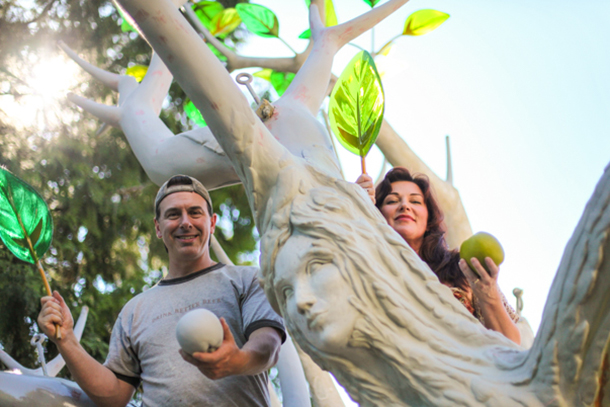 11. Golden Tree memorial for farmer workers sprouts in Abbotsford
August 2015: Eight years after an overcrowded farm van crashed near Abbotsford, B.C., victims' families warned not enough has changed when it comes to worker safety in the province. The Tyee reported on a new memorial for the tragedy set to unveil. It's a reminder that farmworkers are not only part of the labour movement, but are to thank for the food on British Columbians' tables. The $310,000-memorial came about thanks to a fundraising campaign by the BC Federation of Labour and financing from the provincial government, which said it has implemented the majority of recommendations from a coroner's inquest into the 2007 tragedy. But the federation and victims' families contend it's not enough -- and hope that the Abbotsford monument will cement a greater commitment to worker safety.
12. Federal election looms, and minimum wage enters the stage
August 2015: With the launch of the longest federal election campaign in decades, The Tyee hit the campaign trail and highlighted some of the big issues facing working Canadian families often overlooked by other media. We scrutinized the New Democrats' $15-an-hour minimum wage pledge -- and the Liberals' critique that it would only apply to a minority of federally regulated sectors. As news broke that Canada's economy entered a technical recession, The Tyee canvassed economists from coast to coast to see how Canada is weathering the storm. And with many Canadian voters still undecided weeks into the hustings, The Tyee sought campaigner Harry Smith's advice to federal hopefuls on winning the votes of dissatisfied workers.
What'd we miss? Post your thoughts below on this year's big labour moments in B.C. and beyond.