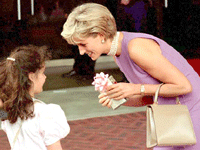 The Diana Chronicles
Tina Brown
Random House (2007)
With over 37 million copies sold, Candle In The Wind 1997 is, 10 years after it was recorded, still the best selling single of all time. Think about that for a minute. A recording of a pre-existing Elton John song retrofitted to eulogize a woman who was rich enough to buy all those singles herself. Though the proceeds went to charity, the mind still boggles.
August 31 will mark 10 years since the death of Diana Spencer, one-time Princess of Wales and enduring Queen of all tabloid covers. You likely recall exactly the hysteria that came in the wake of Diana's accidental end in a car in Paris -- a surge of unchecked grief that flooded into the streets of Britain and beyond. If you lived in London at the time, you probably gawked at the truly awesome thicket of bouquets outside Buckingham Palace, marveled at the open weeping on the streets during her funeral, and had your head done in by the sheer inescapability of fascination with the "People's Princess" as Tony Blair memorably dubbed her.
It was all anyone talked about for weeks, and the media went on as if the world might stop spinning without Diana's charitable endeavors and fashionable frocks.
It was madness.
A madness that appears to be resurging.
Tina's princess
Last year's movie The Queen got the ball rolling. Fifteen million people in 140 countries watched the "Concert for Diana" at Wembley Stadium this past July, a "celebration" of Diana's life featuring performers as disparate as P. Diddy, Kanye West, Tom Jones and Duran Duran. In the wake of that, there's been a revival of interest in Dianaphenelia -- Larry King Live spent 15 minutes interviewing the makers of her wedding dress just two weeks ago; a German paper called Bild recently commissioned a portraiture contest to coincide with her death, and Christie's auction house recently announced they would be auctioning off more of Diana's seemingly limitless supply of dresses this month.
Of course, People magazine still sees sales spike when they put the late princess on the cover, as do countless U.K. tabs and magazines. The sheer volume of books posthumously written about her is astounding. From lizard septuagenarian talk-show host Larry King, to Diana's former butler, Paul Burrell, there are few who knew her who didn't make a profit off her after she slammed into a concrete wall going full speed in a BMW through the Paris night. The latest to get in on the act is Tina Brown -- media queen, former editor of Tatler, Vanity Fair and (somewhat disastrously) the New Yorker.
The Diana Chronicles, Brown's first book, is of interest in as much for its pervasiveness as it is its content. The recipient of breathless reviews in respected publications such as the Times of both London and New York, and a particularly stunning two-page gush in the New Yorker, Brown's exceedingly positive reviews, combined with her media omnipotence (one shudders at the number of journalists who owe her favours), has made her debut book the number one beach read of 2007, topping bestseller lists around the world.
As Brown was a personal friend to Diana, this is as many have said the Diana book. But what's most shocking here is how much we already know. Though Brown is a gifted writer with unprecedented access, everything here is old news. Diana's lonely, motherless adolescence. Her early 20s as Sloane-dreamer, investing time in nothing put finding a male savior. Her transformation from shy girl to public princess. Her charity work. Her and her husband's infidelities. Her eating disorder. Her feud with the royal establishment. Her simultaneous loathing and courting of the paparazzi that would eventually kill her. It's all here in marvelous detail, but before cracking page one, there's little we didn't already know about this woman. Her premature death seems to have made her a figure of endless intrigue, yet there are few women more public.
Brown makes a game attempt at scoping the sociology of Britain and the royals, of privilege and class in England, and of the very nature of celebrity, and, to be fair, she does much, much better than such dreckologists as serial biographer Andrew Morton, and the aforementioned Burrell, who Brown rightly points out has spent the years since Diana's death painting himself as the man Diana called "my rock" ("What she actually said was "You're wearing my frock"" quips one of Brown's numerous insiders.)
Set 'em up, knock 'em down
For those interested in news cycles, keep track of the Diana coverage in the coming weeks: it will undoubtedly reach the saturation point at the end of the month, when anyone who ever shook hands with the Princess will wax poetic about how remarkable this woman was, failing to note that her remarkability was largely a product of circumstance rather than real character (what would have been truly remarkable is if Diana did no charity work at all -- lauding her for charity is like tipping the taxman)
What's amazing is that, whether it be the classy Brown or the vulgar Larry King, those who bemoan her death at the hands of media overexposure quite happily dig up the princess's bones for another look. While there is much hand-wringing about what could have been done to prevent the mother of two from perishing at the hands of overexposure, most books, including Brown's, seem reluctant to deconstruct tabloid culture, currently tar-and-feathering a new generation of clueless-yet-scheming young girls (always girls), these ones panty-less, shaven-headed and spontaneously combusting before out very eyes. While the tabs are mentioned, Brown avoids any real discussion of how the media works around women like this, and why pretty young girls are burned and the stake and subject to an excess of bile. Retrospective photo spreads of Diana are placed in magazines alongside speculations of 19-year-old starlets' weight, or their possible drug addictions, or their poor parenting, or their promiscuity.
We seem to understand that Diana created a press prison for herself, but we can't translate the lost girl model beyond her ghost.
Perhaps when the paparazzi have driven a young Spears or Lohan at full speed into a concrete wall, we'll recognize the parallels, but most likely not. We'll turn those modern-day witches into virtuous saints like Diana, and perhaps old Elton will re-write a song about them, turning "Crocodile Rock" into a tear-jerker about crack-cocaine addiction. We'll go on writing tributes and bios and poring over countless facts, but not learning a damn thing.