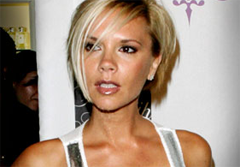 It's summertime, finally, in B.C., which means long walks on what's left of Vancouver's seawall, Corona-soaked barbeques, dips in far-flung lakes and, when your sun-soaked frame can't take another moment of the great outdoors, the most inane television programming of the year.
Those of us who are comfortable abandoning worldly pursuits for a taste of the vacuous have likely already been exposed to a taste of the silliness: not one but two reality shows based on remembering lyrics to pop songs (The Singing Bee on NBC and Don't Forget The Lyrics on Fox); another inexplicable season of scantily clad, slack-jawed yokels on CBS's Big Brother 8; a painfully useless celebrity look-a-like contest on ABC (The Next Best Thing). And last night, perhaps the motherlode of all inanity: Victoria Beckham: Coming To America, a one-hour special devoted to following a British family as they try to grab a slice of American apple pie.
Give us your poor, your tired, your fabulous masses longing to be free.... Is there any story more rife with both comedic and emotional potential than that of the immigrant? From Chaplin's The Immigrant to Scorsese's Mean Streets to West Side Story, all the way to modern classics like The Sopranos and, er, My Big Fat Greek Wedding, tales of dreamers starting over in a new land to pursue the American Dream have been a mainstay of television and films as long as the mediums have existed. Who doesn't root for the plucky young newcomers who have packed up their old ways, said goodbye to all they know and come in search of a greater life? Indeed, should they make it over barbed wire security fences to the south or restrictive economic barriers to the east and survive the boiling hot temperatures of the melting pot, there is nothing audiences seem to like better than to see someone go from rags to riches in the land of plenty.
Becks primer
So who are these particular young newcomers whose dreams CTV (and NBC in the U.S.) invites us to regard? Why, none other than Victoria Beckham, her husband, David, and their three sons, Brooklyn, Cruz and Romeo. For those of you who don't know (have you been living in a cave?), Victoria and David are arguably Britain's most famous and extravagant couple -- Victoria is a former (and future, but more on that later) member of the '90s pop act The Spice Girls (she was "Posh" Spice) and David is perhaps England's most famous footballer.
You may have seen Mr. Beckham's name in the news in the last few months -- the sarong-wearing, hair-highlighting, occasional soccer-ball kicking mancake, who caused almost every face-cream-using man to cringe-inducingly dub himself a "metrosexual," recently signed a five-year, $250 million deal with the Los Angeles Galaxy, a fledging team in America's even-more-fledgling Major League Soccer association.
You may have seen his wife Victoria in the news too -- toodling about in ridiculous fashions, denying to the press that her husband bought her a diamond-encrusted sex toy, and just a few weeks ago, announcing alongside her four former "band" mates that the Spice Girls would re-unite this year. Ah yes, and now the dynamic duo will pack up their spawn, load their reported 112 million pounds sterling into bundles and try their hand at life in Amer-eee-ka.
A star in her own life
Of course, we joke. Victoria Beckham: Coming To America is not so much an immigrant tale as it is a commercial for the brand known as "Posh'n'Becks." Already wildly famous in the UK, the husband and wife product are, with Mr. Beckham's contract in the U.S., making a bid for worldwide domination, and this pithy telegenic exploit is the opening salvo in their campaign to make their names as ubiquitous as Kentucky Fried Chicken.
Focused solely on Posh's "preparations" as she waits for her husband and sons to come to Los Angeles (Mr. Beckham must play out his contract with Spain's Real Madrid football team), Coming to America (originally conceived as a series, but, um, inexplicably cut down to a one-hour special) follows Mrs. Beckham as she feathers her new nest with golden threads -- shopping for shoes and multi-million dollar mansions, hiring assistants, acquiring her driver's license and courting and taming the paparazzi.
It's all very comical and eat the rich. In one scene, we see Posh having lunch with her neighbours, a bunch of Xanaxed, plastic-surgery victims. And in the next she's poking fun at her own image, employing a blow-up sex doll to act as a press-foiling double. Hardy har har.
All in all, it's a genius stroke of marketing: Posh comes off as a good, concerned mother, a down-to-earth-yet-still-fabulous-wife and, above all, a sort of hyper-wealthy Lucille Ball: clueless-yet-whipsmart, and able to laugh at herself so as to get away with her ridiculous extravagances.
Trash plus?
Still, it's difficult to know what to make of this type of programming. Sure, it's just funny trash on the surface, but also a sign of the times. What are we to make of the fact that Posh, talking to celeb blogger Perez Hilton, makes derisive reference to panty-less American starlets? Is it possible that, in comparison to the anorexic, coke-addled "it girls" of today, the Spice Girls were actually reasonable role models, as hollow as their cries of "girl power!" sounded then? But it's hard to make that case with the Victoria Beckham of today: a shallow, vapid "skeletor."
And what of Mr. Beckham? Is this frosted modern man, with all his excesses, meant to replace Jackie Robinson and Joe DiMaggio or, hell, even Michael Jordan as a sports hero? Is he the model of the modern major man? Most football fans would agree that Beckham is well past his prime, and that his $250 million contract is just Major League Soccer's attempt to jazz up their own brand by hitching their wagon to a star.
Still, I wish it were a whole series; I would watch every week. Why?
Because the show depicts the Posh'n'Becks brand: meaningless in itself, but presented in the most slick, sentimental way possible. And it's perhaps the most brazen attempt ever by a major network to pass a blatant commercial off as programming. It's an infomercial for covetousness and aspirational living, and a product that is not a product; the Beckhams don't slice, they don't dice, they don't reduce you up to three dress sizes in one week. They're just distractions from all that you don't know you don't need. They've got what you think you want.
And when you're coming to America, perhaps that's all you need to pack.
Related Tyee stories: