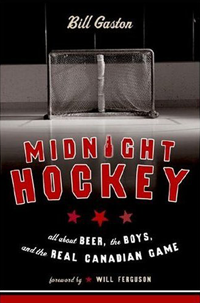 Midnight Hockey
Bill Gaston
Doubleday (2006)
Despite a national obsession and a flurry of publishing in recent years, classics of hockey literature are still few and far between.
Hockey autobiographies, for their part, tend to be colourless ghost-written screeds. This trend is exemplified by Gretzky: An Autobiography, with the emphasis on 'auto,' written by Sports Illustrated's Rick Reilly. (Sadly, I can still recite whole passages verbatim -- conclusive evidence of a wasted early adolescence.) The other staple of hockey publishing is the glossy star profile, with full-page photos supplemented by text aimed at young readers.
The relative dearth of truly captivating hockey books (a rare hat-trick of hockey classics is offered below) may be a result of the pervasive culture of "we just gotta take it one shift at a time" platitudes that has made most NHL stars seem vapid and uninteresting. It may also be partly a result of the fast pace of the game, which makes it much harder to describe in detailed, lyrical prose than baseball, America's plodding pastime.
This fall, however, there is one title that breaks out of the neutral-zone-trap monotony of hockey writing. British Columbia's own Bill Gaston, an accomplished hockey player turned acclaimed man of letters, has written the definitive ode to the "beer leagues," now the fasting-growing sector of the Canadian hockey world.
Gaston's Midnight Hockey: All About Beer, the Boys, and the Real Canadian Game, is a hilarious autobiographical romp through sweaty dressing rooms and drunken tournament weekends, as immature but aging male egos chase the puck and their younger selves. Gaston, a former semi-pro hockey player with 15-plus years of beer league experience to draw upon, is no rookie in the writing business either. His fiction -- five novels and five collections of short stories -- have scored numerous accolades, including a Giller Prize momination and Gargoyles's spot among this year's Governor General's Award nominees.
But Gaston's pedigree doesn't mean you should expect decorous prose from Midnight Hockey. Instead, it's replete with bawdy low-humour anecdotes, self-deprecation and laugh-out-loud reminiscences. And beer. Way too much beer. The omnipresence of suds in the book would be annoying if didn't so perfectly capture the essence of the culture of the sport.
Binge drinkers chase their youth
If you've played any amount of hockey, or lived with a hockey player, or had an annoyingly hockey-obsessed roommate, you'll recognize the ring of truth to even the most absurd tales Gaston retells. It's all here: senseless fighting by late-middle-aged men; the requisite weekend drinking binges at tournaments; the rampant adultery and (often just attempted) womanizing; the talent-based hierarchy within teams and its role in determining whose dressing-room banter is funny.
Gaston's book, in fact, is very much an anatomy of the absurdities of the male athlete's world. But just because Midnight Hockey is honest enough to bring on laughter or incredulous headshaking, doesn't mean it is overtly critical. Gaston might have examined, for instance, how the artificial permanent adolescence of the beer-league world affects the adult relationships men are able to develop with the women in their lives. To Gaston's credit, on the gender front, he does include a useful section on the rapid growth of women's recreational hockey in recent years.
Some of the racism still lurking in the hockey world is assessed in a typically honest if ultimately unsatisfactory way:
"On one of my teams, a teammate complained about the fucking dirty chink he'd just tussled with in the corner. Someone pointed out to him that the name on the back of the guy's sweater was actually Japanese -- a subtle rebuke if ever there was one -- but that's all that got said. People don't speak up. I include myself in that. It's almost as though you let it go because the guy's a teammate and otherwise a good shit."
That unfortunate hockey code has an impact beyond the dressing room. One could elaborate on conservative and reactionary trends of thinking and their links to hockey, from Don Cherry's chauvinist preaching from his Hockey Night in Canada pulpit, to the mindless praising of George W. Bush by the likes of Darcy Tucker, who recently named the commander-in-chief as the person he would most like to meet, and claimed he would like to "pick [the president's] brain." Gretzky himself declared Bush "a wonderful man" mere days after the start of the Iraq war.
Midnight Hockey still succeeds wildly. Gaston takes us to beer leagues from the Maritimes to Vancouver Island, and relates hilarious and surreal early adventures playing hockey in China and in France's sketchy Ligue du Sud. It's page-turning, read-aloud-to-anyone-within-earshot material.
Three runner-up fall hockey titles
The Rookie By Shawna Richer (McClelland & Stewart) For The Globe and Mail, Richer covered the most-hyped young prospect of the 21st century throughout his first NHL season. Crosby seems to be living up to his billing -- at age 19, he's now leading the league in scoring -- but we don't really find out much about what makes the rookie tick, let alone much about what it's like to room with Mario Lemieux and family. Crosby seems like a nice kid, and there's no denying his prodigious talent. But he's still too young for this book to include anything controversial or even remotely edgy.
Searching for Bobby Orr By Stephen Brunt (Knopf) Number 4, Bobby Orr, remains a mystery. Stephen Brunt's new book makes some interesting points about the changes in the game and society that Orr epitomized. But the Boston Bruins great himself refused to talk to Brunt, and many close to Orr followed suit. Brunt manages to find a story nonetheless, focusing on the tragic friendship and feud between Bobby and his agent-lawyer-confidant-betrayer, the inimitably sleazy Alan Eagleson.
When the Lights Went Out By Gare Joyce (Doubleday Canada) Forget the titanic 1987 Canada Cup, the last real battle of the Canada-Russia rivalry, which dominated international hockey for nearly two decades following the 1972 summit series, was the ugly brawl between the two countries' squads at the World Junior Championships in Helsinki. For an excerpt, click here.
Charter members of the Hockey Books Hall of Fame
The Game By Ken Dryden (Macmillan) The federal Liberal MP's endorsement failed to save Bob Rae's run for the Liberal leadership, but back in the 1970s Ken Dryden saved most every shot that came his way, helping lead an absurdly dominant Montreal Canadians team to four straight Stanley Cups. His 1983 book is hyper-analytical, and full of original observations about professional hockey and its most storied franchise.
The Game of Our Lives By Peter Gzowski (McClelland & Stewart) The sardonic, familiar wit of the late, great host of CBC's Morningside permeates this prophetic piece of sports journalism. Gzowski followed 19-year-old NHL sophomore Wayne Gretzky and his precocious fellow Edmonton Oilers during a breakthrough season that concluded with an unlikely upset of Guy Lafleur's Montreal Canadiens. Gzowski got unlimited access to the young stars (even playing shinny with Wayne and the boys), and the 1981 book offers a picture of both the author and his subjects as human beings -- a far cry from the shielded, highly managed millionaire athletes of today.
Net Worth By David Cruise and Alison Griffiths (Viking) Speaking of money, this 1991 piece of invaluable investigative hockey journalism takes readers back to an era when even the best player in the league was an underpaid wage slave to greedy owners and domineering managers. We find out that Gordie Howe had no idea that many players were making more than the perennial MVP. Net Worth also reveals the determined pioneering efforts of Howe's Detroit Red Wings teammate Ted Lindsay to set up a players' union.