Opera on Ice
Writing the book on Hockey: A People's History.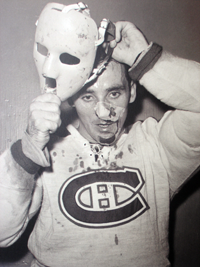 Hockey: A People's History
Michael McKinley
McClelland and Stewart (2005)
When Vancouver writer Michael McKinley got the call, the request was a dream. Write an encyclopedic history of hockey in Canada. The deadline was a nightmare. McKinley produced it in just three months in the spring of 2005.
At least he had the support of an enormous team of researchers working on the current 10-part CBC documentary series, Hockey: A People's History, produced by CBC genius Mark Starowicz (head of the documentary unit, and creator of As It Happens and Canada: A People's History). He also had, as the author or co-author of six hockey-related books, an encyclopedic knowledge of his own as a starting point.
The resulting doorstopper companion volume for the series touches on most of the key moments in hockey's history, and illuminates them with telling details from the sidelines. It's not "everything you already know about hockey," especially in its history of hockey's early years. The book's detail reveals our country's history. And its many small, idiosyncratic stories are perfect gems. Was 1916 women's hockey star Albertine Lapensée a man? How did the aboriginal Alkali Lake Braves come so close to beating a bunch of pros in Vancouver in 1932? Why did Mabel Leaf the Chum Witch, a radio-station promotional persona who hexed Toronto opponents, become such a star in 1964?
The book explores the social and political aspects of the game with elegant understatement that the television program sometimes lacks. And it has some really nice pictures for hockey junkies who can only read a box score.
The Tyee talked to McKinley last week, at one of an unmentionable coffee merchant's ubiquitous downtown cafés.
On bringing focus to our country's sprawling hockey history
I think I wanted to make it our hockey story, the story of us. Without putting too fine a point on it, I've argued that hockey is our national opera. Opera has always been of the people; the crowds go and see these stories because they're about them. You look at the history of this country: 1867, Confederation; 1875, the first indoor hockey game, just eight years later; and 17 years after that we have the Stanley Cup. It's almost as though this idea of Canada was waiting for this game to come along and connect to it. In this country, you've got, in some regions, eight months of winter and four months of tough sledding, as they say. As we said in the series and the book, hockey is "heat and light in the season of death." It's something people can connect to during the dead time, during the dead season, and gave us our heroes and villains, and festivals, and unless you're a Canucks fan -- you knew they were never going to win, right? -- unscripted endings.
On being a Montreal Canadiens fan
I'm a bit like Roch Carrier's kid [in the children's classic The Sweater]. I cheer for the Habs too. I made a Habs home sweater out of a white sweatshirt I had, and put the CH on it. I had no idea what CH meant, but it was them. I'd play hockey in the basement with my dad. And the Eaton's catalogue, God bless it still lived in 1967, my mom ordered a hockey sweater from the Eaton's catalogue and guess what it is? It's a Leafs sweater. I was disappointed, too. [Toronto Maple Leafs owner] Harold Ballard kind of took care of that.
On the paucity of Canadian hockey literature
There's been this tendency of people to divorce sports and culture: the two are incompatible; you can't be a sentient being and like games. It's a remarkable failure. We've got songs [Tragically Hip's "50 Mission Cap," Stompin' Tom Connors's "The Hockey Song," the Jugheads' "Hockey Song," Jane Siberry's "Hockey," Tom Cochrane's "Big League"]. There are hockey movies [Slapshot, The Rocket]. There have been short stories about it. There have been essays about it. About a decade ago, Polestar Press did a collection of short stories called Our Game. Roy McGregor wrote a hockey novel called The Last Season. But you have to hunt for them. There's no Shoeless Joe, or The Natural, where you have a literary consciousness.
The United States has done it to the point of genius with baseball. Great writers converge on baseball to write about it. It's inexhaustible. It could be that hockey's too fast. Baseball's slow, given to introspection; you can sit there on a summer afternoon for as long as it takes to conjure up a mythic story about a guy who's trying to get home.
On the best non-fiction books about hockey
From an inside point of view, there's [Ken Dryden's] The Game. I think Net Worth is up there, because it made us take a cold-eyed look at some of our hockey heroes and the professional world they played in. In the end, the heroes often emerge as even more heroic because of the knavish owners and managers they had to survive.
On what's stayed the same in a century of hockey
Hockey was a business almost from the beginning. There's the letter Art Ross writes to the Montreal Herald -- the players are going to go on strike, because they want a share of the profits, they want to be paid more. The language he uses in this letter is totally contemporary, but he writes it in 1910. The players then threaten to start their own league, but there's a small problem: the buildings are all owned [by the team owners], so it's back to the pond to play for free. It became a business the moment the game moved inside in 1875. What can you do? You can charge rent for the seats.
On the paucity of great team owners
There are a couple of notable exceptions. I think the Patricks were extraordinary here. They were true visionaries. They come from Quebec, they come to the West, they reinvent themselves, which is what the West is all about. They convince their father in 1910 to take his mere $500,000 fortune and invest it in artificial ice on the West Coast. They change the game. They put numbers on jerseys, they invent line substitutions, the blue line, letting goalies fall down to make stops, the playoff system. The latter one, one U.S. sports writer said they should be enshrined in every sports hall of fame in the world for that. It creates rivalries and focus for the stories each season. The Patricks were sure business guys, but they also played. Oddly enough, we've come back to that, where you've got guys like Mario Lemieux and Wayne Gretzky, who both played the game, now owning teams.
On the many rivals claiming to be the birthplace of hockey
Everyone's looking for the big bang theory of hockey. The Franklin expedition has a record of guys playing on the ice with sticks and a ball. Kingston passionately claims that troops stationed there did it. Howard Dill's pumpkin pond, the Long Pond in Windsor, Nova Scotia -- Thomas Chandler Haliburton writes about it in Sam Slick. I think that all we can conclude is that people came to Canada with ball and stick games, they met aboriginals who had ball and stick games, we had winter, they all unite, and in 1875 James Creighton puts it inside. There it is.
On why hockey is the most violent North American team sport
It's a contact sport by nature. When you have two opposing forces moving quickly, towards a small object, which is a puck, and each opposing force is carrying weapons, intent on colliding if they have to, to get the puck, it's violent by definition. What happens in the passion of the moment...that collision, when you get the worst of it, you turn around and get the number of the guy. Back then, you had no protection. You had to be tough because violence was part of it. In the early years, violence resulted in death. People hit each other over the head with sticks. There were coroners' inquests, there were trials.
On why football has less extracurricular violence
Theoretically, you could play hockey for 20 minutes without stopping. Football comes out of rugby. You have a set play in rugby, the play is whistled dead. Then you go again.
On Ken Dryden's belief that the pursuit of U.S. markets perpetuates hockey violence
Cities like Boston, Chicago, Detroit and New York. They know the game. After [expansion in] 1967, they sold the show to advertisers, with fights. It's like the Friday-night fight. For the untutored fan, they can't really see the puck, but they're hoping for combat of sorts. You watch NASCAR hoping for a crash. It is surreal, it has a quality of the WWF. But the WWF is not real.
On why Todd Bertuzzi is seen as more violent than Mark Messier
I think it's because of who he is. He didn't have a lot of friends in the media. On the ice, he seemed mean. Tie Domi's elbow to Scott Niedermayer was far, far worse [than Bertuzzi's assault on Steve Moore]. People forget Mark Messier because he's "the greatest leader in sports," et cetera, et cetera, by virtue of his heroic leadership in New York City, promising a victory against the Devils and then leading them to the Cup. Being buddies with Wayne Gretzky didn't hurt either. Bertuzzi was always seen as very much the lone wolf.
On whether the game is getting better
At the minor level I think it is. In Quebec, in the high schools that teach sports as well as academics; they practice. They play the way we used to on the pond. They play freely. You make it up as you go along. The generation growing up now is appreciating the game that way. In the women's game, the women can't play contact hockey, so they have no choice but to be creative.
On whether women's hockey is impetus for reform
I wish it were. What happened during the lockout, and happens during the Olympics and during the international tournaments, is people -- i.e. guys -- watch it. And they say: "This is great. Why can't the guys play more like the women?" And then the NHL comes back, the Olympics end, the women don't get a pro league, and the women disappear. Although they don't. The NHL, when it's in business, the argument seems to be: why can't hockey be more like it used to be? They really want to play the pond game inside. That's the game the women have always been playing.
On whether Ken Dryden's influence matters
I think he does. He was a Hall of Fame player. A good writer. He's inside the game. He's a rare combination of things. When there was violence in Moncton, he was the guy they called in to investigate. He's the higher power. He established the moral cosmos of the sport.
On whether we lose all sense of perspective when we lose one important game on the international stage
That's it, there you go, we do. That speaks to how important hockey is to how we define ourselves. It's also our gift to the world. When we send the guys or the women off internationally, we're finally a country that punches above its weight. And when we lose, it's like the New York Yankees losing in Tokyo, or something. It's an overreaction, but it shakes the faith. Saint Wayne is the guy who's supposed to lead us to the Promised Land every four years, and he didn't last time.
On hockey's potential to teach us about life
Everything I learned about disappointment, I learned from the Canucks.
BONUS SHORT SNAPPERS FOR HOCKEY FANS:
Gary Bettman or Clarence Campbell?
Who's the best one, or the worst one? Campbell was famously in the service of the owners, and he knew it. Bettman is the same. I think Bettman has tried to make hockey accessible to a larger population.
Foster Hewitt or Danny Gallivan?
Foster Hewitt was a national treasure, and defined so many games that we watched, especially in Western Canada, because of the Leafs. But Danny Gallivan had a flair with the language that has influenced generations, so I think he was the best.
Bobby Orr or Wayne Gretzky?
As far as great players go, both Orr and Gretzky are often used as the gold standard. Each was so different, and yet, in the end, the same -- they both dictated the play of any game they were in, and often the outcome. Orr is a tragic hero because his knees forced him to retire young; Gretzky could become one if he fails to lead Canada's men to gold at the next Olympics, or the one after that, or if Phoenix remains a desert dog. Always leave them wanting more, is the showbiz maxim, and Orr certainly did that.
Joe Sakic or Ron Francis?
I've always coveted Joe Sakic. I wish he were wearing a Canucks sweater. He's from here. He has that intangible quality of being able to do it when you need it. And in a very unassuming way, he's very Canadian. He's one of the greatest players ever.
Henrik or Daniel Sedin?
Anson Carter.
Mark Starowicz or Ken Burns?
They're both extraordinary documentary filmmakers, but I like Starowicz's story better. He's an outsider and Burns [who made the acclaimed PBS series Baseball] is an insider. Starowicz is not the biggest hockey guy in the world -- he's a history guy. He's from Poland, his family moved to Argentina, in that exodus from Europe, and then they moved to Canada after the war. He was a kid in Argentina. He was happy in Argentina. Then his family moved to Canada. He comes to Montreal. Doesn't speak French. Doesn't speak English. Yikes. I mean, shunned. His mom gets a brainwave. She buys him a set of hockey cards, and he takes them to school the next day. He's accepted. From that time on, he became part of the club, and it was because of hockey. That formed his sensibility of how hockey matters in this country.
Bobby Clarke or Saddam Hussein?
Oh, if we could find a way to put Bobby on trial. I have to say Saddam Hussein is the greater villain, but that would be a question to ask in Moscow. He's still remembered as Satan for his slash on Valeri Kharlamov.
Charles Campbell is a contributing editor to The Tyee. The last time he wrote about hockey, in "Sometimes Sports Isn't About Politics," he declared that he booed the U.S. team at the World Junior Championship in January because it sucked.

comments powered by

Disqus