With Darwin the "stylish monkey" dominating Canadian news coverage this week after turning up outside a Toronto Ikea, critics of the government's second omnibus budget bill are asking why a protest that spanned seven cities received little coverage in comparison.
In an Aboriginal Peoples Television Network (APTN) video report which aired Tuesday, critics said that while local media in places like Manitoba and Alberta covered the 5,000 person protest that took place on Monday, "the major disappointment comes from the lack of national coverage."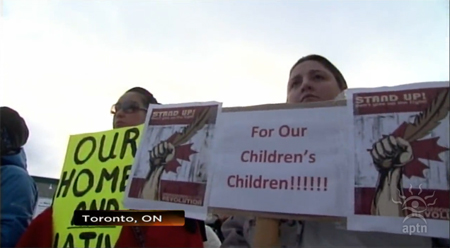 [Click image above or here to see original APTN story and video.]
The protests were organized by a group of primarily aboriginal protestors called Idle No More. The group opposes the government's implementation of an omnibus bill that would change Canada's Indian Act, among other things.  
The Idle No More website states the group "calls on all people to join in a revolution which honours and fulfills Indigenous sovereignty which protects the land and water."
While the hashtag #idlenomore was trending nationally on Monday, social media presence was not enough to garner wide media attention of the protests. But in spite of the media frenzy over the monkey, one aboriginal journalist said protest organizers could have done more to attract media attention.
"There wasn't a dedicated press release, there wasn't a dedicated spokesman put forward, and there wasn't a mass invite sent out to the media," said John Lagimodiere in the APTN video.
Idle No More will continue its opposition to Bill C-45. The next protest is scheduled for Dec. 21.
Emma Smith is completing a practicum at The Tyee.