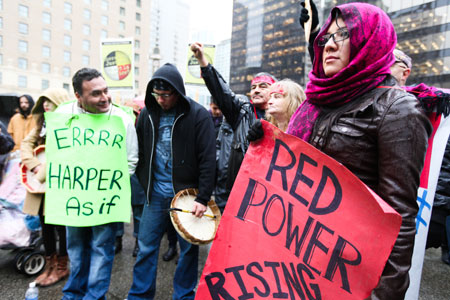 Idle No More saw roughly 100 people to the steps of the Vancouver Art Gallery in support of Indigenous rights. Photo by David P. Ball
Warrior flags, hand drums and a round dance in the middle of the street marked the solstice today in downtown Vancouver, where Indigenous people and supporters rallied as part of cross-country Idle No More events.
The spreading movement saw an estimated 4,000 people gather on Parliament Hill, hold round dances in malls in several provinces – and saw one group promising to raise the stakes with a U.S. border crossing blockade on Jan. 5.
"I was shocked this went under everyone's noses," said Krazy Nish, a Gitxsan and Mohawk member of a new student-led group, Turtle Island Movement, which is behind the planned border protest. "It's a combination of various bills. It's an enormous omnibus bill (that) doesn't just affect Native people across Canada, but Canadians period. 
"This is our future that we have to fight for. I'm a single parent. I'm also doing this on behalf of my kids – and not just mine, but million of kids across Canada, and millions that have yet to be born. We've gotta start thinking generations ahead of time like we used to, not two, three or four years like the government does."
Speaking in front of the Vancouver Art Gallery today, speakers criticized the federal government's overall approach to Aboriginal relations, calling it top-down and colonialist. But many singled out the current omnibus budget bill, C-45, as particularly problematic. The sprawling legislation, which passed into law this week, would reduce the number of First Nation referendum votes needed to lease their reserve lands for economic development, and also reduces environmental protection for waterways.
Combined with earlier cuts to the Fisheries Act, and the government's promise to introduce "fee simple," or private land ownership, on First Nations reserves, some analysts are warning that the policies as a whole could lead to the "termination" of Aboriginal rights and title protected under the Constitution.
According to Russell Diabo, editor and publisher of the First Nations Strategic Bulletin, the changes set a dangerous precedent that would impact all Aboriginal peoples. And despite some B.C. band leaders' support for reforms to the collective land ownership in the province, Diabo said that grassroots community members are usually wary of ditching communal property. Unlike other provinces, B.C. is almost entirely unceded land, never given up under treaty.
"It's not just the legislation," he told The Tyee. "They're still using the Indian Act as the main statute to control and manage Indians with these new amendments, but also they have policy initiatives.
"Basically, their policies are one-sided polices the federal government has drafted to interpret Section 35 of Canada's constitution – about what's on the table and what's not on the table. They want to extinguish Aboriginal title through these modern treaties."
For another protester at Vancouver's event today, the example of Attawapiskat First Nation Chief Theresa Spence – who is entering Day 11 of her hunger strike in Ottawa, demanding a meeting with Prime Minister Harper and a Crown representative – has inspired and galvanized many activists.
"It makes my heart swell," Carleen Thomas, of Tsleil-Waututh First Nation. "Enough is enough. 
"Chief Theresa is over there laying her life on the line because she said the pain is too much (...). People are fasting along with Chief Theresa. We must send out our prayers to them because they are so brave. For us to stand here in solidarity, in peace, sending out all the good energy and prayers for people fighting – that is what will help us succeed (...). These laws that are passed will affect our entire river system and our waters. The waters sustain us – not just Aboriginal people, but all peoples of this land."
Shawn A-in-chut Atleo, National Chief of the Assembly of First Nations told The Tyee that he is "exasperated" at times with the slow pace of change from the federal government, and thankful that Idle No More has galvanized the grassroots.
"Now we see a sweeping movement of action by people across this country," Atleo told The Tyee. "That's what gives me hope. 
"I'm excited about this moment. It has incredibly potent danger, but it also has incredible opportunity, that we can break through the patterns of mistrust and misunderstanding that have plagued us for far too long."
Meanwhile, Aboriginal Affairs Minister John Duncan said that he has offered to meet with Chief Spence, but has been unable to speak with her. His office said it has advanced Aboriginal education and health, but more needs to be done; however, a spokesperson disagreed that Aboriginal rights or title are affected by current legislation, saying that the reforms are at the request of First Nations leaders.
"I have expressed my concern for Chief Spence's health and have indicated that I remain willing to meet with her to discuss how we move forward," Duncan told The Tyee. "Our government will continue to respect the right to peaceful protest.
"However, we remain committed to the belief that the best way to achieve our shared goal of healthier, more self-sufficient First Nation communities is by working together."
Spence maintains she is willing to starve unless she can meet with Harper, a representative of the Queen, and First Nations leaders to reset the relationship. Here in B.C., Spence's action is on the front of many people's minds.
"I pray for her every day," Krazy Nish told The Tyee. "She's a great inspiration. 
"She's led people across Turtle Island – not just in Canada – who are doing their own hunger strikes in support of what Chief Spence is doing. I don't know if you've noticed, but a lot of the Idle No More protests and rallies have been started by women; she's a great inspiration for everybody. She's literally willing to die for her people."
More Idle No More events this weekend in B.C. include a round dance flash mob today (Dec. 22) at  Metrotown Mall at 1 p.m., followed by a round dance at the airport at 6 p.m. On Sunday, another protest will be held at 10 a.m. at the Vancouver Art Gallery, followed by a round dance flash mob at Park Royal mall at 4 p.m.