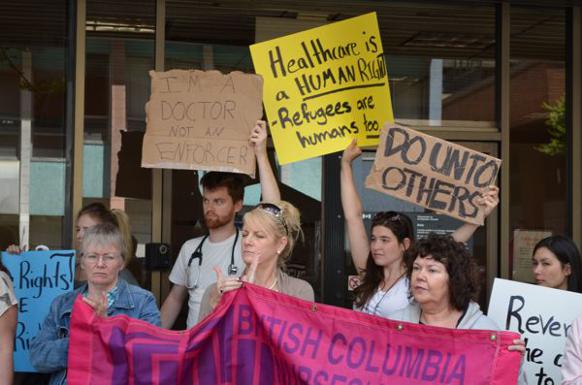 Health-care workers and refugees gathered yesterday in downtown Vancouver to urge the federal government to reverse last year's cuts to health care benefits for refugee claimants.
The rally, held outside the Canadian Citizenship and Immigration office in Vancouver, was one of 19 organized across the country for the second National Day of Action.
A year ago, the federal government introduced changes into the Interim Federal Health Program (IFPH) to end supplemental health-care benefits -- including pharmacy, eye care, dental care, and coverage for illnesses not deemed a "public safety risk" -- for non government-assisted refugees.
When the changes were introduced, Minister of Citizenship and Immigration Jason Kenney said in a statement that the reason for the cuts was to prevent Canadians from "[paying] for benefits for protected persons and refugee claimants that are more generous than what they are entitled to themselves," and to "take away an incentive from people who may be considering filing an unfounded refugee claim in Canada."
During the rally, nurse Annette Floyd exhorted the government to stop trying to gain "political points" by going after some of the most vulnerable people in the country, and also urged the government not to drag health-care workers into the controversy.
"Stop forcing me and my fellow health-care workers to become agents of your immigration reform," she said.
Byron Cruz, a Guatemalan refugee and one of the organizers of the demonstration, told the story of a Mexican refugee claimant who decided not to go to a hospital to give birth to her child because coming from Mexico makes her part of the refugee claimants that only have health care coverage to treat diseases that pose a risk to public health.
Mexico is one of the countries in the government's "designated countries of origin" (DCO) list.
According to the government, the countries included on the list "respect human rights and offer state protection." The DCO policy was created "to deter abuse of the refugee system by people who come from countries generally considered safe."
Ryan Harriot, a resident physician at St. Paul's Hospital, attended the rally dressed in his hospital scrubs and held a sign that said "I'm a doctor, not an enforcer." He disagrees with the government's claim that the cuts introduced to the program will help save $100 million over five years.
"Any costs saved by the federal government are being past on to the province," he said. "People still end up going to the emergency department of the hospital, and in fact it costs more to do that than [allowing them] to see a doctor and get their medication in the first place."
Harriot believes that the treatment Canada gives refugee claimants reflects badly on the country's reputation.
"Society is judged by how we take care of our most vulnerable people," he said.
Carlos Tello is completing a practicum at The Tyee.