TIMELINE: Canada's Mining Controveries
A (very) partial chronology of murder, rape and corruption surrounding ventures abroad.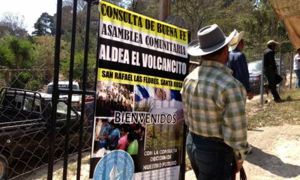 From Papua New Guinea to Guatemala, mining ventures directly or indirectly financed and owned by companies registered in Canada have been associated with controversy in the communities in which they operate.
Business-friendly laws have made Canada the preferred legal residence for three-quarters of the world's mining companies. But many of those companies actually operate in developing countries whose legal systems inspire little confidence, even among their own citizens.
Violent attacks ranging from assault to murder have been reported from scores of communities near Canadian-operated mines in Latin America, Africa, Europe and elsewhere. Company spokesmen typically blame such events on murky 'pre-existing' conflicts.
These are not without consequence, however.
Recently, in May 2013, the Chilean environmental regulator fined Barrick Gold an historic $16.4 million, and suspended construction on the $8.5 billion Pascua-Lima mine.
The mine had discharged arsenic into drinking water, accelerated glacier melting, and has been linked to a rise in cancers among local indigenous populations.
Construction has been suspended and operations remain at a standstill until Barrick is able to convince authorities that they will not contaminate drinking water.
Here, a short history of some of the industry's best documented controversies of recent years.
comments powered by

Disqus