Artist of the Week: Julie Doiron
Music for the week of April 21-28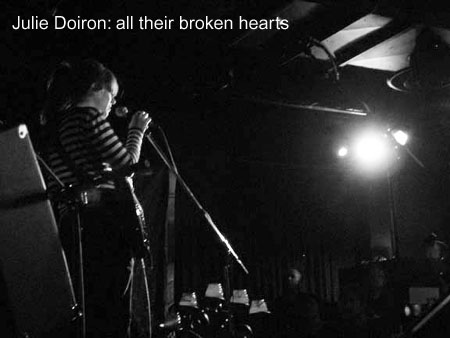 Quinn Omori of From Blown Speakers has already written about Julie Doiron's "Snow Falls in December" as a previous Tyee music pick, but in the wake of a well-received appearance in Vancouver, Miss Julie deserves a second look.
The native of Moncton might already be familiar to you, as she was first exposed to music-loving ears while playing with Canadian indie darlings, Eric's Trip. When the band split, Julie released a collection of solo songs she'd amassed during her stint with the band under the moniker, "Broken Girl," which was the beginning of her solo career (all of her subsequent releases would bear her own name).
The name Broken Girl was picked to "express her feelings at the time," so it was fitting that the record featured "Elevator Show," which chronicled Julie's outing to an Elevator to Hell show (names later transformed from Elevator to Hell, to Elevator Through, and then just Elevator, which was Trip's lead man, Rick White's, next project). While it's one of her earliest solo recordings, it encompasses a lot of what characterized later recordings: simple, confessional, and straightforward lyricism that's beautiful in its description of the everyday, sung over delicately-plucked guitar.
Julie dropped Broken Girl as a stage name, but the story remained largely the same with subsequent releases. She was backed by a band sometimes, solo other times, but the songwriting style was steady. Although, 2001 did see the release of a francophone album entitled, Desormais. My french is terrible, so I can't tell you what "Ce Charmant Coeur" is all about, but I can tell you that it's gorgeous.
One of the things about Doiron's music that transcends music listeners who never bothered to learn the other official language is her voice. It's not that it's perfect. She's not, say, a Neko Case or a Feist, rather, it's the imperfection that makes her sound so endearing. It's the same kind of thing that Cat Power had going for her on her earlier releases; she was sweet sounding, but ultimately sounded breakable, vulnerable.
If you move fast you can get brand new song, "Me and My Friend," from her forthcoming, untitled LP, at Julie's Myspace. And, The wonderful Section Two has an entire live set that Julie performed in 2002.
Listen to more of Quinn's selected Julie Doiron tracks below.

Description:

Album:

Broken Girl (1996)

Notes:
Description:

Album:

Desormais (2001)

Notes:
Description:

Album:

Heart and Crime (2002)

Notes:
Description:

Album:

Goodnight Nobody (2004)

Notes:

One of Quinn's absolute favorite songs.
comments powered by

Disqus