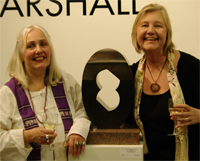 *Story corrected at 12:13 p.m., Mar. 18, 2009.
"I was tired of knocking on doors. I thought I would become the door, so that these artists could come out into the world," said Mona Fertig. "It's a wild dream."
Fertig, who was speaking on the phone from her home on Saltspring Island, is just as enthusiastic about championing cultural causes as she was in 1978 when she founded the Literary Storefront in Vancouver's Gastown. Then 23, she created a place where writers could meet, talk and inspire one another. Many Canadian authors who later became famous, such as Margaret Atwood and Michael Ondaatje, read at the Storefront. Even people who already were international literary stars at the time, like Edward Albee and Stephen Spender, also made their way up the rickety steep staircase off Cordova Street to connect with readers. The Storefront folded in 1983 for lack of money, but Fertig went on to establish (m)Öthêr Tøñgué Press. Since 1994, it has published limited-edition chap books of Canadian poetry, most involving handmade papers, letter press printing and hand-sewn bindings.
Now Fertig has her sights set on a wider audience. She is becoming a trade publisher, under the imprint Mother Tongue Publishing. And as if that weren't difficult enough, she has adopted a mission with pretty challenging odds. (Some would say impossible.) She wants to bring deserving B.C. artists out of the shadows, to rescue them from obscurity -- to cure our collective amnesia. She thinks there have been many artists here who for various reasons haven't got the recognition they merited. Maybe they weren't trendy, maybe they were publicity-shy, maybe they weren't savvy about negotiating the tricky shoals of art-politics or maybe they were just unlucky. But the quality of their work, said Fertig, "was equal to, and in some cases, even surpassed what was happening around them. I decided to take that leap across the chasm. I didn't look down."
'He didn't want to play the game'
In January, Fertig launched The Life and Art of David Marshall, by Monika Ullmann. A handsome book, filled with evocative photographs, it's the first in her series about the "unheralded artists of B.C." David Marshall, who died in 2006, was a sculptor who worked in a style akin to that of the English artist, Henry Moore. In his lifetime, he created over 600 pieces, but most are in storage. He sold a few to private collectors; only a handful can be seen in public locally. One is in the Van Dusen Gardens, another was purchased by the Vancouver Art Gallery. Four more works are on display in Bellingham, in the Big Rock Garden Park. Gary Sim wrote Art and Artists in Exhibition: Vancouver 1890-1950, a digital compilation of information about 1,800 lesser-known B.C. artists. He said, "David Marshall is a perfect example of an artist who was quite excellent and who was respected around the world for his work, but was unknown here."
Talking on the phone from her home, Ullmann said, "He didn't want to play the game. If he had listened to some of his friends who said you've got to market yourself, I'm sure he would be a world famous sculptor by now." Gary Sim agrees. He said, "People can't get to know your art unless it's exhibited and you have to push to do that. David Marshall was an artist who chose not to push."*
In Marshall's case, Ullmann believes there may also have been a class issue, "Unlike many of his more famous Vancouver peers, such as the Shadbolts and the Binnings, who were comfortably middle and upper middle class, he came from humble origins and had to struggle from an early age just to survive. He identified with 'working stiffs' as he called them."
Then, too, the style in which he worked, abstract or semi-abstract modernism, came to be regarded as dated. In 1959, he had a one-man show at The Vancouver Art Gallery, but after that the gallery showed little interest in work like his. It began emphasizing conceptual art, and installations, not pieces as tangible, tactile, and touchable as Marshall's. The fact that he mostly stuck with stone, wood and bronze may also have been a barrier. Ullmann said that a curator at the Vancouver Gallery told her, 'These are old fashioned materials, nobody works in them anymore.'"
Of course, trends change. Ullmann said, "Mid-'50s abstract or semi-abstract art is selling again. Dealers are looking for it. We're going away from video, photography, conceptualism. Everybody is getting tired of it. Marshall may become fashionable again. That would be the irony of ironies. I hope it does turn out that way." A six-week exhibition of 17 of Marshall's works at the Architectural Institute of B.C. opened to coincide with the launch of The Life and Art of David Marshall. The sculptures are priced from $5,000 to $45,000 and three sold on the first night -- a vindication for Fertig and Ullmann's vision.
Homage to her father
Mona Fertig started on this quixotic path because of her father, George Fertig, another unrecognized artist who produced haunting, visionary paintings. They are reminiscent of works by Gauguin or Rousseau and are strongly influenced by his reading of Carl Jung. All of George Fertig's work is in private collections, none can be seen by the public.
Fertig conceived of writing a book about her father about 12 years ago, but it was hard for her to do. "It's taken all my life to get to this point. It's painful going into the past because of all the sadness and the struggle. There was so much sorrow about his work, never having more exposure. The sorrow in his personality grew over the years. A great sadness descended on him. He became more reclusive."
Fertig's father had died in 1983 and her mother died 11 years later. When many of her father's friends and potential sources for her book also began to die, she decided she couldn't wait any longer. She got a Canada Council grant to support her research and writing, but she ran into a brick wall when she tried to publish the book. Local publishers weren't interested. Fertig said, "One called the Vancouver Art Gallery to check out George Fertig's reputation. The gallery said, 'No, we couldn't sell this book. Don't bother.'"
Fertig didn't believe this was so. Furthermore, in researching her father's history, she unearthed many interesting stories about other artists whom she also felt should be better known. Fertig said. "There is such a wealth of information, a very rich vein of art history that most people have no idea about -- a huge motherlode of stories. I think it's as interesting as stories about the pioneers or logging heroes, those other folk heroes. If we can write a history of chainsaws, surely we can do this."
'It's a big gamble'
Fertig had found so much good material, she decided a series was viable. She started with Marshall because she felt his work was extraordinary and because his widow, Carel Marshall, was quite worried about what would happen to his legacy after she died. This fall, Fertig will publish her second in the series -- a book about a group of four artists -- Jack Ackroyd, Jack Hardman, LeRoy Jensen and Frank Molnar. And the book about Fertig's dad will come out in 2010, at the same time as the first retrospective exhibition of his work in the Burnaby Art Gallery.
"Artists need to be connected to the world," said Fertig. "These books will be my gallery for the world. They will put names back in the public discourse. At least, people will be able to look them up." Fertig is well aware of the risks involved in a venture like this. "It's a big gamble in a time of financial craziness. But I think it will work. I really feel I was born to do this."
For information about readings from the book, check Mother Tongue Publishing.
Related Tyee stories: