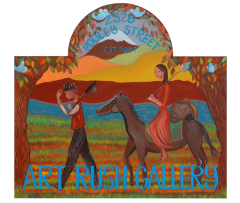 How do you extract art from a gold mine? Can the mountain pine beetle build a library? And, most importantly, can arts and culture build a financially viable community?
As the North faces the decline of its forestry resources, a shifting economic base, and the need for more ecologically sustainable industry, the pressure is on for local economies to diversify and find new methods of income generation. As a result, it's becoming increasingly apparent that arts and culture are a good investment.
Some of Canada's most renowned work, Inuit and Northwest Coast aboriginal art, is some of the most remotely produced. End-of-the-road communities like Atlin and Wells have been put them on the map because of their artistic resources. Yet existing arts and culture in rural areas, particularly in B.C.'s northern region, have traditionally gone unrecognized by urban centres and remain largely under-funded.
Founded in the 1930s as a gold mining community, Wells, B.C., is one town that has proven that arts and culture can help to sustain a community. The tiny mining town with a year-round population of 200 residents hums in summer with constant tourist traffic passing through to visit historic Barkerville, just a few kilometres further down the highway.
Wells itself has relatively recently come into its own as a cultural hub for the Cariboo region. It boasts the Sunset Theatre, initially built in the 1930s and recently refurbished by former Vancouver Fringe Festival executive director Karen Jeffery, as a venue hosting productions and workshops for the performing arts community.
Island Mountain Arts (IMA) has also been in the community more than 30 years, drawing roughly 150 musicians, writers and visual artists to its workshops and courses each year, as well as hosting the popular ArtsWells festival.
'Hand-to-mouth'
But community development consultant Judy Campbell, who is also Barkerville's CEO, a Wells district council member and an IMA board member, says that despite its contribution to the local community, IMA is grievously unrecognized in its role as an economic driver within the region.
"Island Mountain Arts continues to be a hand-to-mouth organization without any sustainable or core funding, while others benefit," she says. "IMA gets the tuition, which balances the cost of the course, but where the real money goes is the accommodation sector and the restaurant sector and the retail sector.
"IMA doesn't recover the reward from their output. A lot of it's a volunteer output as well. There's little recognition of this from business and from government."
Visitors ready to spend
An economic impact assessment prepared by Campbell that surveyed IMA visitors during the 1997-1998 season revealed spending patterns for workshop participants are higher than average for travellers to the area, largely because the average length of stay is longer.
In fact, artists visiting Wells for workshops and retreats spend twice as much per day, investing roughly $69 daily in the region, according to the report. Nearly half that is spent on accommodation, nearly a quarter on food and the remaining 35 per cent on items like gifts, souvenirs and entertainment. Spending is also extended to outlying areas like Williams Lake, Prince George and Quesnel.
In total, Campbell says, Wells and Barkerville's impact on the Cariboo region's GDP is roughly $10 million per year, perhaps even more.
Urban bias to arts funding
Even still, IMA struggles to obtain funding, with most grants coming from the Canada Council of the Arts and the B.C. Arts Council.
"If they get $5,000 it probably costs them $2,000 in time and wages to get those dollars," she says, adding that things would be different if the centre was positioned in the Lower Mainland or on Vancouver Island. "When you're in the city, it's more obvious. Basically, there's little support in rural areas for the arts."
She says that per capita funding in Wells equals $.75, whereas in Vancouver it's $3.75 -- an ongoing trend that has traditionally seen the province treating arts as an urban entity that is disseminated to rural areas: "Until fairly recently they believed rural areas didn't generate cultural activity," Campbell says. "You would think that funding for the arts, if it was going to be equitable, would be equal across the province, but it's not."
In its 2006-2007 annual report, the B.C. Arts Council recognized the importance of arts and culture in building community by noting that, "Cultural tourism, the fastest growing segment of the tourism industry, is emerging as a key element of new economic development plans in many communities. The need to develop the arts and cultural products in conjunction with the infrastructure of transportation, accommodation, restaurants and marketing is only now being understood."
Additionally, culture is inherently linked not just to building a community, but to sustaining it. According to B.C. Arts Council executive director Jeremy Long, "If you're going to come to a town, there has to be arts and culture there for your family."
'A softer economy'
It's something writer Rob Budde repeatedly advocates for. "One of the weaknesses of the northern economy is it's transient. People come in, they make big money and they leave," he says, adding that not only will culture bring people to the North, it will help to keep them here.
"We think of economy in terms of jobs, projects and things like that, but I think there's a softer economy that involves people staying and building around where they want to be," says Budde. "All along I've been arguing that healthy arts and culture is a key to that."
Budde, who teaches creative writing at UNBC, is the coordinator for the university's Bachelor of Fine Arts program and is a member of the Central Interior Regional Arts Council, moved to Prince George in 2001. Despite a thriving northern B.C. culture, he says the region is largely overlooked as an artistic hub.
"One of my most recent thoughts is, 'I don't want to market myself to other centres, I want Prince George to know Prince George,'" says the professor who recently began teaching a course that focuses solely on northern B.C. literature. "I think students came into it unsure of what that meant, but they enjoyed the courses because they got to read about this place."
Budde sees potential in "cultural tourism" by connecting each remote community with the next, creating a network of arts across the North. He started his Culture Mill website about five years ago and included a contact list of arts organizations in hopes of expanding the region's cultural network. Budde says he believes places like Vancouver might be increasingly taking notice of northern culture: "I think there's that sense that there might be something here."
Which regions raked in arts dollars?
Even still, funding for arts in the North is a far cry from what is available in urban areas. The council's 2001-2002 annual report recognizes the need for urban-based organizations to ensure cultural opportunities are available throughout the province: "As British Columbia becomes an increasingly urban province, greater economic difficulties are being experienced by resource-based rural communities," it reads. But consistently funding is heavily weighted toward the province's southwest corner.
In its 2006-2007 fiscal year, the B.C. Arts Council granted more than $13 million in funding to nearly 1,000 organizations and individuals across the province. Of that, 21 per cent went to Vancouver Island, 63 per cent to the Lower Mainland, 11 per cent to the Okanangan and Kootenay regions and a total six per cent -- three per cent each -- assisted arts development in the central and northern regions of the province. The trend has remained the same for the past five years.
Long blames population density for the disproportionate funding paid to arts and cultural organizations and individuals in southern B.C., admitting that most funding focuses on Victoria and Vancouver, which sees both more artists and more audiences. While visual and literary arts are easily transportable and artists often prefer remote areas with a lower cost of living, performing arts tend to be urban-focused, he says.
"You've got to be in a setting where you can earn more or you can't make it," he says. "The reality is urban centres have a density of population that allows artists to survive." Funding from the B.C. Arts Council's Community Arts Council Assistance is based on population and distance from a major centre. As a result, a person living in the North is worth four times as much as a person living in the Lower Mainland, Long says. However, "the reality is that if you're a town of 4,000 people, you're still not going to get very much, even with the distance formula," he adds.
Although the Arts Council strives to be as geographically diverse as possible, with council members contributing from across the province, a stark reality still exists: the majority of funding goes to urban centres.
Pine beetle as books patron
When it came to seeking out funding for a library expansion in Smithers, the local library board went about it from a somewhat non-traditional perspective: by applying for money set aside to address B.C.'s pine beetle epidemic. The group requested $160,000 from the federal government's Mountain Pine Beetle: Community Economic Diversification Initiative and -- so far -- odds look good for receiving a large portion of the amount. Far more than just an investment in books, the funding would be an investment in the community's future, explains library board trustee and building design committee chair Wally Bergen.
"One of the things we're trying to target is people displaced from the forestry sector," Bergen says, adding that the facility will include resources for continuing education and improving business skills. "If someone's looking to set up a business, they go to the library and look at how to start a business.
"The more knowledgeable a community is, the better it can respond to the economic drivers."
Built 40 years ago to serve a population of 3,500, the Smithers Public Library is "grossly undersized," Bergen says, as it strives to serve about 8,500 people, between the town and its outlying areas. With plans to expand the library in the same location, the volunteer board of directors is currently putting together two or three options for an expansion that would incorporate a theme of "space, light and literacy" and include a social gathering area, reading chairs, conference room and literacy programs.
"Libraries have traditionally been places that you walk in and you have to be quiet," he says. "We'd like our library to be the opposite. We'd like it to be the living room of the community."
It's hoped that simple layout, with social spaces and reading areas, will make the library more appealing for all cultures and education levels.
"For an illiterate person, going to a library can be more intimidating than going to the dentist," Bergen says. If the board gets approval from the town this fall, fundraising and planning will take place over the winter, with hopes of breaking ground late next summer and opening in spring 2010.
And, thus, the mountain pine beetle may well contribute to building a library in Smithers.
From a gold mine in Wells comes an arts centre that offers economic diversity and attracts visitors from across the province. As economies throughout northern B.C. face challenges and change, it's hoped that government and funding agencies will increasingly see the need to invest in culture as a means to promote income diversity, build community and foster economic sustainability in the North.
Related Tyee stories: