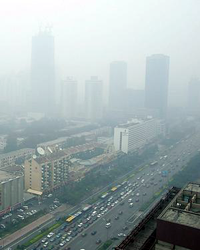 The Concrete Dragon: China's Urban Revolution and What It Means for the World
Thomas Campanella
Princeton Architectural Press (2008)
Grim economic news from China: growth is expected to slump below 10 per cent a year for the first time in three years. Will this mean only one new million-person city next year, rather than two? A coal-fired plant every seven days, rather than 10?
Given B.C. growth forecasts of less than one per cent, China's plight may seem tolerable, but it serves to heighten the contrast between two starkly different paths to the cities of the future.
As urban planner Thomas Campanella declares in this compelling book, "When it comes to the environment, China and the West are moving in opposite directions, and at blinding speed."
Stop Gateway? A bicycle lane on Vancouver's Burrard Bridge? These initiatives seem rather beside the point in the face of China's inferno of urbanization.
In Vancouver, new construction is stopping in its tracks. The focus is on homelessness, fewer cars, more bicycles, modest densification, affordable housing.
In China, it's the reverse. Massive urbanization continues, automobile use is skyrocketing, bicycle use is falling and smog-shrouded new suburbs thick with 30-story towers prove that sprawl can happen at any density. McMansions and golf courses have swallowed so much agricultural land that China is no longer self-sufficient in food.
Moving mountains
The global downturn is unlikely to blunt the gung-ho attitude of Chinese developers like Zhu Qihua, who removed 900-foot Big Green Mountain from Shanghai's outskirts, ostensibly so fresh breezes could blow unfettered across the city's polluted skyline. He replaced the mountain with an industrial park.
Zhu's enterprise is symbolic of the unprecedented changes that are literally re-engineering the Chinese landscape in the greatest and most destructive construction boom in the history of the planet.
Campanella's The Concrete Dragon: China's Urban Revolution and What it Means for the World is an engaging, disturbing and ultimately somewhat hopeful look at China's exploding cities, where a new type of society is being born from a bizarre amalgam of command-and-control politics and unfettered capitalist economics. They call it "socialism with Chinese characteristics."
Since the 1980s, China has mobilized a construction force as large as the entire population of California. These workers have trebled the number of Chinese cities to 700, more than 100 of which have populations of greater than one million.
(This does not include the dozen cities drowned by the Three Gorges Dam on the Yangtze River, where more than one million people were displaced.)
China is consuming half of the planet's concrete and steel production annually to remake itself as a world economic power, reproducing much of what is most deplorable about modern cities in the process.
Tinkering towards catastrophe?
In the face of the Chinese urban maelstrom, Vancouver's interest in sustainability initiatives like allotment gardens, cycle paths and streetcars seems laughably effete.
Once Shanghai's party leaders had agreed in 1984 on Pudong, across the Huangpu River from the original city, as the location of a new metropolis, an international design contest quickly followed to ensure that the massive development attracted global attention and investment.
This was just two years before Expo '86, which marked the beginning of the still-incomplete transformation of Yaletown and north False Creek. We've been taking our time. The Chinese? Not so much.
By 1992, bulldozers were scraping away the farms and homes of more than one million Pudong residents, and construction had begun on the Pearl of the Orient. This tripod-mounted, 1500-foot behemoth, whose twin globes and skyscraping needle look like a Buck Rogers syringe, is now at the centre of countless pictures of Shanghai's iconic skyline.
The new city required elevated ring roads driven through dense neighbourhoods and two, count 'em, two cable-stayed bridges across the Huangpu, one a direct copy of our own Alex Fraser Bridge. It was completed in 1991, two years ahead of schedule.
Cult of development
These engineering marvels, which were more expensive than tunnels but more attractive to city officials, are celebrated in rhapsodic coffee table books that include photos of the three (three!) bridges built since, including the world's longest arch bridge and a double-decked span that opened this year. (Anyone planning a coffee table book on the Port Mann?)
These were in addition to a series of new tunnels. Like the bridges, they are now all at capacity. Car use has quadrupled and as for bicycles, well, don't ask. Given pollution, traffic and the low-class feel of Chinese cycles, bicycle use is so yesterday and declining everywhere.
The Chinese urban explosion started on a base of Maoist urban planning, organized around economic and work units that included work places, schools and homes. During the Cultural Revolution, from 1966 to 1976, the economy stood still. Cities were surrounded by agricultural land, bicycles were the dominant form of private transportation and inter-city travel and trade was based on railways.
It was a blank slate on which a sustainable development process could have been drawn. It was not to be. New development happened on the cities' edges and spread quickly, like water spilling on a table.
Despite the eye-watering densities of new cities, with massive tower blocks jammed in tight rows, China's new cities sprawl in every direction.
Development zones on the outskirts of cities accounted for an area equal to New Jersey and Connecticut combined in 2003. New housing estates, far from most services, entice customers with memorable English-language names like Latte Town, Yuppie International Garden and Wonderful Jungle.
No time to feel smug
It would be easy to conclude that Vancouver's sustainability measures are futile in the face of China's whirlwind of urban development. But as Campanella points out, inaction is not an option. Chinese cities are not sustainable, nor are ours.
The difference may lie in how long it takes to get things done. In Vancouver, change takes time; democracy must have its due. In China, children of the Cultural Revolution are now running a modern capitalist economy with a one-party system. They have seen dramatic changes and may be ready to make more.
Notwithstanding their overall pollution, Chinese cities are committed recyclers. Demolition sites become massive recycling operations. Rapid transit construction is continuing apace. The same central government that opens a new coal-fired power plant every 10 days is also committed to generate 12 percent of all power from renewable sources by 2020.
Vancouver and its Chinese counterparts may be following two very different paths, but as Campanella points out, they must soon converge.