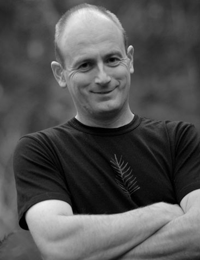 Almost Green: How I Built an Eco-Shed, Ditched My SUV, Alienated the In-Laws and Changed My Life Forever
James Glave
Greystone Books (2008)
If anxieties about flood and famine make you want to stake out a piece of land up Bella Coola way and hunker down with your veggie patch and marijuana plants till climate change is over -- well, you're not alone.
But during these uncertain times, "dropping out of society is not an option," says Almost Green author James Glave. In fact, he argues, you're better off in a city.
Easy for him to say. When Glave, a freelance writer and former senior editor at Outside magazine, and his wife moved north from New Mexico five years ago, they were searching for their very own private green space.
They found it, within commuting distance from her big city job and walking distance from an organic market, on Bowen Island. Unable to afford to build the uber-sustainable home to match their rural, rainforested lot, Glave settled on a project called the Eco-Shed.
Shed sweet home
Initially imagined as a "deep-green' writing studio, the Eco-Shed has become a guesthouse complete with reclaimed timber, energy efficient fixtures, passive solar design features, fly-ash concrete -- and a complementary bottle of chilled local wine.
However, the sum is worth more than its parts, and Glave's memoir about building the shed serves as something of a call to arms for people, like himself, who are predisposed to care about their environmental footprint, but haven't yet made the transformational life changes that the gravity of our situation calls for.
It wasn't easy (as the subtitle of the book, 'How I Built an Eco-Shed, Ditched My SUV, Alienated the In-Laws and Changed My Life Forever' suggests).
And Glave isn't at all smug about his accomplishments (as the subtitle of the U.S. edition 'How I Saved 1/6th of a Billionth of the Planet' demonstrates).
But this new environmentalism, characterized by practical and tangible solutions that individuals can create, is made less onerous with the sharing of ideas, tools and resources says Glave -- hence his argument that a more densely populated environment is in fact a more advantageous place to live.
We can't shop our way out of climate change. But perhaps we can build, grow and downsize our way to a more sustainable world. In a recent conversation with The Tyee, here's what Glave had to say...
On DIY environmentalism
"People want to do something. I think what we're seeing is a lot more casual arrangement and sharing and pooling of resources and ideas on sort of an over-the-back-fence scale.
"The big enviro/NGO groups have done incredible work and continue to do incredible work but I think there's a complementary side that's emerging that is more about; "I'm going to do something myself, or do something small-scale that I can really see the tangible results of."
"That's an incredibly powerful driver and I think it's probably gaining popularity over the old write a cheque and send it off and put a checkmark in your conscience that you're making a difference."
On whether the market will give us the green products we need
"In my book I try to get some FSC [Forest Stewardship Council certified] lumber out of Home Depot and get nowhere fast, but maybe now that the book is out there and the idea is circulation... all of a sudden the phone is going to start ringing at Home Depot and they're going to think about carrying some of that product.
"I don't think the markets are going to change overnight -- it's a burrowing in process. Only through people knowing that those options are out there and demanding them will it start to respond.
"The greening of Wal-Mart is the perfect example. Some people would say that's an oxymoron but I say that's an in-between step. We're still dealing with this massive logistical supply chain and an Asian manufacturing base with Wal-Mart, but if it can shut down a coal plant by selling enough swirly lightbulbs... that's a difference."
On the role his wife, Elle, played in the Eco-Shed project and whether men and women take different approaches to reducing their carbon footprints
"In terms of how men and women green their lives, I can only talk about my own experiences and that is that we're both very driven, very goal-oriented. We've got action item lists for the weekend -- we're those kinds of people.
"I'm all about making stuff happen and creating things and putting them together and sorting out all of that dude energy. She's all about not pissing off the people that I'm working with. I sometimes get her to vet my e-mails to give them that human touch, because I can be sort of a socially illiterate or dysfunctional kind of guy.
"We're learning about micro-scale farming. Really, that's where her heart and soul are. I think we would have probably spent less energy on a studio and more energy on growing things if she had been in charge of the project and I had been the one commuting and paying for it."
On the urge to run for the hills, stake a claim and ride out climate change
"There's definitely a myth, or preponderance of conversation, around the idea of a coming apocalypse that is, I think, creating a deep-seated anxiety for people who don't have a place to run to.
"I think that by packing people more closely together, you realize economies of scale that will make those environments more resilient; low carbon, neighborhood energy systems, for example... or tearing up the back lanes in the city and turning that into gardens.
"Certainly, the greenhouse gas footprint of somebody living in a city is a fraction of what it is living on woodsy Bowen Island -- what we're looking at here is vehicle-dependant rural sprawl.
"Do I really need my little house on a 10-acre lot with a super long driveway to feel safe? Because there's a city of a million people three miles across the channel. If you think 'we're going to find a little green spot to hunker down and ride this out,' guess what, if people get hungry they're gonna come over.
"It doesn't matter if you're living in this quasi-rural suburbia that we're in here, or if you're living downtown in a very high-density urban environment. If you make the effort to know your neighbors and what they have to give you, you will feel like you're taking greater control of your destiny and feel greater control as we head into these uncertain times."
On what he hopes even renters can take away from the book
"I say in the book that the baby steps are the answer, but since I wrote that a year ago I almost feel now that we're missing the boat with baby steps. We need to move past them and look at transformational changes, and that means bold moves and grand gestures and big statements.
"There's this whole social dynamic where your friends start apologizing for all the brown stuff that they're still doing; 'ooohh, you guys are the deep-green couple.' I think we need to find a way to break through those social norms that are perhaps holding us back.
"You don't have to build an eco-shed but I think that everybody that's already inclined or predisposed has a responsibility to turn up the volume a little more and really start living more deliberately. Start questioning the things that you do and see if you can find really creative and innovative ways to start changing for the better.
"Whatever that thing is for you, to take another look and to punch through the bubble of everyday life, that's what people really need to start doing."
Read an excerpt from James Glave's Almost Green also on The Tyee today.