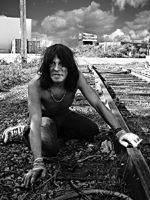 Street Stories: 100 Years of Homelessness in Vancouver
Michael Barnholden and Nancy Newman
Anvil Press (2007)
While homelessness may seem like a relatively new issue for Vancouver, homeless people have long been a part of Vancouver's history.
Local First Nations were the first homeless. By the late 1860s, nearly 100 years of smallpox epidemics had reduced the native population of B.C. from an estimated 155,000 to only 20,000. Approximately 700 indigenous people lived on Burrard Inlet along with 500 non-Aboriginals.
In the late summer of 1886, a great fire swept through the city, destroying almost all wooden structures. Mayor MacLean sent a telegram to federal authorities saying: "Our city is ashes. Three thousand people homeless. Can you send us any government help?" For a short while, Vancouver was a tent city while new buildings were erected.
False Creek Flats flooded with squatters
The boom times following World War I ended abruptly in the autumn of 1929. While the wealthy struggled in tough times to maintain a semblance of former grandeur, workers were being evicted in droves. Approximately 12,000 properties were forfeited for non-payment of taxes in one year of the Great Depression alone.
Single men were ineligible for benefits; the families of men who refused to be voluntarily incarcerated in work camps -- and even some union organizers -- were similarly disqualified from relief benefits.
In 1931, 500 men, because they had no fixed address and were therefore ineligible for relief, were encamped in shacks and hovels on the recently filled False Creek flats north of the CNR train station. There was one tap for water and no sanitary services in the cramped quarters.
Conditions were ripe for disease, and when one man was diagnosed with diphtheria, the camp was closed down and dismantled overnight. Most of the men went to work camps in the Interior where they toiled for a dollar a day. The communist-influenced Relief Camp Workers Union led over 100 strikes and walk-outs trying to win better conditions.
In April of 1938, when the relief camps were closed, some 1,600 workers occupied the post office on Hastings Street, the art gallery, and the Hotel Georgia, demanding better treatment, including housing. The occupation of the post office lasted a month and was ended by an early morning police raid, which resulted in much damage and injury to the sit-down strikers.
WWII veterans seize the Hotel Vancouver
Returning World War II veterans also had a difficult time finding housing and could not afford hotels. Tired of living in substandard conditions, a small group of veterans took over the old Hotel Vancouver at Granville and Georgia streets. The hotel had been recently replaced by a new building and the old facility was slated for demolition.
In early January 1946, one veteran, who had camped out with three others in a tent on the lawn of the provincial court house (now the Vancouver Art Gallery) to protest the lack of decent housing, was ordered by police to move on. He ended up at a meeting of veterans at the Legion Hall on Seymour Street. The 35 men at the meeting decided to occupy the old hotel and open it up for others in their position. The guards on duty did not even try to stop them. They hung a banner outside reading "Action at Last Veterans! Rooms for You. Come and Get Them." Soon they were 700 men registered in the old hotel and nobody wanted to tell them to leave. In fact, many local businesses and the public supplied meals.
The economic boom of the '50s and '60s minimized homelessness, but did not eliminate it. Hobos and vagabonds, many of them war vets who could not reintegrate into a changing society due to what was then called "shell-shock," often lived in shacks down by the river, shot pigeons for food, and wandered the streets.
Summer of Love badge of honour: NFA
The counter-culture of the late '60s had its roots in the Beat movement of the '50s and the glorification of hobos and Wobbly bindlestiffs by writers such as Jack Kerouac, Allen Ginsberg and Gary Snyder. Home was seen as a bourgeois, decadent indulgence hampering transcendence to new planes of existence. Add a dash of mind-altering substances, and you could shift shape from suburban to urban or rural commune or NFA -- no fucking address.
NFA became a membership badge for the Summer of Love, and governments provided financial support, funding organizations such as Cool Aid and The Pine Street Free Clinic, as well as various hostels. (Some of those hostels were set up in armouries -- what a shock to recently arrived American draft-dodgers or deserters. They must have thought they were in paradise once they got over their paranoia.) It was the time of the Battle of Jericho, when squatters took over the Jericho Beach Hostel, and All Seasons Park, when hippies fought police for, of all things, housing.
Squatting along the foreshore also continued. Finn's Slough, where Finnish fisherman established homes and docks on the tidal flats in Richmond, is one of the oldest and last remaining squats. The Maplewood mudflats in North Vancouver, perhaps the best known and most notorious -- memorialized in Livin' on the Mud, a 1972 documentary film -- was bulldozed in the early 1970s.
Expo 86 spawns era of revanchist gentrification
The run-up to Expo 86, and the eviction of people living in Single Room Occupancy (SRO) hotels to provide rental accommodation for the World's Fair visitors, led to an ongoing revanchist form of gentrification. Simple redevelopment of the Downtown East Side (DTES) would not be enough; it would happen in concert with a war on the poor.
With Premier Bill Vander Zalm's "give 'em a shovel" populism on the right, NDP Premier Mike Harcourt's characterization of welfare recipients as "varmints," and culminating in Gordon Campbell's far-right doctrine of "winners and losers" -- while all three cut services to the mentally ill -- it was inevitable that the poor would fight back.
From the Frances Street Squats and related actions protesting unregulated development and evictions in the 1990s, homelessness was front-page news. The most recent and memorable of these actions was the massive Woodsquat on September 14, 2002, in which a group of homeless and activists "popped" the 656,000 square foot Woodward's Department Store building, which had sat empty for 9 years. Remarkably, the occupation garnered widespread support.
The 2002 Vancouver civic election, fought during the time of the Woodward's squat, centred on housing issues and the 2010 Winter Olympic bid, based on fears of an Expo-86-style remake of the city as a "world-class" destination with no room for the poor or even the middle class.
Despite promises to the contrary from all levels of government and the Vancouver Olympic Committee, very little real action towards alleviating homelessness has actually occurred.
Vancouver offers sympathy, but not homes
Homelessness and poverty continue to plague the poorest people of Vancouver, despite British Columbia having one of the most prosperous economies in Canada, and despite Canada being one of the richest countries in the world.
Homelessness is the symptom, not the problem. Eliminating the poverty at the root of homelessness requires that those who are better off examine their lifestyle habits. It also stirs fear and anxiety as people buy into the perception that there isn't -- or soon won't be -- enough to go around. In Vancouver, where competition for homes is fierce, sympathy is all many feel they can afford to help the homeless on our streets.