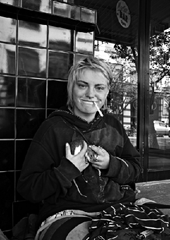 This photo essay is from Street Stories, an exhibition of photographs and interviews by Lindsay Mearns, displayed in his studio at 1000 Parker Street, Vancouver, in November 2006. Through the summer and fall of 2005, Mearns, an artist, property developer and photographer, photographed and interviewed people living in the streets in the Downtown Eastside of Vancouver, in a project intended to "raise awareness of a sometimes invisible community of people living in our midst." A selection of these photographs appeared in Geist #63.
Richard, age 40, from Saskatchewan. Richard has been on the street since he was 13 years old, in and out of group homes and government children's aid. He says it really sucked. He is self-employed as an urban ecologist, collecting scrap metal, cans and bottles. He gets meals from garbage bins and the doughnut hole, behind the doughnut shop. "The free meals are only for the mentally ill and old people." Advice to young people thinking of a life on the street: "It's scary out here, but you learn something new every day. I'd tell young people to go back home and stay in school."
Christina, age 46, from Alberta. Christina was once a receptionist at a drug and alcohol treatment centre. She lives in rooms, with friends and on the street. Her drug of choice is heroin, and she said that she was feeling quite sick as we were speaking. She is not long out of rehab, but looked tanned and quite scrubbed clean. Christina is First Nations; she grew up on a reservation east of Edmonton. She has been on the street for seven years and she says, "The street is really hard now." Advice to young people thinking of a life on the street: "Don't."
Jabbar, age 42, from Iraq. Jabbar left Iraq and travelled to Iran, then Turkey. The Canadian government sponsored him here thanks to a friend in Kitchener, Ontario. He likes Vancouver even though he has no place to live and no family. He's addicted to crack and sleeps in back alleys or stays with friends. He says he can't stop doing drugs. He once got busted for trafficking coke. When asked about his broken nose, he said it happened when he got robbed. He worked as a dishwasher for four years, but is no longer employed. "How much I have, I smoke," he said.
Susannah, age 19, from Edmonton. Susannah came to Vancouver from Edmonton three weeks ago to collect on an offer for a free tattoo. Her drug of choice is alcohol. She thinks the resources in Vancouver are pretty good for homeless people, way better than in Edmonton. Food is available and leftovers are often given out. "The shelter food is really bad," she says, and her friends believe that it is spiked with saltpetre to decrease sexual drive and to keep people stupid and docile. Susannah would eventually like to finish school and have a home.
Albert, age 56, from Cape Breton Island. Albert came to Vancouver two years ago from Toronto. He lives on a friend's boat in the harbour, and most days he gets up at 5:00 a.m. and panhandles. He has a medical condition and retains water in his hands and feet; some days he can't walk very far, and some days not at all. He worked as a handler with racehorses for 39 years in Toronto, Kentucky, Arkansas, Florida and Mexico. He rode to exercise and was never a jockey. After a day on the street he will get dinner at McDonald's. Advice to young people thinking of a life on the street: "Go to work. There are nice people in the world; you've got to take the good with the bad."
Christine, age 35, from East Vancouver. Christine calls herself a "recycler-crazy-artist" and can generate $45 a day through recycling. She hunts for treasures and makes art from found objects. As well, she draws with ink, crayons and pencils. She is on social assistance. Christine has a nine-year-old daughter, but her ex keeps them apart. Advice to young people thinking about a life on the street: "Get a real job if possible, what I do is an honest job, I don't sell drugs, and there's nothing to be ashamed of. Never trust anyone on the streets."
Related Tyee stories: