2010: More Homeless than Athletes?
This series by Monte Paulsen traces reasons for the rise of homelessness in the Vancouver area, scrutinizes the numbers and responses offered by officials, and lays out what experts believe is really necessary to seriously turn the tide before the world arrives for the Olympics in 2010. This series, intended to educate the public, is funded in part by the Tides Canada Foundation.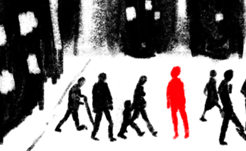 Farid was happiest when jotting down plans for his new life in Canada. Within a year of arriving, he was dead. A special report.