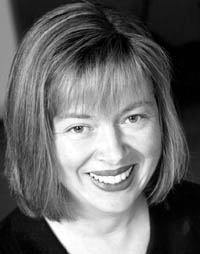 Pleased to Meet You
Caroline Adderson
Thomas Allen (2006)
In Caroline Adderson's new short story collection, Pleased to Meet You, a character driving along the Sunshine Coast notices this: "At every bus stop some civic-minded resident has left a chair -- a vinyl kitchen chair, a folding lawn chair, a resin patio chair, even two." That's the kind of quirky West Coast detail readers have come to expect from the Vancouver author, although if you ask her about it she'll tell you it's just a byproduct of living here.
Yet like much of the province's writing, Adderson's work is extraordinary when it attempts to capture B.C.'s own qualities of landscape, life and society. You get the feeling that if the characters lived elsewhere, the stories would be entirely different.
When I was about to move to Vancouver a few years back, an expat B.C. friend gave me Doug Coupland's City Of Glass. It was the perfect primer. All along the winding drive out of Ontario and straight through the Prairies I read about the peculiar virtues of the Grouse Grind, B.C. Ferries, Kitsilano, Stanley Park, fleece, sulphur piles, cherry blossoms, slow-moving traffic, Sunshine Breakfasts, the rite-of-passage West End, and "unsexy" Wreck Beach. By the time I reached the Rockies I was mesmerized by Coupland's account of my new home. Being a newcomer, I was easily impressed. Still, anyone inside or outside Vancouver who has read Coupland's ode to the Lions Gate Bridge can't help but fall in love, whether for the first time or all over again.
Maybe the atmosphere he created in his books led me here. Most of the CanLit I'd read, throughout my studies for a university English degree and the rest of my adult life, was situated in Toronto, Montreal or rural Ontario and Manitoba. No love stories began on mountaintops with a vista that included miles of protected parkland, and a cityscape perched on an ocean. Vancouver as a backdrop was exotic and somewhat intoxicating.
The lure of the transient city
To my mind there wasn't enough of a diversity of Canadian locales for fiction, especially modern, identifiable neighbourhoods where you knew real people lived. I remember being enthralled by Michael Ondaatje's In the Skin of a Lion simply because it was actually about the part of Toronto where I was living when I read it. But Toronto urban settings are so, well, urban; they don't evoke as much as Vancouver's do.
You simply can't feel the same reading about Margaret Atwood's Annex as you do Caroline Adderson's Kerrisdale in her book A History of Forgetting, or her Duncan in Sitting Practice. It could be nothing more than the mention of the rain, or the mountains, or a quirky detail like "home of the largest hockey stick." Nanaimo writer Carol Windley's Giller-nominated collection, Home Schooling, takes place mostly on Vancouver Island, and the book is punctuated at every turn by the island's misty, veiled quality and the protective characters that populate the stories. It's easy to believe the weather and landscape has done as much as the writer herself to create them.
When you move to a new city you have a lot of catching up to do, and I found I could learn a lot about Vancouver through fiction. Soon after settling, I was given an assignment to interview Barbara Hodgson, so I picked up her delightful novel, Hippolyte's Island. Hippolyte Webb has wanderlust something awful. From the vantage of his leaky condo, which creates a kind of water-splashed geography on his wall, he plans his world travels, coming home for brief respites before the next take-off.
Vancouver as a transient city may be a cliché, but it's one that is grounded in reality. With more and more B.C. writers using ready-made atmosphere to write about Stanley Park, the Downtown Eastside, and the solace and struggle of life on the Islands, readers are being led beyond mythology to see the vibrancy, the tragedy and the comedy that exists alongside the inescapable beauty.
Obsessing over strange details
This brings me right back to Caroline Adderson, whose new collection confirms her talent for taking ordinary folks in everyday settings and giving them extraordinary challenges to overcome. Her characters aren't always admirable -- some possess a mean-streak, others are insecure and self-involved, or steeped in unrelenting grief -- but that only makes them more believable.
I asked her about this in a recent telephone interview. She says she begins her creative process with "something that might actually happen to someone with a real life and job," and the details are naturally local. "Some people think in order to sell a book outside Canada they shouldn't put their own places in it," she explains, "I don't believe that." Adderson, who teaches creative writing, encourages her students in that belief.
The main character in "Falling," Pleased to Meet You's opening story, rides public transit to his downtown Vancouver office, and becomes obsessed by a poem subversively placed among the vehicle's advertisements. Adderson, who takes the bus to teach a class at SFU, believes many people reading the transit poetry -- an Association of Book Publishers of B.C. initiative that will mark its 10th anniversary on Oct. 20 with a Vancouver International Writers Festival event -- might never have done so before. The story itself is a kind of poem, with a rhythm that portrays how the experience of seeing verse where it's least expected has a transforming affect on a man who, up until then, lives a rote life.
In another notable piece, "Shh: 3 Stories About Silence," an exhausted mother and working journalist contemplates an affair with her photographer co-worker as they travel up the Sunshine Coast in search of topiaries. Her husband is at home working on "Self Loathing," a comic strip in which his alter ego details his home life and his efforts to confront a bully from his childhood.
This story is split into three distinct parts; in the second, much of the mood and action are taken care of simply by Adderson's description of the interminable ferry wait, the cafeteria lineup on the ferry and the drive past Gibson's. The last part of the story describes the husband's comic strip. The tone is set by a description of a partially renovated house on a large piece of neglected Surrey farmland, a sign of both the couple's high hopes and lethargy.
Caroline Adderson has a gift with words, observations and technique. She can and occasionally has set her stories anywhere in the world. When she writes what she knows and lives, however, she is at her best.
I've been thinking lately about what makes a Vancouver story singular. It could simply be my ingrained Eastern Canadian sensibility. Or nostalgia for the Vancouver I left just six months ago to return to Toronto -- Adderson suggested as much when I spoke to her about her latest book. The answer, I've decided, is as intangible as the beauty of the province. However, Adderson's writing comes pretty close to exemplifying the qualities I'm trying to define. She's already a critical success, but her career remains one to watch, and her stories ones to return to.
Carla Lucchetta is a writer living in Toronto. Her website is www.herkind.com. She last wrote for the Tyee about CTV's takeover of Citytv in "Eulogy for Znaimer's Dream."
Caroline Adderson appears at the Waterfront Theatre on Sat. Oct. 21 in two Vancouver International Writers Festival events: at 10:30 a.m. she talks about short stories with Bill Gaston, Rachel Wyatt, Patricia Young and Denise Ryan; at 8 p.m. she reads with five other authors, including Timothy Taylor.