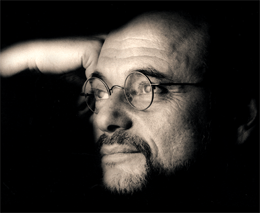 "Creativity is about surprises, Bay Street is about no surprises," said Moses Znaimer, co-founder and past President / Executive Producer of CHUMCity in a recent Life and Times program. He was answering the question on everyone's minds since his sudden departure from Chum in 2003: Did he quit? Or was his "creative" model pushed out by the "corporate" one. And once again, that's really what's at stake in Bell Globemedia's $1.7 billion bid for Chum Television, announced July 12.
First, an admission: the Chum philosophy had me from the first time I ventured a careful foot into Moses Znaimer's office back in 1995. By that time, some Chum veterans would say the push towards a more corporate atmosphere was already in full swing. But the man was still calling a lot of shots, including hiring for key positions and on-air personalities, and I was meeting with him about a PR job at MuchMusic. And the conversion to corporate was far from complete.
Casting a thorough eye over me, Mr. Znaimer said, "That's what you put on this morning when you knew you were meeting with me?" I was wearing a turtleneck sweater under a long tunic dress, complete with flats. (I clearly didn't buy my shoes at Fluevogs, the authorized brand of the leading edge at the time.) But I didn't want the nervous rash that breaks out on my chest whenever I'm really want something, nor did I want to appear like I was striving for cool.
Signed, sealed, not delivered
Not your conventional job interview and certainly not the kind potential employees are likely to have now that Chum is "officially" corporate. Now, what's on paper is likely to be of ultimate importance, the "soft" credentials not so key. Back then, by the time you got to Znaimer, your resume wasn't in question. It was all about your personality, your attitude your dedication and your look. Inside the CHUMCity building "the living movie" was unfolding and he was casting for parts.
That's what I'll be thinking of when the ink is dry and it's sealed with the CRTC approval in 2007. When that's done, this will be one of the biggest media mergers in Canadian history. Bell Globemedia, which draws mass, mainstream audiences, owns CTV, incorporating 21 conventional TV stations, seventeen specialties, and the Globe & Mail. Chum has 33 radio stations, twelve conventional television Citytv and A Channel stations and 21 specialties, including MuchMusic, Bravo!, Space, and Star! A good deal has been written about the economics of it all, the worries about media concentration (which some experts think will come under CRTC scrutiny), and the unfortunate layoffs at Citytv and A Channel stations in BC, and across Canada.
Some of us ex-Chumees, however, are also thinking about another kind of a loss as a result of not only this merger, but the long road taken in its direction; namely the loss of a certain kind of creativity, spirit and even magic that filled the airwaves and the hallways under Znaimer's influence.
Club cams
I got the job, but not before being instructed to hip myself up, which I did, using up many of my hard earned pennies! I spent the next two years at Much and four at Bravo! touting Mr. Znaimer's television philosophies, in which I intensely believed and still do. The Citytv model was about providing news that reflected a community back to itself, putting the citizens in the stories, and including a diversity of voices and faces, and this carried over to all other Chum properties. MuchMusic's trademark no seats, no podium video awards; Electric Circus, the Friday night dance party that spilled into the street, welcoming impromptu participants; a morning show that revealed the city coming to life outside its windows; intimate, audience friendly concerts in the Bravo! Rehearsal Hall –- all were events as well as TV programming. Cameras captured the energy, and all that came into the viewfinder. It was new then and it's been widely copied since.
After two years living in Vancouver, and away from Chum, I became drawn back into the fold to work as a producer at Breakfast Television. Back in Toronto now, I am trying to process the loss of Chum as I know it.
When I heard that 47 Citytv Vancouver news people, and 17 from A-Channel in Victoria were suddenly escorted out of the buildings I realized fully that the magic I knew in Toronto had never really hit Vancouver. Ever since its debut here in 2001, I felt that BC-ers never got a chance to experience the real Citytv in all its quirkiness. By the time Chum made it into the B.C. market, the company was already experiencing confusion between its corporate push and its more casual production model. It didn't help that the West 2nd Ave studio that now houses Citytv was far from the downtown crowds that fuelled the stations in other cities. And by then that 2nd Avenue studio and its employees had changed hands too many times to count, most recently from CanWest Global. So, when City finally arrived, after numerous heartbreaking attempts, it was already at a disadvantage, with lots to prove, especially to takeover-weary employees.
It wasn't like that in its beginnings. Citytv arrived in Toronto in 1972, a feisty little indie UHF station, bought in 1978 by Chum Radio. More than a few generations of folks have grown up with it. It was street level, in-your-face media, different from anything that existed, or would exist for a very long time. It's motto, "News. Movies. Music." made sense back then. Its style seemed to close the distance between viewer and production; people felt they could contribute to news, to be the news, and they often did.
The NewMusic, predated MuchMusic and even MTV as a place where you could see music videos and band interviews. NewMusic cameras roamed the clubs to reveal Toronto's burgeoning music scene. Seeing big screen films on television was new back then, and City found a way to capitalize fully on that, eventually projecting them on a big screen to a live audience in the Chum parking lot. Shows like FashionTelevision, MediaTelevision, BookTelevision were sold around the world. CityStyle was franchised internationally. BreakfastTelevision applied the principles of morning radio on TV and became the number one show by a country mile in Toronto. On-air personalities were people you felt you knew; you could access. MuchMusic VJs worked the street, and put ordinary people on TV. Citytv's Live Eye trucks broadcast at concerts, festivals, birthday parties, election rallies, crime scenes and community events.
25 cents and a cracker
Ziggy Lorenc, a former host at Citytv, MuchMusic and Bravo! began working at Chum in 1980 when there were fewer than 200 people. "They gave us 25 cents and a cracker and said make a TV show. There was something in the air and our job was to capture it." Lorenc says Znaimer's approach was the key to the station's success.
It's a sentiment echoed by Toronto Star's media critic Antonia Zerbisias, who's been following this and other media takeovers closely; CTV head Ivan Fecan "insists that the Citytv brand and demographic are valuable assets, and he would never mess with them. So, as long as the combined companies are profitable, and the management recognizes that hitting different segments of the audience makes sense, Citytv's in-your-face style will survive." She adds, "On the other hand, maybe it's the CTV style that is the outdated model. Perhaps people there should be looking over their shoulder!"
But Zerbisias believes that media concentration is a concern. "[It] doesn't just affect journalism. It also extends to program makers, performers, equipment suppliers and advertisers, as well as the public interest and the public good."
As for the BC stations, A-Channel in Victoria is likely to be sold with the others of its brand across Canada in order to eliminate media concentration worries. Citytv, which has oddly cancelled its supper hour and evening newscasts, plans to expand BreakfastTelevision, which has been popular in most markets but had its challenges in Vancouver. In a press release Wednesday, company head Jay Switzer said this restructuring will place resources where they are more likely to lead to growth.
But Donna Logan, head of UBC's School of Journalism thinks the decision to cancel the news is "regrettable." She says, "Citytv carved out a needed niche that targeted young people, communities and minorities. Some of this coverage can still be achieved through the morning show, but my feeling is morning TV is still not a huge audience."
Transcendent TV
Commenting on his recent purchase of a classical music radio station in Toronto, Znaimer said, "It's not just a vehicle to grind a few nickels out of the bottom line."
That philosophy has been sorely missed since Moses left Chum. Gradually, it has become ratings- and money-driven, cancelling some of its flagship shows like BookTelevision and Electric Circus, and recently the very important local arts and entertainment news packs from all but the Toronto station. This made it ripe for a takeover from a media company that attempts original production but is only rarely successful (Corner Gas comes to mind).
A creative, electric atmosphere nurtures the kind of programs Chum produced and attracted from outside producers. Producers need to be unafraid to pitch an idea and run with it, audience test markets be damned. And stations need to get behind them. That's rare right now in this corporate, market-researched media model. Znaimer believed television could sometimes be transcendent, which he proved by bringing an arts, and literary channel to life, and that viewers weren't only looking for mindless fun (although if they were he would provide that too). Some have suggested that it's time television passed that mantle to the Internet, where independent producers can do cheap, creative pod and web casting.
I guess I'm not fussy about where it originates, just that it exists.
Carla Lucchetta is a freelance writer and TV producer. Her other musings can be found at Her Kind.
Related Tyee stories: Donald Gutstein wonders why a parliamentary media report blamed CBC and let CanWest off the hook, and Angus Reid reports on world opinion of journalism today.