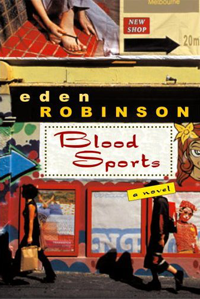 Blood Sports
Eden Robinson
McClelland & Stewart (2005)
Among the many subliminal factors helping to move units of gangsta rap albums and Sopranos DVDs in Vancouver, one is certainly the inferiority complex that comes from the dearth of mythologized crime history in our neck of the woods.
Growing up in the Lower Mainland, I felt cheated to be coming of age in a place with no cool thugs like those that greasily populated the films of Martin Scorsese, wherein their actions were always scored perfectly with '70s rock. What sort of music might have accompanied the vicious beating administered to my neighbour by the kids I played mosquito-league baseball with?
That's the thing about artistic depictions of crime and violence here in our paid-for-by-drug-money city. We skipped over the hip and glossy portraits of gang life and went straight for disturbing realism (hence Da Vinci's Inquest instead of CSI: Miami).
In recent years, a handful of Vancouver authors have begun peeling back the city's long and continuing history in this vein, with particular focus on the Downtown Eastside; the stand-outs so far have been George Fetherling's Jericho and Timothy Taylor's Story House. Eden Robinson's terrifying Blood Sports may be the most kinetic, frightening and bloody contribution to the East Van canon yet.
A bloody Hansel and Gretel
Blood Sports is the novel that Chuck Pahlaniuk (Fight Club) would write if his talents were in any way commensurate with his hype. Anyone who has had known someone on the wrong side of the thin line dividing antisocial from psychotic will immediately recognize much in this slowly unravelled, bloody fairy tale of how the networks of friends and family meant to sustain us can terrorize us instead. (According to Robinson's author notes, the book is "an homage to the original [older, bloodier] Hansel and Gretel.")
In an interview with Michelle Berry (published in Berry and Natalee Caple's superb anthology, The Notebooks), Robinson expressed her admiration for Stephen King, then added laughingly that all her attempts at genre writing "turn literary."
I'll say. While Robinson's darkly winsome plot is fairly straightforward, it's her dynamic prose style and narrative playfulness that make Blood Sports more than just a horror novel. Incidentally, it's also what makes nearly any review of the novel's plot points a spoiler -- but let it be said that anyone into sex, violence, drugs, Commercial Drive, home renovation and child-rearing won't be disappointed.
Robinson's characters are chillingly real, even when they're flat. (Some people are, and they're often the scariest ones.) Though relentless, the depictions of brutality and bullying let up every now and again, just enough to offer the hope that we cling to in life -- misplaced hope in bad people that sends us back for more abuse.
Towards the end of the aforementioned interview with Berry, Robinson said that her "real wish is to write a horror story where people are really, really scared." Blood Sports succeeds in more ways than one. Not only is the novel grippingly terrifying until the last page, it's so good it's scary.
Charles Demers is a regular contributor to Tyee Books.
Eden Robinson appears at two panel events at this month's Vancouver International Writers & Readers Festival: From the Dark Side (Friday, Oct. 20) and The Writing Life: A Pen Anthology Event (Saturday, Oct 21). For a PDF of the complete festival program, click here. For more on Eden Robinson, see her profile and an interview at ABC BookWorld.