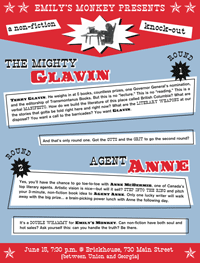 It was billed as a "non-fiction knock-out." Emily's Monkey, a loose group of Vancouver writers not content to sequester themselves in a garret, gathered for the second time at Vancouver's Brickhouse on Main Street June 15 to engage in madcap theatrics involving the written word and to drink heavily.
The star attractions were Terry Glavin, the author, editor and journalist currently stumping for his Penguin book Waiting for the Macaws, and "Agent Anne" McDermid, one of Canada's top literary agents.
Proceedings began as a man in a silver-and-blue mask (could it be...Dead Man in Paradise author JAMES MACKINNON!!!!) set the Mexican wrestling tone with his introduction of Glavin, who was billed to deliver a smack-down verbal manifesto on "how we should build the literature of a place called British Columbia."
"He might just have the clearest literary vision since Malcolm Lowry woke up without whisky in Dollarton," declared the masked man.
Glavin, however, began by retreating to his trainerless corner looking for the notes of instruction. "I haven't got the faintest idea what I'm going to say."
In fact, though, -- and unsurprisingly, for anyone familiar with The Glavin -- he said quite a bit. (Those who want to hear his exact words can obtain an audio file here.)
Sailing into madness
"The first thing we have to understand about British Columbia is that this is the Promised Land, this is the Holy Land," Glavin declared, a glass of Irish in hand. "There is no language that exists that allows us to talk about this place that comes from away."
He talked about what happens when you approach British Columbia from the sea. "You are looking for something that doesn't exist," he said. For newcomers in centuries past, that was mainly a passage to the Atlantic, a passage defined mainly in their dreams and hallucinations.
"If you look at the North American continent, it's a straight bleak line that goes all the way up to Cape Flattery and Makah, and suddenly there is this madness. It is complete insanity. There is no way to navigate it. There is no way to comprehend it. It is 26,000 linear miles of coastline, and another 30,000 to 40,000 miles of island coastline between Juan de Fuca and the Alexander archipelago, what is now Alaska."
Glavin also described those who crossed the Rockies to find a strange stew of life and myth and tales of predestination that must have confounded their weary constitutions: "When you come from the east, a similar kind of madness is involved."
He declared that the culture that resides here, that has resided here for much longer than we commonly imagine, is grounded in storytelling "that rivals epic of Gilgamesh and art that exceeds that of Michelangelo," and that many who come here become spellbound.
Our foolish imaginings
"One is unavoidably and ineluctably drawn into a kind of a magic realism. There is no other way to encounter this place...Nothing here conforms with the conventional and accepted meta-narratives of what aboriginal people are, about what colonialism was, about what multiculturalism implies. Nothing compares to this experience that we have carved out of the place, with our imagination, from the earliest moments of the human experience on this planet."
Glavin talked about Mud Bay Tom and Metlakatla, Brother XII and the Doukhobours, the Workers Republic and the Social Credit Party, the Technocracy movement and Greenpeace's better living through environmentalism. "When you look down through what we so foolishly imagine to be a new place, a young place, there's a lot of interesting things that we discover...We have consistently erupted in these utopian insanities that have produced a strange and distinctive and vibrant and multicultural and brilliant civilization in what is now known as British Columbia."
Glavin's injunction was for B.C. writers to tell the tales, because "no one has written any of these stories properly." He's a little modest, as he's told a few of them himself.
Others have as well, but not often enough, and not always well enough, although we are getting better at it. Anne McDermid, who heard 18 three-minute story pitches in a "confessional" as the evening's second act, confirmed this when she spoke to the hopeful. McDermid said a third of the writers she represents are from British Columbia. She believes that's because our writers understand there are great stories inexorably rooted in B.C. that matter enough to be told to the whole world.
In this one regard, perhaps, British Columbia is still a young place.
Charles Campbell is the editor of Tyee Books. Thanks to the Necessary Voices website for hosting the audio file of Terry Glavin's remarks. No thanks to the person who absconded with the Silver Beaver Award from the first Emily's Monkey event, which featured the First Annual First Line Contest.