Dear friends in Canada,
Since my last dispatch on The Tyee, I've arrived in Washington, D.C. to join protests against the Keystone XL Pipeline. It's been incredibly inspiring. Over the course of 14 days, people have been using their outrage at injustice to boldly take action.
Each day, upwards of a hundred people gathered with signs reading "Stop the deadline" while singing songs like "Which Side Are You On." In total, more than a thousand people risked arrest. People from all walks of life called on Obama to reject the pipeline, which would transport our tar sands oil from Northern Alberta all the way to Texas to be exported to international markets.
Why?
Not only are the tar sands destroying the social and environmental fabric of Alberta, polluting water when hundreds of children lack access to clean water, creating health problems from asthma to cancer, and undermining Indigenous rights; they are leading us towards irreversible climate change.
My fellow protestors
As I stood facing the people risking arrest, chanting with them in solidarity, I felt like I had time-traveled back to the 1960s to the movement that stopped the war in Vietnam. But today we are building a movement to stop the climate crisis.
What made the protests so interesting was that those taking action were not your usual suspects. They ranged from grandmothers, to policy analysts, to scientists, to college students. Many of them had never taken action before. It was wonderful to see how empowered they felt after taking action, as we waited for them to come out of jail. I was reminded of how I felt when I held up my stop sign in Parliament. While some people were skeptical about whether the actions would lead to sustained pressure or simply be a one-time media hit, I felt reassured when many folks, including a group of women who had traveled from Nevada, said they planned to do this for the rest of their lives.
At first, being in Washington and surrounded by government buildings and power suits, I felt very removed from the very stark reality of those people who are directly impacted by extractive industry.
Kandi Mossett made it real for me. She is brimming with life and almost always smiling. She's from North Dakota, where the Keystone Pipeline has already been built. (The Keystone XL will add onto it.) There have already been 12 spills and an explosion. She also works in solidarity with folks from Fort Chip, Alberta, which is downstream from the tar sands. Toxins leak into the water supply. More and more of her friends die of cancer. When she talks about this, her smile vanishes and her voice begins to break. Despite this, she is courageous and speaks about this reality with clarity second to none.
Kandi is part of the Indigenous Delegation that traveled to Washington and led the Indigenous Day of Action on Friday, Sept. 2. As Indigenous folks took action in front of the White House, Clayton Thomas-Muller, an Indigenous leader I respect and admire, sang a traditional drum song called a Protector's song. The only word I understood was Meegwetch, which means "thank you" in Cree, but it explained exactly how I was feeling -- thankful for the strength of Indigenous folks who have been defending healthy relations with Mother Earth for the past hundreds of years, and continuing to do so as they took action in Washington.
Learning from Klein and Barlow
At a panel discussion with Naomi Klein on the same day she was arrested with other folks from communities impacted by the tar sands, she explained that the reason why the establishment fails to act as if climate change were real is because it threatens the entire ideology on which Harper's agenda is built. The goal is economic growth no matter the cost, and corporations can act as they please. To act as if climate change were real would mean to acknowledge that these beliefs led to the overlapping economic and environmental crisis. Averting further crises and reducing emissions to sane levels would require a complete shift in ideology. Politicians refuse to register the reality of climate change because it would mean talking about the redistribution of the wealth and power elites want so desperately to hold onto.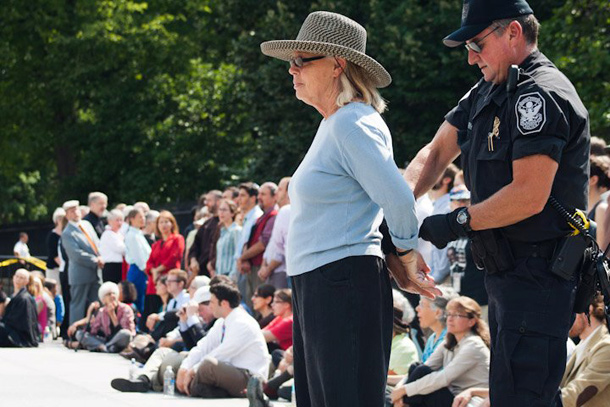 Not only is Harper letting climate change happen, he is trying to convince other countries to take this laissez-faire approach as well. Indeed, Harper has been lobbying for the tar sands internationally, in the United States and Europe. As Maude Barlow explained at an action targeting the Canadian Embassy, it is not the job of our government to lobby for the oil industry.
So why are we letting them?
It's not that we don't care. The majority of us care deeply about human rights and climate change. It shows in the choices we make, from using energy efficient light bulbs to driving hybrids. But these choices don't matter because emissions from the tar sands, industry, the military and government will still result in the overheating of our planet. The majority of energy consumption comes from these sources, not from personal consumption. Even if we all rode our bikes everyday, though it would be wonderful to have so many new friends to bike places with, it would be inconsequential for energy use and global warming.
Mainstream discourse tells us that that the solution is personal choices. But climate science says that emissions must be reduced by 75 per cent worldwide, and even if we made all the personal choices the film Inconvenient Truth tells us to, carbon emissions would only fall by 22 per cent.
Bringing the fight home
The good news is that personal change is not the only option -- we can make political change. It's exciting to discover the network of people who are working to make meaningful political change, including campaigning and taking action against the tar sands.
It's clear that the Conservatives are feeling threatened; they launched an "Ethical Oil" campaign in response, which is as full of holes as the land in Fort McMurray. The options are not limited to Canadian oil or "conflict oil" from Saudi Arabia; the third and right option is no oil, and instead alternative energy. As the Conservatives use "jobs" as a justification for extraction, we know that the jobs the pipeline may actually kill more jobs than it creates, and that tar sands jobs are depleting the health of workers, communities, the land, and the atmosphere.
We need the courage to defend clean jobs that can be created when we think about the public good, like through universal childcare or investment in public transit, instead of short-term fixes.
We often harp on the U.S. for its environmental and social record. But look at their incredible resistance to our tar sands problem. Now it's our turn -- let's build a truly grassroots movement and host the largest collective non-violent direct action Canada has ever seen.
Be home soon -- hope to see you in the streets!
Brigette