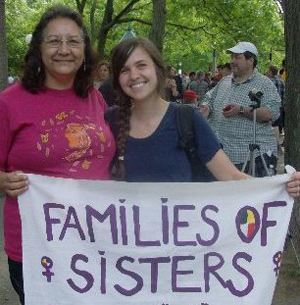 When Janet Henry disappeared from Vancouver's Downtown Eastside, known as the poorest off-reserve postal code in Canada, few noticed.
What if I went missing -- a white, middle-class university graduate? Most people don't know about the 600 missing and murdered indigenous women in Canada, but what if 600 Parliamentary staff were murdered or missing? The story would flood news stations across the country. We could expect nothing less than a national uproar.
But not for indigenous women like Janet, whose deaths and disappearances are obscured; because in our society, Aboriginal, like poor, means invisible.
It's enough to make your stomach turn. It's enough to make indigenous women walk from B.C. all the way to Ottawa to demand change.
On the steps of Parliament
The Walk 4 Justice ended on Monday, Sept. 19 with a rally of 200 people on Parliament Hill. The march and rally are part of a growing movement asking that the government drastically change its relations with indigenous peoples. Among its demands are a federal inquiry, support and healing centers, investments in Aboriginal health and education, and respect for Aboriginal title.
The person who drew me into the issue was Bridget Tolley, an Algonquin woman from Kitigan Zibi reserve in Quebec. I first met her at the Beat Back the Tory Attack demonstration on June 10, about a week after my action in the Senate. I had an instant connection to her, and not just because she is my name twin. Her gentleness, coupled with her fierce determination to this cause, instantly captured my attention. After losing her mother, she fights daily for an independent review. When she takes the megaphone, Bridget speaks about a government that is failing us with strength and fearlessness.
The government continues to move precisely in the wrong direction. As we stood on the steps of Parliament at Monday's rally for the missing and murdered, calling on Harper take action for indigenous peoples, he introduced an Omnibus crime bill that will only perpetuate the problems faced by indigenous communities. It will incarcerate the most vulnerable people in our society, mostly Aboriginal youth. The government will spend 3.1 billion, including $466 million to build new prisons, instead of addressing the root causes of crime -- extreme poverty and inequality, and policies of assimilation. Not surprisingly, these are the very same root causes that have led indigenous women to be five times more likely than non-aboriginal women to die of violence. Yet the government has one response: sorry!
The government has issued apologies to indigenous peoples, while continuing to treat them like trash. The government's policies continue to dispossess indigenous peoples of their lands, force them onto reserves and perpetuate apartheid. Meanwhile, the government is failing to provide access to clean water, education and other basic social services.
It is as if someone is beating you, and saying sorry while they do it.
The government's attitude towards indigenous peoples is one of dominance instead of equality. As Andrea Smith explains in her book, Conquest, this attitude of dominance is also at the root of violence against women, of our patriarchal culture, and of colonization.
But, rather than taking steps forward, the government has taken steps back by cutting funding to the organizations who were making meaningful progress on the issue of missing and murdered indigenous women, including for research and advocacy on the issue at the Native Women's Association of Canada (NWAC).
'I want to live'
As the government fails to take action, grassroots groups are picking up their slack. Bridget Tolley joined with others to start Families of Sisters in Spirit, a group for and led by the families of missing and murdered Aboriginal women.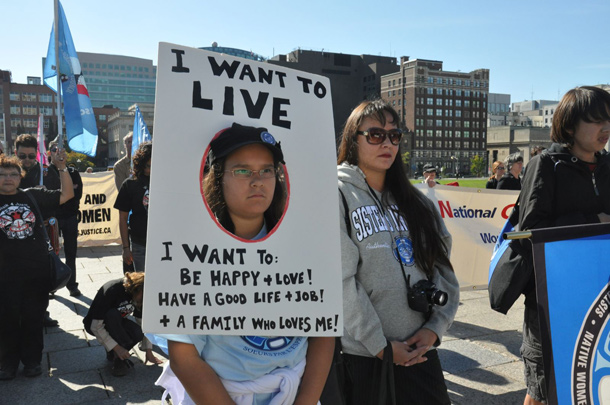 How many deaths will it take before our government and our society break from their indifference towards the oppression of indigenous women? At the rally, a young indigenous girl held up a sign with a circle cut in the middle, so that the poster framed her face. It said, "I want to live." But if a woman goes missing, and no one can hear her screaming when she's alive, can anyone hear her cries when she's gone?
We could not hear them in the Senate. But Monday, at the rally, when I joined with their mothers, sisters, daughters and with people who have dedicated their lives to work alongside these women, I could hear them -- the women who are gone, and the women who face many of the same brutal realities today -- loud and clear.
And I heard something else in those chants. I heard it in every step of the march, in every chant of the rally, in every beat of the Elders' drums. I heard it in Bridget's voice. What I heard was women taking back their power as they organize for change.
What if I had gone missing and not Janet Henry? I didn't and Janet did -- and there are so many women in similar shoes. Some of them walked 93 days and over 5,000 kilometres for this. As a white, middle class woman, I will never walk a mile in their shoes. But I can trust the incredible strength and power of their steps -- and join behind them.
You can support the families of missing and murdered Aboriginal women online, including via Paypal, by making an e-transfer to Families of Sisters in Spirit here.