An order to take down camp in Toronto. A second eviction order in Vancouver. Occupy Ottawa facing eviction. Police ousting those remaining at Occupy Victoria. An eviction notice in Calgary. Occupy Saskatoon's eviction. An order from Montreal's mayor to leave what has been re-named Liberty Square.
It is not surprising that cities built to maintain the status quo are trying to evict Occupiers -- they feel threatened by an empowered and awakened mass. But as a new friend and seasoned activist, Derrick O'Keefe, explains, you cannot evict an idea whose time has come. Whether or not the physical encampments remain, a force has been unleashed that goes beyond the tent cities.
I dreamed about some kind of peaceful uprising in Canada when I took action in the Senate. A few months later, it began to happen! Occupations spread across major cities in Canada and it has been exhilarating to partake. It is interesting to think about the political climate in the wake of Harper's election compared to now. With Occupy, there has been a major shift in mood in Canada, from one of inertia and defeat, to one of vibrancy and hope.
It was delightful to travel to Vancouver to participate in events supported by the Peace and Global Educators (PAGE), Stop War and Check Your Head about thinking outside the ballot box. It was especially exciting in the context of Occupy Canada -- thinking outside the ballot box in action!
Occupying Canada
A few outstanding moments from Occupy, across the nation:
Joining 400 people at Ottawa's first General Assembly on the birthday of Occupy Canada, Oct. 15. Uniting around the fountain at Confederation Park in an increasingly corporatized government town, reclaiming public space and filling it with our voices through the people's microphone!
A massive march towards the Toronto Stock Exchange, arm-in-arm singing, "We are the 99 per cent, join us!" Passersby just look at us, some skeptically, some smiling shyly. Then, suddenly, a man walks out of an Italian restaurant in a collared shirt and pressed trousers, steps off the sidewalk and onto the streets -- joining in our collective chorus: "We are the 99 per cent, join us!"
A conversation with the top one per cent. He is dressed in a pinstriped suit and has a cigar tucked into his breast pocket. He wears a banker's hat and carries with him Ayn Rand's Atlas Shrugged, filled with the free market ideas that have shrugged off people and our environment for too long, as a fellow camper points out. Turns out, he's not the veritable one per cent, but a creative Occupier doing a kind of guerrilla performance.
Camping out in Vancouver for the night, thinking about the creative genius of Occupy: The process of reclaiming language -- beginning with the 99 per cent and one per cent -- and of space, as we occupy parks, streets and banks.
As we shift from acting in commercial spaces to public spaces, we become people again, not just consumers, and begin to transform a consumer culture. In a mall, the question is "What did you buy?" But at Occupy, the questions are "What is wrong with the system?" and "What can we do about it?"
Reclaiming agency
As we reclaim spaces and language, we also begin to reclaim our agency.
After the election of Harper, there was a sense of lost control and hope for the 99 per cent that had been building many years before that, with years of policies that benefit corporate elites and hurt us, from tax cuts for the rich to scrapping the national childcare plan; and with the highest inequality we've seen in 90 years.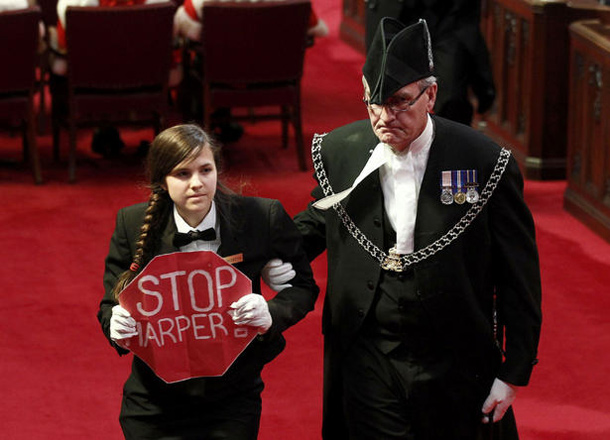 Memory of walking down Sussex Drive, the night after Harper's second election. The mood was stock and stale, knowing we could expect more of the same austerity, impossibly heavy; knowing it would only get worse....
It was hard to believe change was possible, putting many of us in a state of collective inertia. And as the law of inertia goes, that which is unmoving will continue to be, unless there is a force that puts it in motion.
The wonder is the global force that started in Egypt, moved through Europe, and after a call from Vancouver activists, created Occupy Wall Street. With Occupy Together, this force has swept across North America and has put us in motion.
With Occupy, people have risen to their feet to plan resistance to a neo-liberal system and government that is failing us. Here in Ottawa, for example, people of all walks of life are mobilizing against the crime bill, with teach-ins and direct actions, the next one taking place on Nov. 26.
But I hear my Dad's voice in the back of my head: "What has actually been accomplished? Grave inequality remains."
Here are a few such accomplishments: Non-hierarchical decision making processes where everyone has a say. Resistance in the belly of the beast of imperialism with Occupy Wall Street and in what Sel Burrows calls the beast's lap dog -- Canada. A change in the dominant discourse. A recognition of the systematic causes of inequality.
And excitingly, what has changed is a feeling -- a collective feeling that things can change, and that we can change them. From the state we were in just a few months ago, this is an incredible sign of hope. And we are beginning to create a people's culture in which real changes are possible.
On to occupy COP17
Memory of walking once again down Sussex Drive. This time, I see signs that read Human Need over Corporate Greed, hear chants of "We are the 99 per cent" and join a collective direct action in front of the U.S. Embassy to protest the eviction of Occupy Wall Street, as part of Ottawa's contribution to the International Day of Action for Occupy.
The mood is much different today than that bleak night after the election. Sussex Drive is alive -- not with the usual buzzing of business suits and politicians, but of the organizing of people, awakened, in motion.
Now, I look forward to travelling to South Africa to Occupy COP17, the Conference of the Parties to the UN Convention on Climate Change, where political elites meet to discuss solutions to climate change. But the conference, more accurately called the "Conference of Polluters" by many civil society resistance groups, is failing to take action on climate change in order to protect the wealthy one per cent, while failing the ninety nine per cent.
I will join the Canadian Youth Delegation to take action and force our government to stop working for corporate oil and gas polluters -- and start working for us. If you'd like to help, join Operation Oil Change.
[Tags: Politics, Environment, Rights and Justice.]